Diary
Rotary Club of Plimmerton


Welcome to the New Year. May 2022 be healthier, happy, safe, and be the beginning of freedom from restrictions.
A social meeting
Tuesday's meeting was a social get-together for those back from holiday and there were no formalities. The weather was beautiful. Everyone ate al fresco and, if the noise levels were anything to go by, enjoyed catching up. President Kay wants to record her thanks, on behalf of the 35 attendees, to Euon for arranging this excellent evening.
What's coming up in January and beyond?
Next week, 25 January, the speaker will be Jason Pine who will give us a 'Presenter's view of Broadcasting'. With such a good speaker spouses, partners, and Friends of our Club are especially invited. A new project is officially being launched. Let's start this half-year with a bang!
As you will have heard from Phillip, we won an award in the Wellington Airport Awards in our local class and we are also in the award finals which will be judged early in February 2022. There is also a 'people's choice award' and now is your opportunity to vote. Friends, family, and anybody else are very welcome to vote as well so rally the troops and make votes count. Here is the link to the video the Te Ara Piko team made for the final award. And the link to the voting form is here. There are heaps of choices. Just tick Rotary Club of Plimmerton.
The first Drinks and Nibbles for the year will not be held until 27 February. Chris Garrett will send out details nearer the time.
Recent Happenings
Mike Doig had a busy time in December. Here is Mike's report on the Parumoana Speech Competition held on Friday 3 December, together with photos taken by Graham. You will find many more photos in the Gallery.
Adrienne Murray has been instrumental in speedily arranging for 40,000 Rotary Masks to be sent to Tonga. Adrienne never stops serving Rotary. She is an inspiration to every Rotarian.
Brenda Callear has sent us the Inner Wheel Newsletter for December and one for January as well.
In case you missed DG Mark's Summer District Bulletin, here it is.
Who's on duty for the next month?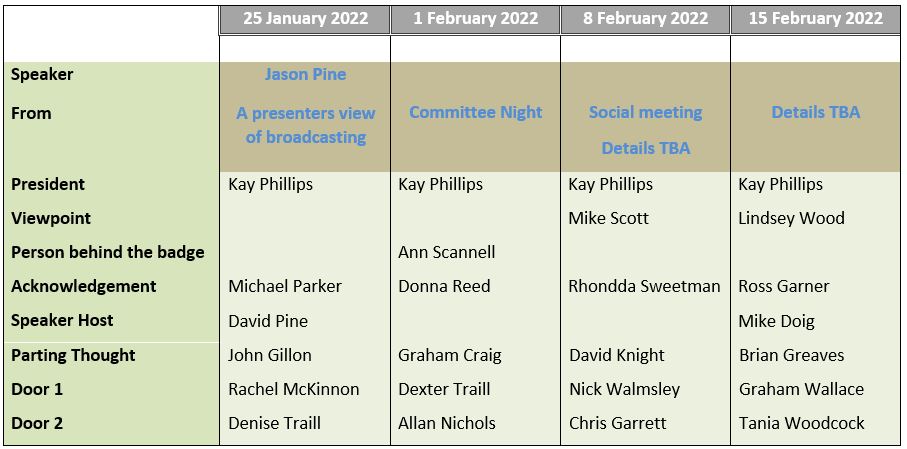 Unable to do your duty? Please find a replacement and inform Graham Wallace.
If you're a late 'no show' please tell President Kay.
Please arrive at 5.45 pm if you're on Door duty or hosting the Guest Speaker for the evening.
Need to apologise or bring additional guests?
Advise the Receptionist at Professionals before 10.00 am on the Monday before the meeting on 233 9955 or email paremata@dwre.co.nz if you prefer.
Please provide the name (and spelling if necessary). The same applies if you're going to be late.