Diary
Rotary Club of Plimmerton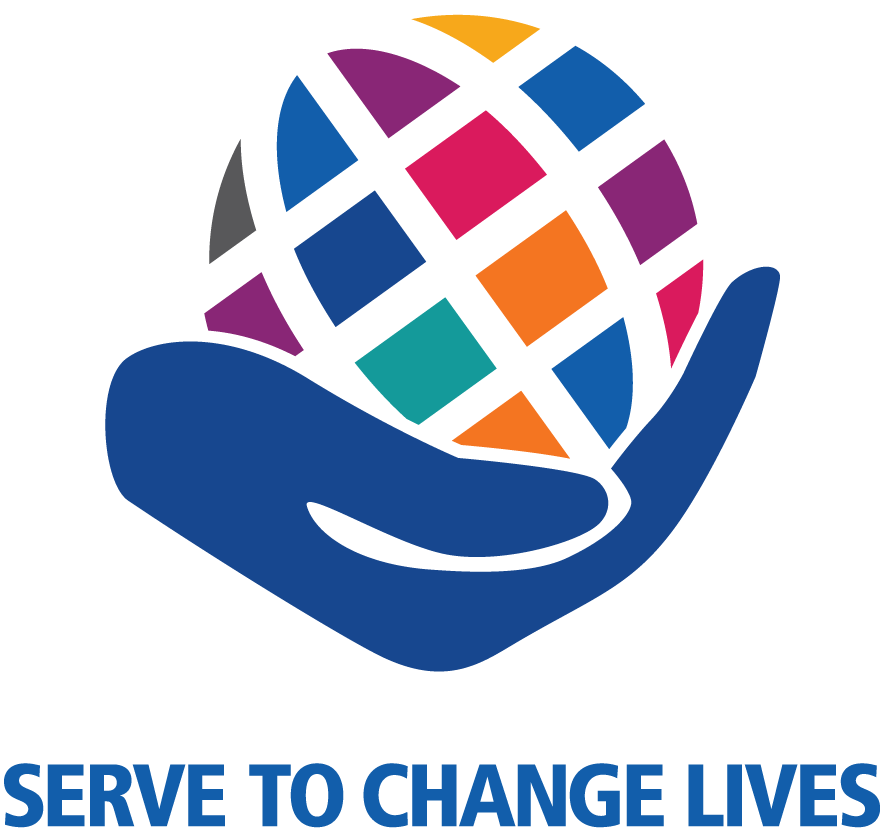 Visitors
President Kay welcomed Lindsey Wood. Lindsey has been a Rotarian in the past and is contemplating returning to the fold.
The speaker said …
There was no formal speaker tonight as it was Committee night, but President Kay heralded the year ahead, saying that she would serve the Club to the very best of her ability.
Viewpoint
John Barber gave us the Viewpoint tonight saying there is no formula for ageing and it is important to take note of the recommendations for healthy ageing. He noted that giving viewpoints is no longer one of his healthy ageing activities! You can read his Viewpoint here.
What's coming up in July and beyond?
Bryan Waddle asked, 'Who wants to be a millionaire', and regaled members with plans for the social evening next week, 13 July, to which partners are warmly invited, He urged us to come along to try to become a millionaire suggesting that, by the end of the evening, one member will have had the chance to do so. (Yeah, right!) Teams of 3-4 people will be made up to answer questions. Bring your wits and prepare to enjoy the fun

and the prizes. Your Club Service Committee advised that we're going back to the future by having a raffle and asks you to bring $5 cash (eftpos, credit card, tap and go will be of no use). As a refresher for what legal tender cash looks like, their suggestion is contained in the photo.
Friday Frolics will start again at the Supply Room on Friday 16 July at 5.00 pm. Those members who wish to attend are invited to join others for a drink and social hour. It's very casual but friendly. Some may stay for dinner afterwards. Those who attend can decide whether to make this the second or third Friday of each month from August onwards. If you have a preference and can't go on the 16th, please let Kay know.
On 20 July we will hear from Murray Edridge, the Wellington City Missioner since May 2018. The number of people seeking emergency housing in the city of 211,000 has tripled in the last 12 months, as rents hit record highs and the pandemic disproportionately impacts lower-earning jobs. Murray will be talking to us about the troubling situation facing Wellington. Rotary Club of Porirua members have been invited to join us. Theirs is now a very small club and, as they supported us in the beginning, we need to support them now. Being so small, getting speakers of the calibre of City Missioner Murray is difficult.
Looking well ahead, everyone enjoyed the Guess Who's Coming to Dinner recently so there will be a repeat on Saturday 21 August with the same format. Drinks and the Draw will be at a member's home with a draw for guest locations followed by dinners at the various hosts. Catering will be supplied
To see what else is coming up, go to the Events page.
Snippets
Kay introduced a new idea for our monthly Committee nights. Instead of a Viewpoint, she is introducing 'The Person Behind the Badge'. This brief 3-5 minute talk will be rostered every Committee Meeting night, instead of Viewpoint, to ensure we know and are aware of our fellow Rotarians. It will be trialled for six months and then reviewed. Members, who will be rostered for this duty, will be asked to give a 3-5 minute talk about what is happening in their life at present (occupation or what fills their days) and either something important in their life or someone, outside of their family, who has changed their life, and how. The idea is for members to get to know more about each other. To give members a taste of things to come, Kay gave a brief resume about Bob Austin who was President in 2012-2013. It was also an opportunity to wish him, and John Barber belatedly, a happy birthday. It was also an opportunity to thank John for his generosity in paying the bar tab for the evening.
To ensure that members are kept informed about what is happening in all areas of the Club, Kay will be asking Directors to start giving reports at meetings, starting next week.
Euon told us that $85 tickets are now available for the Building Hope Fundraising Lunch, being held to raise much-needed funds to help with the prevention of youth suicide in our community. It will be on Tuesday 31 August 2021 at Porirua Club, 1 Lodge Place, Porirua from 12.00-2.30 pm and the main speaker will be Sir Graham Henry. Sarah Searancke will be doing the catering. More details are on the flyer.
This week's happenings
On Wednesday afternoon twelve partners and three Rotarians enjoyed Craig's freshly baked scones with our tea/coffee at Judgeford Golf Course (thanks for the generous shout, Kay). Kay talked about keeping partners informed about our Club's activities and suggested a couple of fundraisers partners may like to undertake for our charities. Other suggestions flowed and then the women dipped into their wallets for an immediate contribution of over $120.00 in response to her idea about the idea of holding 'ChariTeas' from time to time to augment the funds depleted by the absence of money from shrapnel, and contributions to the Sergeant sessions in the past. Treasurer Bruce was delighted to receive the donation. Kay was grateful to all for showing their support by attending. She may run another meeting if other partners, who were unable to come, let her know their interest. It will be a Friday morning to allow those with Wednesday commitments to attend.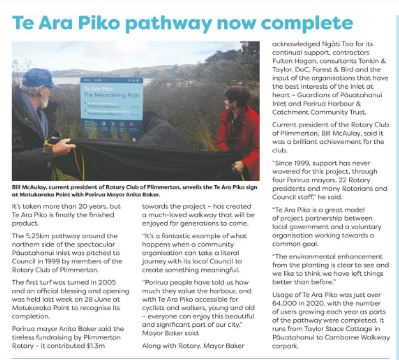 Many members will be aware that the Blessing to celebrate the completion of Te Ara Piko took place on 28 June and may wonder why a report on this very special occasion has not yet appeared on our site. The reason is that the project has reached the final of the Wellington Airport Community Awards from across the region and Graham, Richard, and Phillip will be representing Plimmerton Rotary next Tuesday 13 July (so they won't have an opportunity to become millionaires!) and will be reporting back after the event. Hopefully, we will be able to report in next week's Update. Meanwhile, here's the article that appears in this week's Kapi Mana. If the print is too small for you to read here, you can find it on Page 9 of the Kapi Mana of 6 July 2021.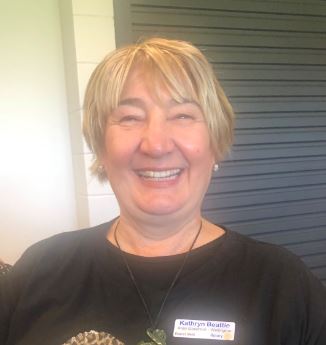 The District 9940 Changeover occurred on Saturday 31 July and Mark Wheeler of Wellington Rotary Club was inducted as the District Governor for the 2022-22 year. Kath Beattie from the Rotary Club of Porirua will be our Area Governor Wellington.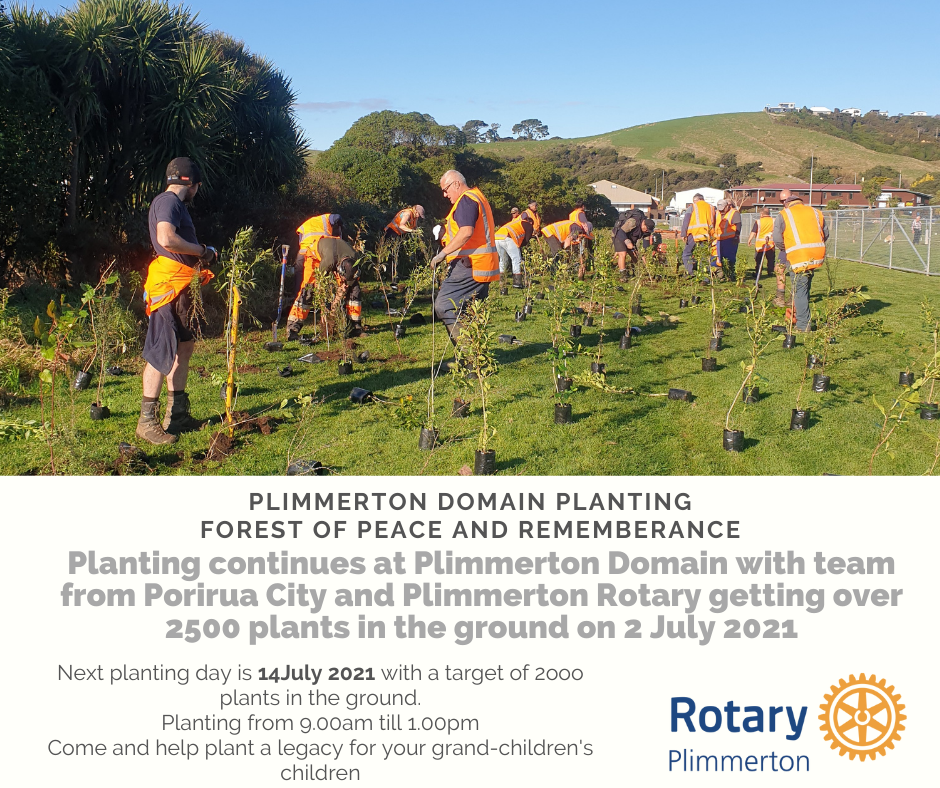 Plimmerton members had a great day at the Plimmerton Domain on Friday 2 July. Barry McEwen tells us that it was a cold start but a brilliant day later on. Bill reported in much the same way, that it was the most beautiful morning to be working on the 'Rotary Forest of Peace & Remembrance' It started with a cracker of a frost and developed into a fantastic windless, sunny day. In the morning, while weeding last year's plantings, a small number of Rotarians did a great job of solving the problems of the world. Luckily there are still a couple more problems to solve so Rotarians who were unlucky to not be there on Friday can do so on Wednesday 14 July and Saturday, 31 July. The trees that we planted last October are thriving, and we are already seeing signs of self-seeded trees getting established as well. This is a joint project between Rotary and Porirua City Council and the PCC Parks Department had about 25 staff on site. They did a superb job and we ended up planting about 2500 trees by 3.00 pm. Bill is still not sure why the PCC grave digging team was also there; maybe looking for work! For the next planting day on Wednesday 14 July, we will be joined by CVNZ and the Health Promotion Agency from 9.00-1.00 pm. Barry believes it would be helpful if Club members could come along to help manage this enthusiastic workforce, so please come along and enjoy engaging with this project.
The new pages for the Board and Committees for 2021-2022 have now been loaded into the Intranet. You can find the pages if you scroll down from the heading 'Board and Committees'.
Comings and Goings
Kay gave us the news that Don Johnston has resigned from the Club but will remain on the list of Friends to keep in contact and perhaps join with us for the odd project and the odd social evening of fun. His health has not been good for the past few years and this has influenced his decision. Don has participated in many Club activities during his time as a member, including a long stint at encouraging new members to join.
The Outside World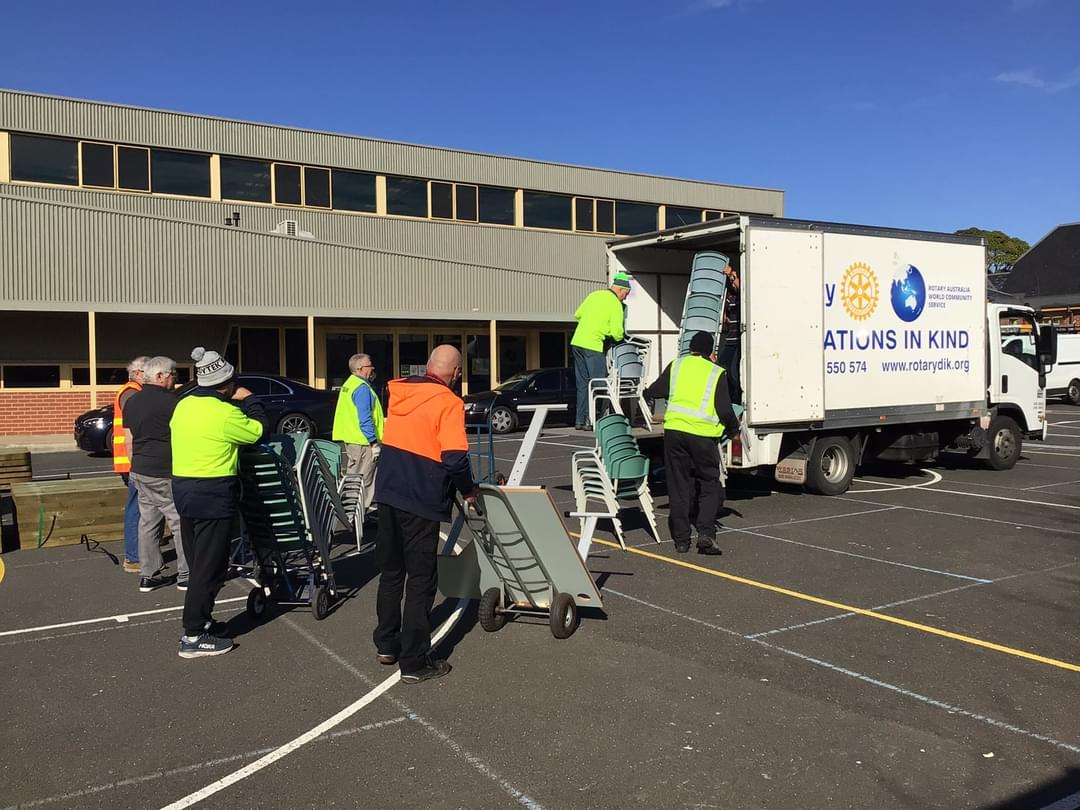 Members may remember our contribution to the construction and fit-out of the Belola Primary School and Kindergarten in 2019 through our in-country partners, Spend It Well. When the crew at Rotary Donations in Kind heard that Spend it Well's stock of school furniture in East Timor was swept away in the Easter floods they told us they'd replace it. True to their word, they have just packed a container full of used school furniture - 220 double desks, 447 chairs and 4 teachers' desks from a Melbourne school which they are shipping to Timor at their cost.
Here is some more information from the President about International Fellowship.
The International Fellowship of Rotarian Photographers is for Rotarians and Rotaractors only, who practise Photography in Professional, advanced, amateur, hobby or at beginner levels. It can be joined via the RI website or via Facebook.
The International Fellowship Cycling to Serve is a group of Rotarians dedicated to promoting cycling as an opportunity for fellowship. Their objectives are to develop worldwide friendships through cycling both competitive and touristic; to serve the community locally, nationally, and internationally through cycling activities; to promote international understanding and peace through cycling activities. This is their website
Parting thought
Phillip gave us the parting thought tonight with a quote from Jim Sorensen. 'A vision without action is called a daydream; but then again, action without a vision is called a nightmare'.
Who's on duty for the next month?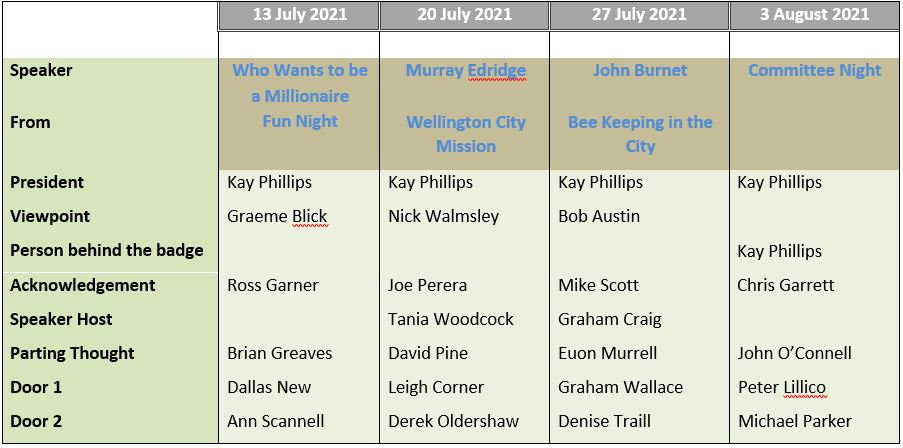 Unable to do your duty? Please find a replacement and inform Graham Wallace.
If you're a late 'no show' please tell President Kay.
Please arrive at 5.45 pm if you're on Door duty or hosting the Guest Speaker for the evening.
Need to apologise or bring additional guests?
Advise the Receptionist at Professionals before 10.00 am on the Monday before the meeting on 233 9955 or email paremata@dwre.co.nz if you prefer.
Please provide the name (and spelling if necessary). The same applies if you're going to be late.