Diary
Rotary Club of Plimmerton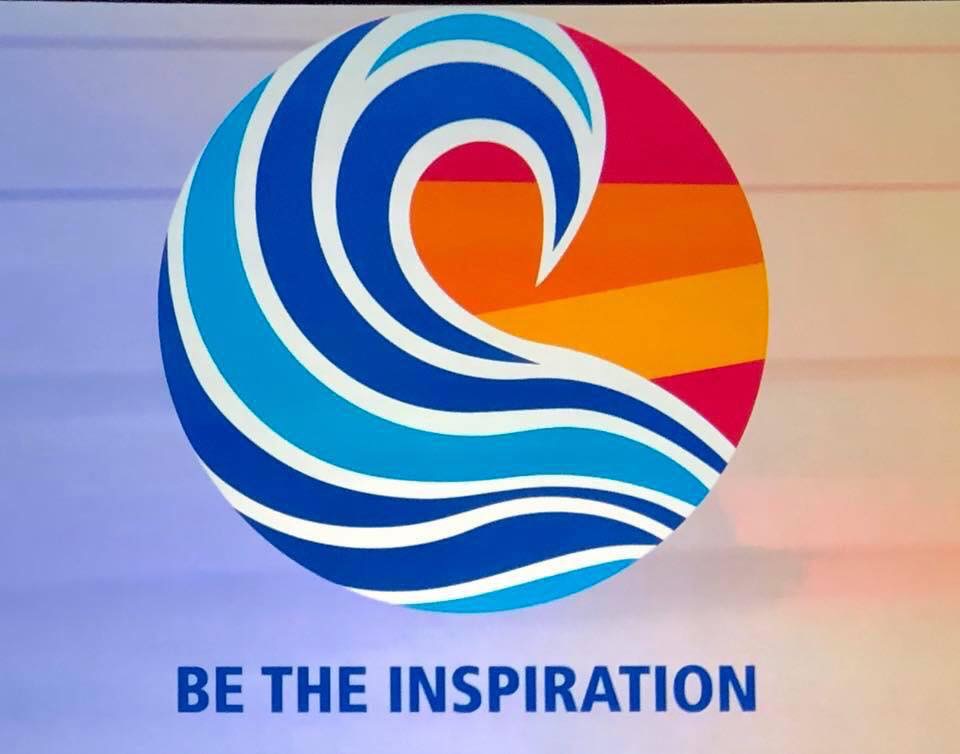 The speaker said …
Rodney Wong and Scott Bruce gave us an example of a very ambitious project, which Rotary made happen through leadership, networking, and management skills. There are two reasons why it's worth going to Mike's story. One is to read his report and the other is to see the photo of our Angus with Rodney - one a current member of Awapuni Rotary Club and the other a member 50 years ago!
Visitors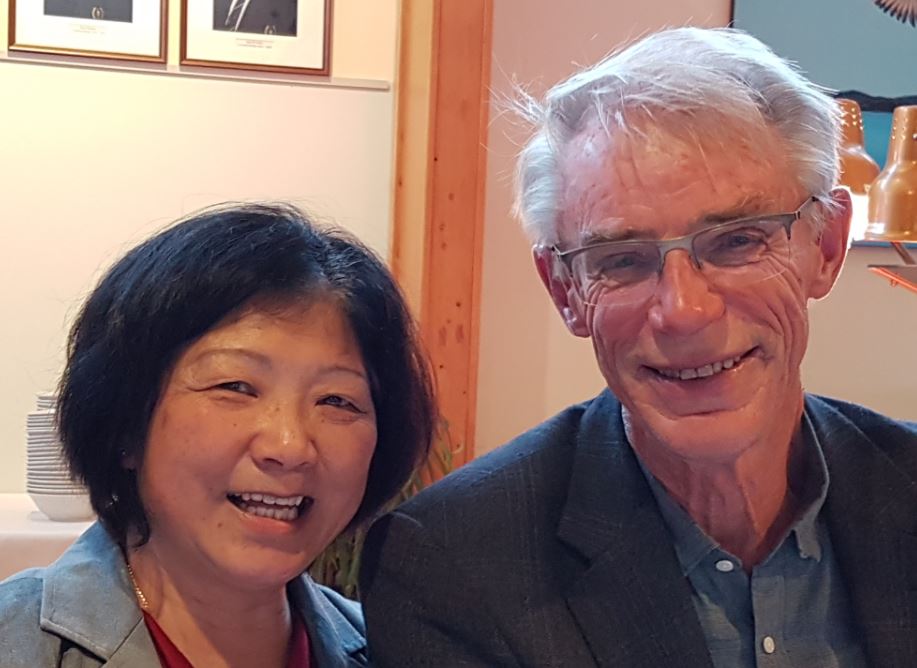 It was great to welcome Angie Wong who had come to enjoy an evening out with Rodney and Scottie, sitting here with Graham Wallace, who introduced the two speakers.
Snippets
Sandie Ryan reported that Mental Health Awareness week raised an issue of sponsorship for a mobile unit for suicide watch.
President Donna reminded everyone to record their volunteer hours on any projects and send them to her or to Graeme Tongs.
Peter Lillico is looking for hosts for six couples from Canada on Monday 25-Tuesday 26 March 2019, including dinner on Tuesday evening. Please let Donna or Peter (when he comes back) know if you can host.
Phillip Reidy asked for at least ten volunteers to help with parking at Lamb and Calf Day in Pauatahanui on Saturday 3 November. As Phillip is going away, please contact Bruce if you can help. A board will go round next week.
Phillip also asked for volunteers to help with the BBQ (which Terrie and Ian have very kindly agreed to run) for the Pauatahanui Inlet Clean-up on Sunday 18 November. If anyone wants to help with the Clean Up itself, that would be good. Please contact Phillip now if you can assist.
Peter Sinke reports that Microsoft appears to have fixed the update he mentioned last week. The revised update is now going out only to their million 'insider' testers before being released to the public, which is likely to be many weeks away. It will not be released generally until their million testers say it's OK.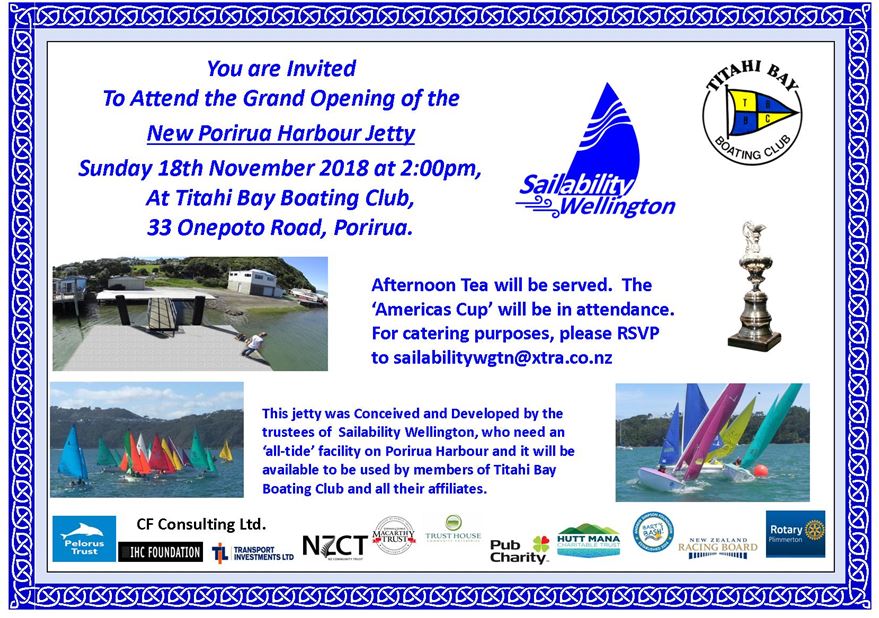 The Club donated $5,000 to Sailability Wellington's programme of Sailing for People with Disabilities a few years ago. Don Manning came to talk to the club. He is now extending an invitation, either to a two-day regatta on 17-18 November or to a special ceremony to the Grand Opening of the New Porirua Harbour Jetty at 2.00 pm on Sunday 18 November at Titahi Bay Boating Club, 33 Onepoto Road, Porirua. As you can see from the picture above, the 'Americas Cup' will be in attendance (as it will be at Lowry Bay Yacht Club on the evening of 18 November and at Te Rauparaha Arena on 19 November. Please RSVP to sailabilitywgtn@xtra.co.nz
Meanwhile, you can watch the preview of the first of the Sailability Wellington Vimeos here. The password is 12345.
The Almoner said …
Our thoughts continue to be with Adrienne and her family as they watch over her sister, Sandy.
Ian Catherall has moved from Malvina Major and is now living at the Whitby Resthome on James Cook Drive. Visitors are always welcome.
This week's happenings
Travel with Patience Asiimwe and her fellow Rotaractors to a remote region of Uganda to vaccinate children who otherwise would be missed. See how far Patience will go to make sure every child in her country is protected from polio.
Following the Rotary Forum, we are invited to Talk Wellington on 21 November at 6.30 pm at PreFab Hall, 14 Jessie St, Te Aro, Wellington 6011. 'Talk Wellington' will be celebrating the power of informed, active citizens shaping Wellington.
Artist, Rebecca Holden, has decided, in this year of the centenary of the WW1 Armistice, to put one of her paintings up for sale for NZ$1250 + freight. If you are interested or know someone who might be please contact her at bex@designfarm.co.nz
Mana Zonta urges us to encourage any young women we feel is making a contribution to their local association. Zonta_Community_Award_poster
Mana Zonta is also collecting underwear for the women at Arohata and the associated Forensic Unit. Let them know if you can help. Zonta_Bras_N_Knickers_Poster_2018
What's coming up in October and beyond?
As you all know, the Rotary Clubs of Johnsonville, Plimmerton, Porirua, and Tawa are holding a charity event at Pataka this evening, 17 October, to celebrate 150 years of women's suffrage. We have four interesting and inspiring speakers, Jan Logie, Judith Collins, Roseta Lopa, and Maisie Bentley and we hope you'll be there.
Searching for words to thank Maisie Bentley, just one of four outstanding speakers, I came across this article and, a 2016 TED talk. If you're not coming to the event, you'll be missing a rare treat.
On 23 October, Mike Jebson, Chief Executive of the QEII National Trust since 2013, will be coming to talk to us.
Remember to contact Donna if you can help at the Diwali Night Market on 25 October, and Adrienne if you can help with mock interviews at Porirua College on 2 November.
The club has a full roster for the Blind Foundation appeal on 27 October at Porirua New World. Peter extends his thanks. But the local coordinator needs to fill 2 time slots at Countdown Aotea (a great site, upstairs and inside well away from weather). Collectors are required for 2–3 pm and 3–4 pm on Saturday 27 October. If you can help, please ring Alison Cox 237 6642 or 027 246 1951.
Remember to come early on Melbourne Cup Day on 6 November if you want to place a bet! The bar will be open until dinner is served. Ladies, remember to wear your fascinators (great prizes to be won) and gentlemen, dress well if you hope to be in for a prize.
Are you starting to swot for the Polio quiz against Tawa Rotary on Melbourne Cup night? Of course, you are! This might help.
If the family is visiting, remember to schedule the Christmas party for members' children and grandchildren on 11 December.
You can find information about all future events here.
The Outside World
Rotary clubs in Canada are investing in the PACT programme, an urban peace initiative that aims to break the cycle of youth crime.
Viewpoint
Terrie's Viewpoint tonight was about our rock, Mother Earth. You can see what she had to say here, together with a few of the pictures she displayed on her extensive power point.
Parting thought
Joe Perera gave us the parting thought, 'that if you give a man a beer he'll waste an hour. If you teach him how to brew, he'll waste a lifetime.'
Who's on duty for the next month?
Unable to do your duty? Please find a replacement and inform Philip Mottram. If you're a late 'no show' please tell President Donna.
Please arrive at 5.45 pm if you're on Door duty or on Introduction duty to greet the Guest Speaker and be his/her host for the evening.
Need to apologise or bring additional guests?
Advise the Receptionist at Professionals before 10.00 am on the Monday before the meeting on 233 9955 or email paremata@dwre.co.nz if you prefer.
Please provide the name (and spelling if necessary). The same applies if you're going to be late.