Blog
Rotary Club of Plimmerton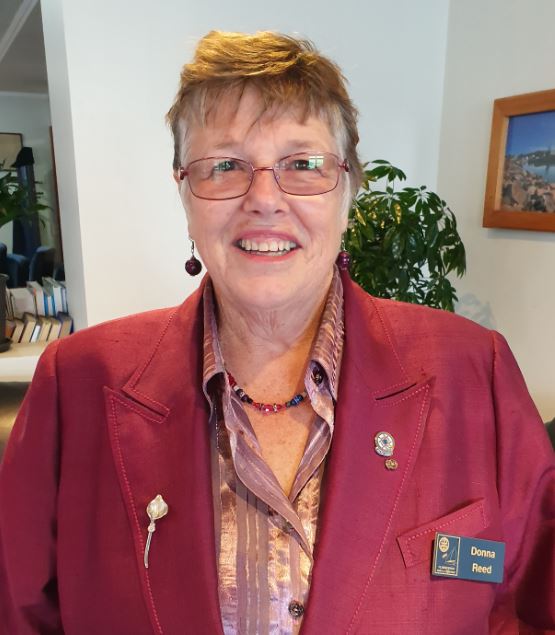 Donna Reed gave us the viewpoint today. She said,
'The term homosexuality has been around since 1869.
'From World War 2, derogatory slang terms have been used for same-sex relationships. Since I found over 70 terms, I won't name them here, but you can imagine the Mana of a person being destroyed when on the receiving end.
'I chose WW2 because of my hero, Enigma Code Breaker Alan Turing who, when conversion therapy to cure his homosexuality failed, later poisoned himself with an apple. He felt worthless, even though his code-breaking skills saved many lives. The Apple computer graphic is a salute to him. The medical profession called homosexuality a mental disorder as if it could be cured. It was criminalised.
'In the 1950s the Gay Liberation Front demanded law reform for consenting adults so, by 1967 the Sexual Offences Act made it legal for two consenting adults over the age of 21, in private. But Police were granted stronger powers for soliciting or behaviour likely to cause a breach to the public. This made people remain secretive.
'Protests exploded after gay people gathered in a bar, the Stonewall Inn, New York, to mourn the death of a gay icon, Judy Garland, in 1969. Police raids used violence with many arrests, but the gay community fought back. Protests raged all over the world.
' In the 1970s at a picnic in Hyde Park in London protesters demonstrated, not only for gay rights but also for better housing, education, employment and demanded an end to being sacked for sexual orientation.
The torch of PRIDE was handed to the future. The Rainbow flag flew in the breeze for Human Rights.
'The first PRIDE march was in 1972. There was dancing, celebrating, and being out and proud. Pride is the opposite of shame. The straight world began to stop, look and listen.
'The Gay Pride parade in London in 1984 collected funds for the coal miners' strikers and their families. The following year the Welsh coalminers marched and sang on the gay parade.
'In 1985 the Gay Rights March in Wellington led to the Homosexual Law Reform and by 1986 same-sex relationships were decriminalised and workplace employment became secure.
'However, in the 90s the HIV crisis demonised gays and lesbians so Gay Pride became less entertaining and more about the protest. There were demands for health care and Human Rights. Governments tried to define Who Family is. Censorship meant gay books were banned from libraries. People wanted to ban Shakespeare, Michelangelo, Tchaikovsky, Virginia Wolfe, and our own Katherine Mansfield. More direct action was needed to change the minds of the Church and politicians.
'November gave rise to a Remembrance Day for Pride for those who felt they didn't belong or feel safe and who didn't make it because they couldn't access jobs, health care, housing or even toilets. The test of a true Democracy is how well it protects its minorities.
'Millennials have much more cultural tolerance for people of colour. The ancient Maori term for same-sex is Takatāpui which is an inclusive term for gay, lesbian, bisexual, non-binary, intersex, queer, asexual and transgender. Pasifika also includes fa'afine.
'In 2013 same-sex couples in New Zealand were able to marry legally. However, in 2016, the Orlando nightclub shooting of 49 gay people dancing, gave the feeling to the world that violence can happen anywhere, at any time. Struggles, especially for young people, continue to make PRIDE parades important. We still have death squads in Iraq, Uganda and now again Syria. There are still 74 million LGBGTQI communities in countries that criminalise. Many were in British colonies, resulting in people fleeing persecution.
'The Gay Pride Parade became a commercial venture with corporations, businesses, military and police participating. Paekakariki Pride Parade is very community-based and tried to get into the Guinness Book of Records for being the smallest but was beaten by Antarctica. The colourful rainbow pedestrian crossing in Wellington is a gentle reminder that we are not there yet.
'I want to honour the people who have gone before me. Georgina Beyer, Carmen, the Topp Twins, and Jan Logie whose work has brought changes under the Domestic Violence Victims Protection Bill into law. Only last week a father, uncle and brother raped their teenager for being lesbian.
'Gay Pride is about being proud even when facing daily discrimination. So, before you ask why there isn't a straight PRIDE month, be glad you don't need one.
'The latest Rotary Down Under gave a great interview of Queenstown's first transgender Rotary President. Rotary is about Truth, Fairness, Building goodwill and better friendships and being beneficial to all concerned.
'My viewpoint is: I am looking forward to the day when a PRIDE Parade is no longer needed because people are people, with love and equality. 'What does Pride mean to you? Nga Mihi.'