Diary
Rotary Club of Plimmerton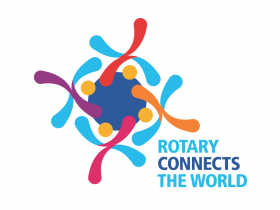 STOP PRESS:
With all the restrictions that are being placed on our movements and gatherings at the moment, as well as the wise choices some people are making about self-isolating, the Board is keeping a close eye on the evolving situation in case it becomes clear that it would be safer to suspend weekly Rotary meetings - at least for the time being. A decision about next Tuesday will be made on Monday and President Euon will notify all our members and the visiting speaker about what that decision is, based on whatever information is available at the time.
The Speaker said ...
Jo Thomas, the incredibly exuberant Animal Care Manager at Wellington Zoo, in charge of the primates, told us about her passion for the chimpanzees. Anyone who has not visited the Zoo in recent times might well feel compelled to go and meet her wonderful wards in the very near future. Jo leads a team of 37 within the total number of about a hundred staff. The Zoo's credo is to have happy animals and any animal under Jo's care would just have to be happy - such is the development of her understanding of the way their minds work after twenty years looking after chimps in Edinburgh, Dorset, and Uganda before coming to Wellington Zoo.
Visitors
We were the visitors this week. Those members who were not involved with the Inner Wheel celebrations were invited to join the Rotary Club of Tawa's weekly meeting where a great time was had by all. President Judith extended a warm welcome and also thanked the caterer, Elaine, for putting on a delicious meal.
This week's happenings
Due to ongoing concerns about the current outbreak of Covid-19, District Governor John Mohi has made the difficult decision to cancel our 2020 District Conference that was to have been held in Lower Hutt.
Volunteer reader/writers are desperately needed by the Learning Services Department at Aotea College to support their learning support students with their assessments. These students have learning differences such as dyslexia and qualify for special assessment conditions. If you think you can help, please email Sarah McBride on sam@aotea.school.nz
Snippets
Tawa's President Judith invited Plimmerton's President Euon to deliver some sombre news. Not only has the Book Fair, scheduled for this weekend, been postponed (see below) but so has the Dancing with Life Education event which was to have taken place in July. This has been pushed out for a year. President Judith also confirmed that the luncheon for Building Hope in aid of suicide prevention has also been postponed. Fortunately the keynote speaker, Graham Henry, the MC, Jason Pine, and the auctioneer, our own Euon, have all confirmed that they will make themselves available when the event date is reinstated.
Donna has a few raffle tickets left for the Wellington Children's Hospital Raffle. Please pay for your tickets by next Tuesday.
Comings and Goings
We have mentioned over recent weeks that George Bright has not been well. His resignation was, as noted at the Board meeting on 16 March, received with a great deal of sadness. We will all miss George's cheerful company, his enthusiastic support on many projects, ready smile and humour.
What's coming up in March and beyond?
The Prime Minister has called a halt to gatherings of more than 500 people. In the light of this, the Board has come to the unanimous decision to postpone the 2020 Book Fair, which was to have been held this coming weekend. Allan Nichols and the Book Fair team (which includes most club members) have worked tirelessly to prepare for this important event in our calendar and it is the Board's intention to hold the event once it is safe to do so. As members know, the future of the Book Fair is under review and a small group has been tasked with determining how best to carry this very effective project forward.
Next week, 24 March, our speaker will be Justin Hodgkiss who will speak on the opportunities afforded by new materials and nanotechnology, particularly with respect to managing climate impact.
For all future events, go here.
Who's on duty for the next month?
Unable to do your duty? Please find a replacement and inform Philip Mottram.
If you're a late 'no show' please tell President Euon.
Please arrive at 5.45 pm if you're on Door duty or on Introduction duty to greet the Guest Speaker and be his/her host for the evening.
Need to apologise or bring additional guests?
Advise the Receptionist at Professionals before 10.00 am on the Monday before the meeting on 233 9955 or email paremata@dwre.co.nz if you prefer.
Please provide the name (and spelling if necessary). The same applies if you're going to be late.
Euon reminds members that it is the role of the person saying Grace to host Cris for the evening.