Diary
Rotary Club of Plimmerton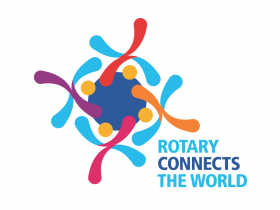 Visitors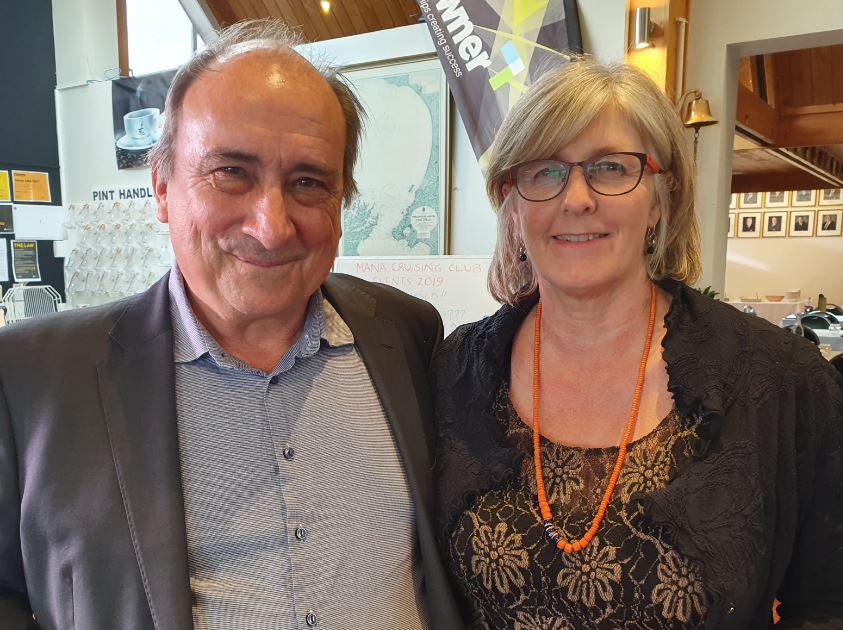 President Euon welcomed our speaker, Vicki Poole, and her husband, Rick Woodham, who is also a diplomat. He also welcomed back Ann Scannell who has visited previously and who may soon join our membership.
The Speaker said ...
We were fortunate to have Vicki Poole as our guest speaker, especially at very short notice when our scheduled speaker suffered a family bereavement and had to pull out. Vicki has had a distinguished career in Foreign Affairs, serving in various roles around the world. Currently, she is Deputy Director of Pacific Development at the Ministry of Foreign Affairs, but from 2016 to 2019, she was our Ambassador to Timor-Leste, and this was the subject of her talk which Mike has captured here.
Viewpoint
Kay Phillips gave us the Viewpoint this evening - 'Captain Cook ' Villain or Hero?' She said that in her view, James Cook was neither wholly good nor bad; neither villain nor hero. He was a skilled cartographer, courageous explorer, a ship's commander who was both kind and cruel, a man who valued the life of his colleagues and crew above those he considered a threat. He was a man whose knowledge, skill and philosophy were ahead of his time. He left a legacy of maps that no-one before him had. Importantly, his voyages enabled much botanical and scientific knowledge to be recorded and shared around the world.
This week's happenings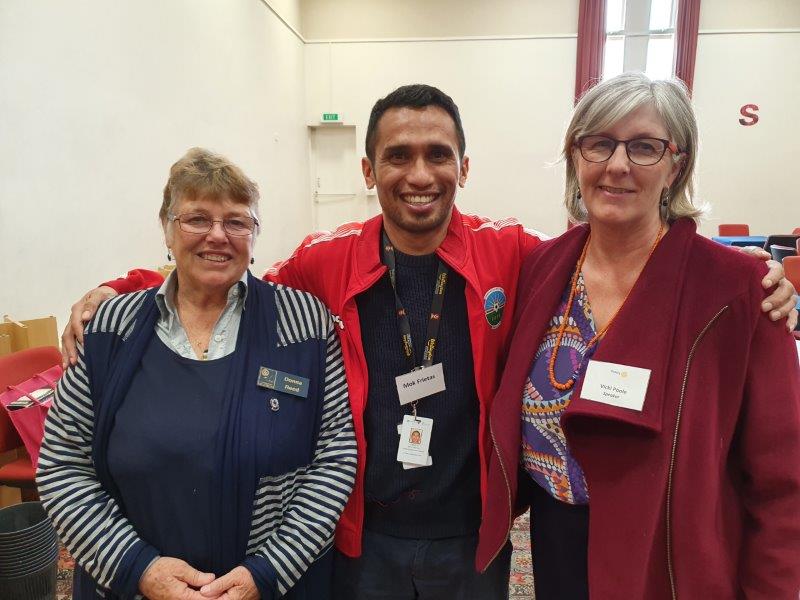 Past President Donna and the editor were fortunate to hear from Vicki Poole, at Wellington North Rotary's meeting on 17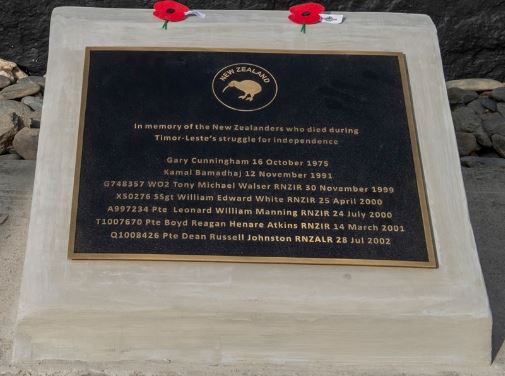 October, She began her talk by commenting that it was the anniversary of the massacre of the 5 journalists from the village of Balibo. A plaque has recently been erected in memory of New Zealanders who were massacred, and the first name on the list is that of Wellingtonian, Gary Cunningham, Donna's cousin.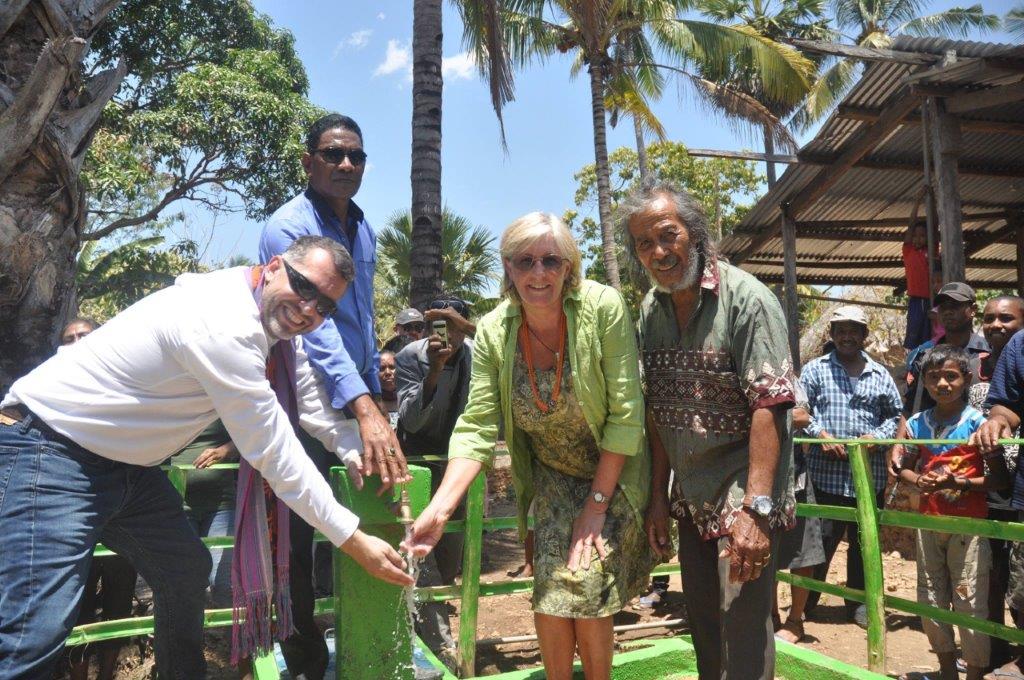 MFAT is currently sponsoring, through its aid and development programme, a nurse from Dili National Hospital, and Cornolio Mok Freitas, the nurse selected, also spoke very briefly. He observed that the photo included in Vicki's presentation was taken in his village. Mok will be studying for a Diploma in Advanced Sterilising Technology at Wellington and Kenepuru Hospitals and living in Tawa until he returns to his wife and two daughters in Dili on 21 December. He is a keen soccer player and has represented his province so we have put him in touch with Cris. He, too, is feeling the cold!
There are lots of events happening in other clubs. Do support them if you can.
Please remember to book for the Porirua Rotary Diwali Dinner this Sunday, 27 October. As you can see from the poster, there are two sittings. Donna, Kay, and Wendy are going to the sitting at 6.00 pm.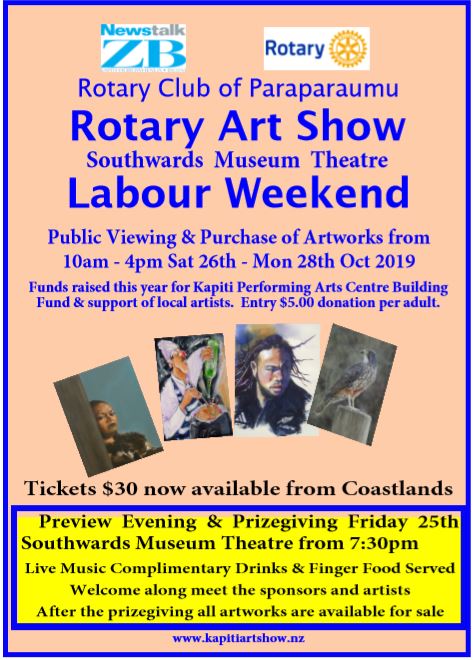 The Rotary Club of Paraparaumu is holding a Rotary Art Show at Southwards Museum Theatre from 10-4 pm from Saturday 26-Monday 28 October.
And the Zonta Club of Wellington is organising a 'Great Panel Discussion' on 8 November from 5-7 pm in the Banquet Hall at Parliament to celebrate Zonta International's 100th birthday. The topic is Gender Equality. The panel will comprise Dame Silvia Cartwright, Marilyn Waring, Hon. Julie Genter and will be convened by Linda Clark. Tickets are $30 and $20 for students. If you are interested, contact Lynn McKenzie on 0274 756 057.
We have received an invitation from the Rotary Club of Wellington North to join them at a showing of Alice in Wonderland at Circa Theatre on Sunday 8 December at 4.00 pm to support the Wellington Regional Children's Hospital Appeal. Alice, the White Rabbit, and Dame Marjorie are joining with the Mad Hatter and friends in a crazy adventure of ups and downs and Pantomime fun. Will Alice rescue her frantic, furry friend? Will our Dame find happiness, fame, and fortune? This could be fun! Tickets are $50 for adults and $20 for children and you can order them by email.
You can find a copy of the latest Board and Charitable Trust minutes in the Intranet if you feel like a good read.
Snippets
Allan Nichols was going to take Cris to a Phoenix game this weekend but he has been chosen to play for the Tawa Under 19s in the football tournament in Napier. Allan has kindly offered to take Mok instead.
President Euon informed members that the Board has decided to donate $1,000 to the Polio Train event next week and two of our members will be riding the train.
Graeme Blick, District 9940 Council on Resolutions Representative, is seeking feedback from club members to resolutions that will go before the Council on Resolutions. Of the 33 resolutions, he has set out six on the attached document that members might like to focus on. Each resolution contains a link. Please respond directly to Graeme.
What's coming up in October and beyond?
Next week, 29 October, Ron Mark is coming to talk to us about his background in the fostering system. Ron was born in Masterton and was raised as a ward of the state. He grew up in a number of foster homes in Napier and the Wairarapa before attending Tararua College.
Remember the Melbourne Cup Extravaganza on 5 November. Philip Whearty will be organising a 'chocolate wheel' and would like some prizes for the raffle. Please bring what you can to next week's meeting. Allan Nichols reminded us that the TAB will be open from 4.00 pm so please be early enough to participate in the sweepstake. We are expecting visitors from Tawa Rotary and members of the Cruising Club. Dinner will take place at about 6.00 pm. As in previous years, there will be 'amazing' prizes for the most fascinating fascinator and the best-dressed man. PDG Martin Garcia from Tawa will be bringing Mok.
And keep working to support Chris with the Mary Potter Charity Golf Tournament on Friday 22 November. You'll notice that it's been elevated to the Home page!
You can see all the future events here including, thanks to Keith Harison, the first speaker in the New Year.
Parting thought
The Parting Thought tonight came from Gwyn Akeroyd who quoted a few words from Henry Ford - short and to the point! 'Don't find fault - find a remedy'!
Who's on duty for the next month?
Unable to do your duty? Please find a replacement and inform Philip Mottram.
If you're a late 'no show' please tell President Euon.
Please arrive at 5.45 pm if you're on Door duty or on Introduction duty to greet the Guest Speaker and be his/her host for the evening.
Need to apologise or bring additional guests?
Advise the Receptionist at Professionals before 10.00 am on the Monday before the meeting on 233 9955 or email paremata@dwre.co.nz if you prefer.
Please provide the name (and spelling if necessary). The same applies if you're going to be late.
Euon reminds members that it is the role of the person saying Grace to host Cris for the evening.