Diary
Rotary Club of Plimmerton


Visitors
President Kay gave a warm welcome to District Governor Mark Wheeler, our speaker for the evening. and Area Governor Kathryn Beattie.
AGMs
Thanks to the wonderful work behind the scenes by Secretary Graeme and Treasurer Bruce that goes on relentlessly day in, day out, President Kay and Vice-President Bill were able to conduct the AGMs of both the Club and the Charitable Trust in good time. Philip Whearty had kindly provided copies of all the necessary documentation and members had been well informed electronically well in advance of the meeting. Phillip Reidy produced a visual record of the volunteer hours that Graeme and the Directors had produced and you can see those here. President Kay thanked all those involved for their hard work.
The speaker said …
Mark Wheeler, District Governor 2021-22, visited our club this week and gave a wide-ranging talk about the future of Rotary, and some proposed organisational changes which we have to start thinking about. He was accompanied by Assistant Governor Kathryn Beattie. He noted his connections with the club and paid tribute to our achievements and you can read what Mike has to say here.

The Person Behind the Badge
Denise Traill spoke as the Person Behind the Badge tonight. She concluded by saying that it is her loyalty for family and love to contribute to safe and fulfilling communities that show her pride in being the name at the front of a Rotarian badge.
What's coming up in November and beyond?
Chris brought us up to date with the arrangements for the Charity Golf Tournament this Friday, 12 November. All 18 holes have been sponsored at $350 per hole. This represents pure income to go to Mary Potter Hospice in addition to other funds raised on the day. Seventy golfers have enrolled for the day which begins at 12.00 noon at Judgeford Golf Course. Phillip Reidy is arranging a sausage sizzle during the early part of the Tournament. Chris asked for additional helpers and gave them instructions. If he doesn't get enough helpers, he will be tapping a few people on the shoulder during the rest of this week.
Next week, 16 November, we will welcome Ian Brewer and the Whakaahuru – The Gentle Singers - who comfort people near the end of life with gentle, soothing songs. They sing by request, at people's bedsides, at home, or in care facilities from Wellington through to Porirua and Hutt Valley. Next week we will be expecting four of their group to explain what they do and sing a little for us. A quartet of their members will provide some of their background story and give a brief presentation of Whakaahuru's "beside singing."
An early reminder that Friday Frolics this month has been moved to Friday 19 November. Kay will tell us the venue next week.
Advance notice that the speaker on 23 November will be Sir Jerry Mateparae. He will be talking to us about Healthier Lives - He Oranga Hauora National Science Challenge. Partners and guests are very welcome to come to this meeting.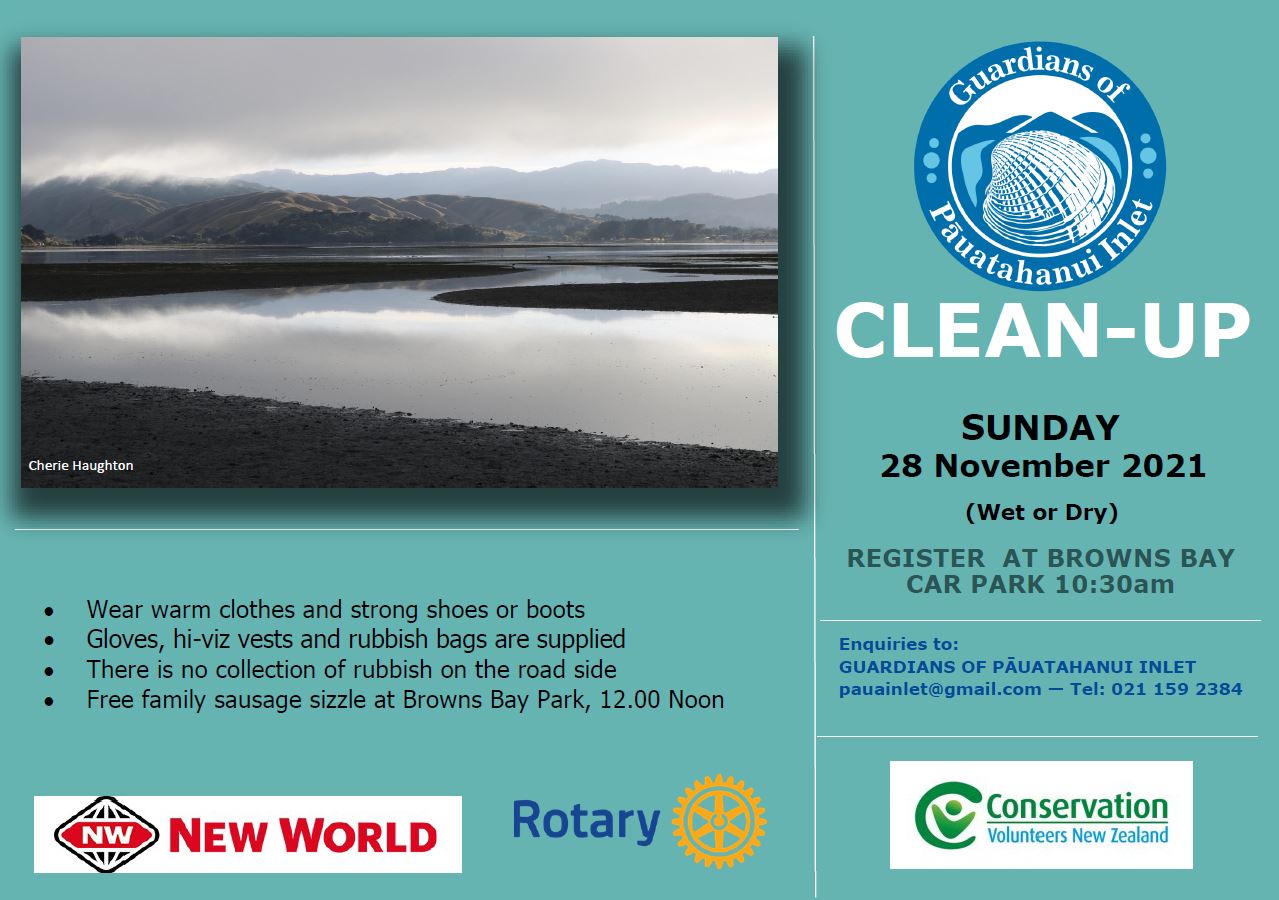 And more advance notice that the next Inlet Clean-Up will take place on Sunday 28 November (wet or dry). Register at Browns Bay car park at 10.30 am for instructions. A free family sausage sizzle will take place there at 12.00 noon. Plimmerton has been a very long term supporter of this community event.
As usual, you can go to the Events page or the Rotary Calendar at the top of the right column on the Events page, both of which will be kept right up to date. If you want to make changes or additions please contact Wendy for the Events Page, Nick for the Calendar for Tuesday nights, and Kay for the Calendar for social events and other activities.
Snippets
AG Kath Beattie spoke about the need for another forty helpers to wrap Christmas presents downstairs at North City Plaza from early December. Lindsey Wood is organising the roster for Plimmerton's contributors so please get in touch with her if you can spare a couple of hours on one or more days. If you'd like to see the slots that are still available, you can click on this link.
This week's happenings
Plimmerton Inner Wheel has had another busy month. You can read their November newsletter here.
Gwyn Akeroyd reports that he has seen the obituary of Peter Blockley in the Dom Post. Peter was a long-time member in the 80s and 90s and a real 'gentleman'. Some of the longer-serving members may remember Peter.
Parting thought
Nick Walmsley gave us the Parting Thought this week from Dennis Wholey, an author of a number of self-help books and an American television host and producer, very appropriate for the work we did with DG Mark and AG Kath Beattie. 'Rather than focus on the negative aspects of change, which is loss, we should focus on the adventure of it and say "What's next?"'
Who's on duty for the next month?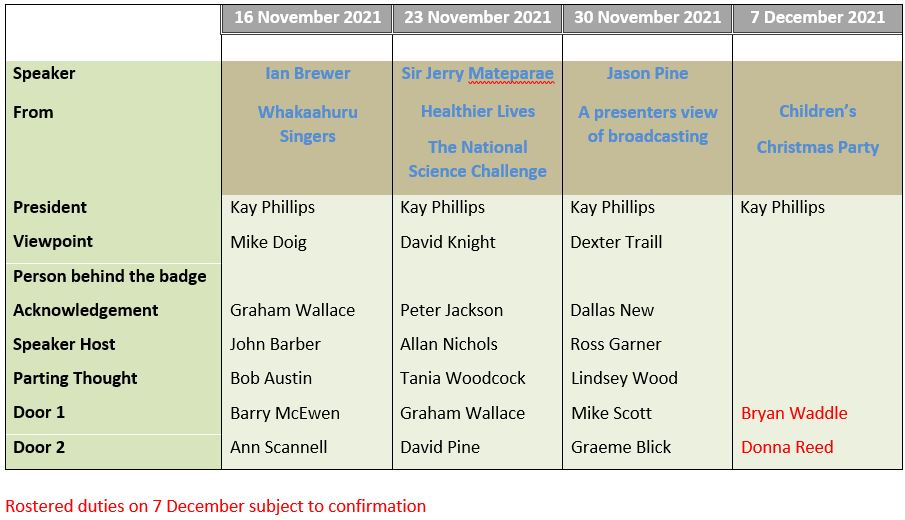 Unable to do your duty? Please find a replacement and inform Graham Wallace.
If you're a late 'no show' please tell President Kay.
Please arrive at 5.45 pm if you're on Door duty or hosting the Guest Speaker for the evening.
Need to apologise or bring additional guests?
Advise the Receptionist at Professionals before 10.00 am on the Monday before the meeting on 233 9955 or email paremata@dwre.co.nz if you prefer.
Please provide the name (and spelling if necessary). The same applies if you're going to be late.