Diary
Rotary Club of Plimmerton

Visitors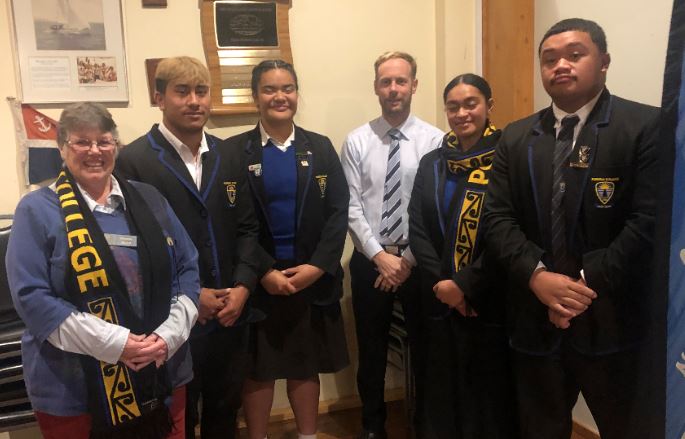 President Bill welcomed the four students who attended the Rotary Youth Programme of Enrichment (RYPEN) and Chris Wood, the Deputy Principal from Porirua College. Gemma is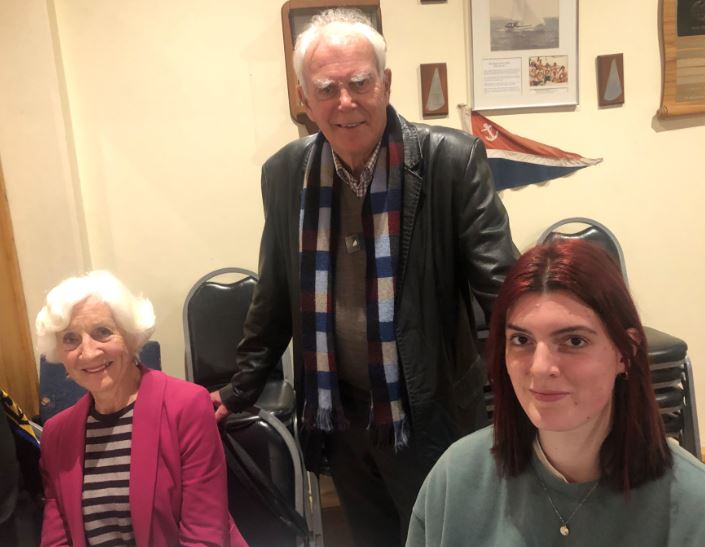 currently a prefect, in year 13, E J, is Head Boy and also in year 1 3. They both attended RYPEN last October and both spoke at the District Conference and received a note of thanks and congratulations from the District Governor. Pualele Fomai and Noa Euta, the 2021 RYPEN attendees, are both in Year 12. Bill also welcomed Honorary members Jim Dearsly, Marie Press, and Peter Turner, as well as Velma Knight with her eldest granddaughter, Gray Randell.
The speaker said …
Tonight we heard from the Porirua Students who attended RYPEN in 2020 - Gemma and EJ, We also heard from the students we sent earlier this year, Pualele Fomai and Noa Euta, as well the Deputy Principal of Porirua College, Chris Wood.
Viewpoint
President Bill took the Viewpoint slot this evening to share his reflections on his year as our President and to set out his thoughts for a possible future for our Club.
What's coming up in June and beyond?
The formal opening of Te Ara Piko has been changed to just the blessing ceremony at Motukaraka Point at 9.15 for 9.30 am on Monday 28 June. Porirua City will communicate this formally to those on the invitation list.
Note: A reminder to all PHFs to wear their regalia. Next week is the moment when President Bill will be passing the baton to President-Elect Kay and her new team. It will be an exciting evening. As you all know by now, the venue is the Silverstream Retreat, 3 Reynolds Bach Drive, Stokes Valley, Lower Hutt 5019. (Just in case you are not going on the bus). The Silverstream Retreat is able to seat us with appropriate social distancing. Dinner is plated So there should be no problems for anyone. You may wish to wear a mask while on the bus. That is over to each individual. If we return to Alert Level 1 on Sunday all is back to normal. If we move to Alert Level 3, which is looking increasingly unlikely as no cases have been reported, a new arrangement will be made for Changeover. Bring some cash and win a beautiful basket of goodies, generously donated by Sue Couch.
Rolling on into the new Rotary year, the discussions from the Forum held on 1 June will continue at our meeting on 6 July. This will be an opportunity for the 2021-2022 Committees to meet for the first time to set their goals for the new Rotary Year.
To see all future events, go here.
Snippets
Chris Garrett confirmed the people going on the Garden and Golf trip to theWairarapa. If you were absent please let Chris know immediately if you will be going.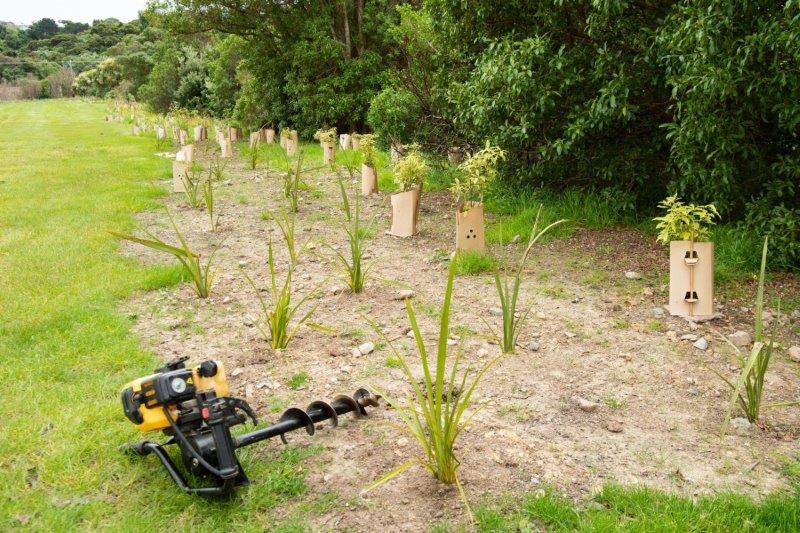 Barry McEwen mentioned the three planting working bees at the Plimmerton Domain for the Rotary Forest of Peace and Remembrance. The next planting day is next Wednesday, 30 June 2021 from 8.30am to 12.00 pm. There is more planting to be done on this day as well as some weeding. Most of the planting will be undertaken by a team from Porirua City Culture and Recreation. The aim is to plant 2,500 stems during the morning which is an impressive addition to the Forest. It would be most helpful if Club members could undertake some weeding and tidying up of last year's planting. It is light work with no digging or planting required. If you have not put your name on the board that went around on Tuesday and you want to engage with this project, please let Barry McEwen know. He will be pleased to have your help. When you come, please bring gloves and secateurs

Phillip Reidy explained that the Porirua City Council nominated our Club for an award at the annual Wellington Airport Awards. We have reached the final in the Heritage and Environment category for Plimmerton Rotary Te Ara Piko.
President Bill reminded us about how well Rotary has done in eliminating Polio from the world. This year there has been one case each in Pakistan and India.
President-Elect Kay passed around the Committee Preferences list for the last time. Those who signed last time have been allocated their first choice.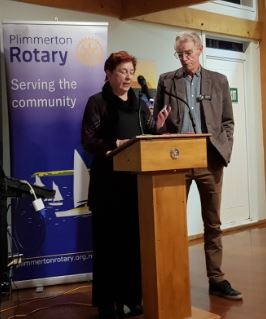 Kay presented a rosette to Graham Wallace as Executive Bus Monitor for Changeover. She explained that Peter Sinke, given authority from absolutely no-one, had made this important appointment. Bus travellers next week make sure you obey your Monitor.
Catering for Changeover is confirmed. Kay reiterated the Club's thanks to Past President Euon Murrell for his generosity in providing the bus for Changeover. Kay asked if anyone not on the bus could possibly help with the pack down after the event finishes. If anyone has a Bluetooth speaker we could borrow, please let Kay know.
President Bill announced, to acclamation, that David Knight was inducted into our Rotary Club thirty years ago tonight.
For those of you wishing to attend the 9940 District Changeover at Massey University on Saturday 3 July, you can register here if you haven't already done so. Proceedings start at 9.30-10.15 am with arrival and fellowship.
Phillip has received a very gracious note from The Rotary Club of Whanganui about our contribution to their Book Fair. You can read it here.
The Almoner said …
It was with great sadness that we learned last Saturday of the passing of one of our honorary members, Spencer Harris – a day after his 92nd birthday. Spencer was a valued active member of our Club from December 1978 until June 2014 when he became an honorary member. He was honoured as a Paul Harris Fellow in December 2007. At last Tuesday's meeting the Club stood and observed a minute's silence. Rest in Peace Spencer – you will be missed.
Parting thought
David gave us the Parting thought this week. He said, PRESS ON! Nothing in the world can take the place of Persistence.
Talent will not: nothing is more common than unsuccessful men with talent.
Genius will not: unrewarded genius is almost a proverb.
Education will not: the world is full of educated derelicts.
Persistence and determination alone are important.
Who's on duty for the next month?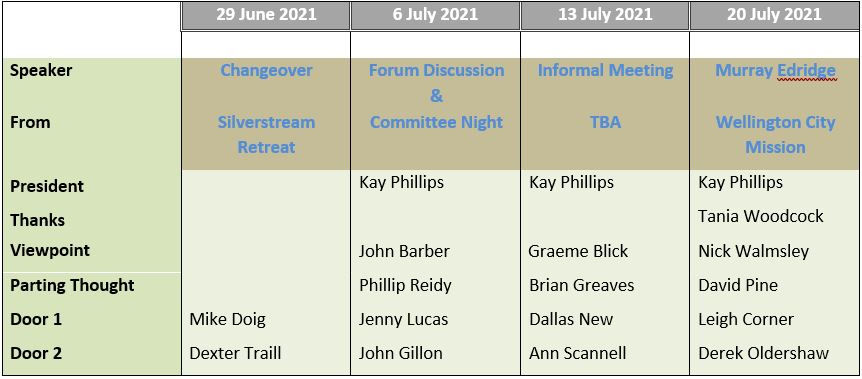 Unable to do your duty? Please find a replacement and inform Graham Wallace.
If you're a late 'no show' please tell President Bill.
Please arrive at 5.45 pm if you're on Door duty or on Introduction duty to greet the Guest Speaker and be his/her host for the evening.
Need to apologise or bring additional guests?
Advise the Receptionist at Professionals before 10.00 am on the Monday before the meeting on 233 9955 or email paremata@dwre.co.nz if you prefer.
Please provide the name (and spelling if necessary). The same applies if you're going to be late.