Diary
Rotary Club of Plimmerton


Visitors
Acting President, Phillip Reidy, (standing in very ably for President Kay - see below) welcomed our only visitor tonight. Bruce Phillips is becoming a regular and, judging by the email we have all received, may soon become even more regular.
What's coming up in March and beyond?
Next week, 8 March, we were to have heard from Dr. Gavin Knight. Gavin is a member of ASIS International, a professional organisation committed to high standards for security professionals. Unfortunately, he is having to self-isolate and cannot come until April. However, Kay assures us that there will be some interesting activities to brighten our week. There will also be updates on Projects so please do come along and enjoy our Club Fellowship.
For all future events, go here.
Snippets
Treasurer Bruce has more raffle tickets available for those who have already sold what they were given. Please let him know if you want more!
President Kay asked committees to discuss the choice between virtual or face-to-face future meetings, given the meteoric rise of Omicron cases. She thanks everyone for making their views known on Tuesday, on physical versus online meetings. She has confirmed with the Board and they are unanimous in the decision to maintain our physical meetings at Mana Cruising Club. The Mana Cruising Club has set a minimum of 20 attendees to open the bar and provide catering so it is important that apologies are sent in in plenty of time (as most of you already do). There are sometimes good reasons why a late apology is needed and that is fine.
Blind and Low Vision NZ have decided their annual Red Puppy Appeal will go ahead. As New World and North City have both refused to allow us to collect there this year, our appeal will be at Aotea Countdown on Saturday 26 March. Peter Cox will contact all those who helped last year. Anyone else who can spare an hour to help this good cause please contact Peter on 04 237 6642. It is understood that some of you will not want to do this in these Covid-times.
Graham reported that some vegies are poking their heads above the soil at the Porirua Garden.
This week's happenings
Registrations are now open for our online D9940 District Conference on 8-9 April 2022. In case you didn't receive the information direct, here are the details. rotary-d9940-2022-conference
In case you didn't receive it directly, here is the District Bulletin for January/February 2022. You will notice that Phillip and Plimmerton Rotary get a mention! D9940_Bulletin_Jan-Feb-2022
The Almoner said …
Following the death of Spencer Harris last year, it is very sad to report that Jenny passed away on Monday evening. Her funeral will take place on Friday 4 March at 11.00 am at North Porirua Baptist Church. Along with presenting a My Vaccine Pass, you will need to register to attend on Jenny's Tribute page here. For those who would like to follow the live stream, here is the link.
Phillip reported on several members who are currently having health problems.
Ross continues in poor health and the thoughts of all the members are with his family.
President Kay is suffering from a badly strained lower back.
Donna's right leg is mending very slowly and she is not allowed to walk, cycle or swim for at least the next two weeks. She is very cheerful and visitors are very welcome.
Parting thought
Chris gave us the Parting Thought this week. He said, 'Those who are too smart to engage in politics are punished by being governed by those who are dumber.'
Who's on duty for the next month?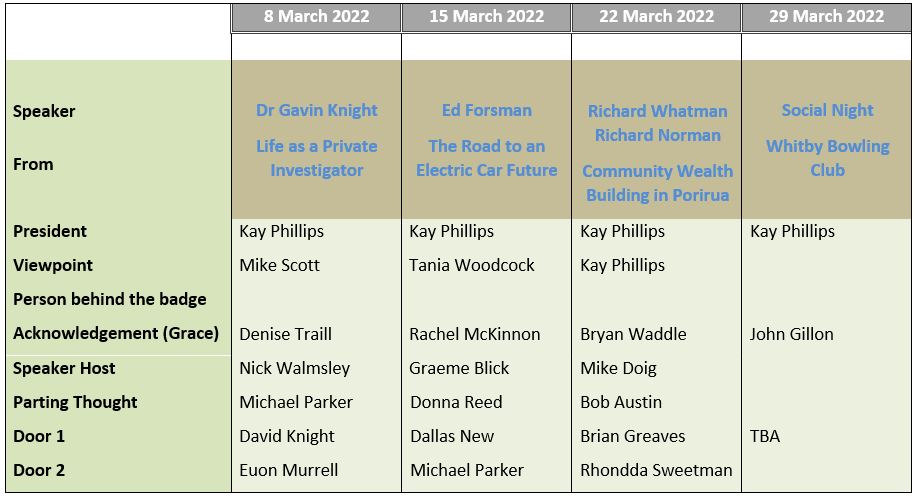 Unable to do your duty? Please find a replacement and inform Graham Wallace.
If you're a late 'no show' please tell President Kay.
Please arrive at 5.45 pm if you're on Door duty or hosting the Guest Speaker for the evening.
Need to apologise or bring additional guests?
Advise the Receptionist at Professionals before 10.00 am on the Monday before the meeting on 233 9955 or email paremata@dwre.co.nz if you prefer.
Please provide the name (and spelling if necessary). The same applies if you're going to be late.