Diary
Rotary Club of Plimmerton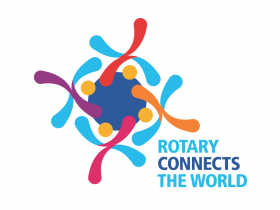 The speaker said …
Our guest speaker this week was Cameron Bagrie, well-known guru on economic affairs, and a trustee of Life Education. His wide-ranging talk left us with plenty to think about. To find out more about his riveting ideas click here.
Visitors
As well as Cris Suarez, our Exchange Student, and Cameron Bagrie, our speaker, Anne Scannell visited with Mike Doig this week.
Viewpoint
Philip Whearty presented a very different Viewpoint giving us a real insight into our fellow members. Too complex to summarise, we have included Philip's whole talk. Read on.
This week's happenings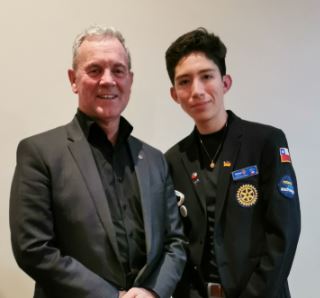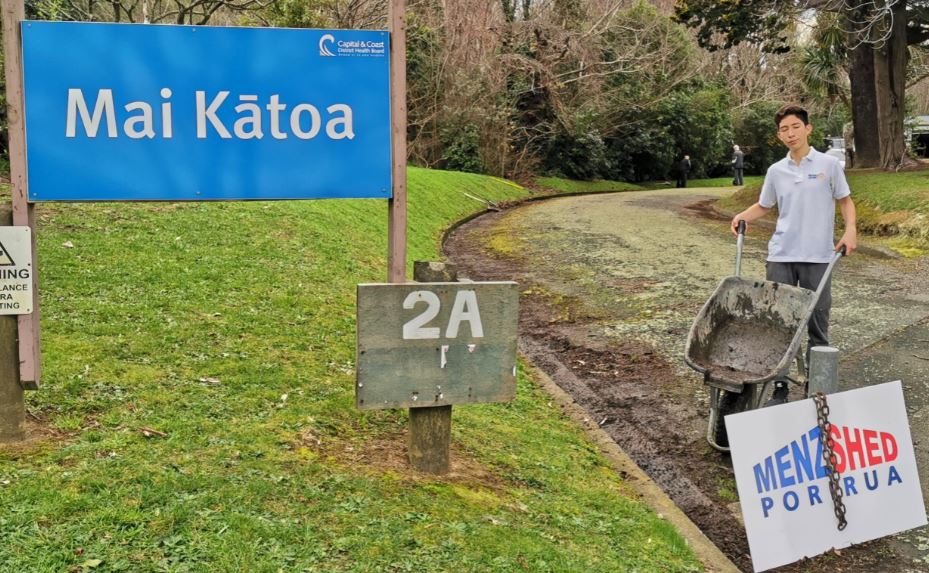 Our new International Exchange student from Chile, Cris Suarez, pictured here with his counsellor, John O'Connell, is settling in well and getting to know club members. He's even been roped in to help with the MenzShed working bee where he put in an active morning's work.
Di Macdonald from the Sustainability Trust is seeking urgent help for the Wellington Curtain Bank as they don't have enough material. The Sustainability Trust takes donations of good quality, mould-free curtains to upcycle and gift to low-income families. 'Basically', she says, 'with winter settling in and orders rolling through the door, the Wellington Curtain Bank is at risk of not having enough material to make curtains for homes that need them. The Wellington Curtain Bank is a not-for-profit social service that sews made to measure quality lined curtains for homes that need them across the Wellington Region. If you think you can help, you can check out their web site here.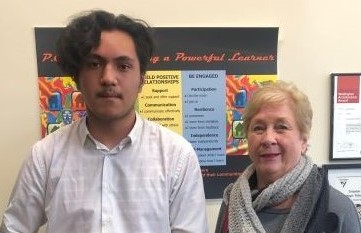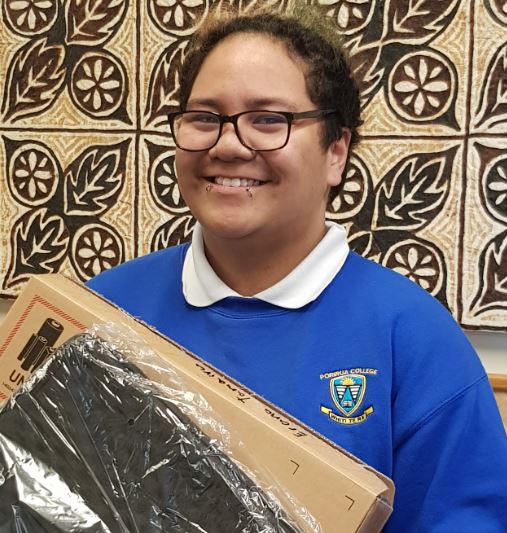 Malique Sharrock with Kay Phillips who attended Porirua College Assembly on behalf of Rotary Club of Plimmerton on Monday to help present the Chromebooks we donated to the College. Malique was one of the recipients of a Chrome Book. Here is Erana Tamaiva with her Chromebook. She is absolutely delighted. Her mother is thrilled too.
What's coming up in July and beyond?
Next week, Scott Brown, US Ambassador to New Zealand and Samoa, will speak to us about his career, his role as Ambassador, the New Zealand / United States relationship and how we work together.
Remember that the MenzShed Open Day will take place on 3 August from 11.00-1.00 pm. Alan thanked all for their efforts at the Working Bee and hopes to see many of us at the Open Day - including women, please.
You can see all future events here. More will be loaded soon.
Parting thought
Chris Garrett's thought was succinct: "If you want something you never had, you need to do something you've never done".
Who's on duty for the next month?
Unable to do your duty?
Please find a replacement and inform Philip Mottram.
If you're a late 'no show' please tell President Euon.
Please arrive at 5.45 pm if you're on Door duty or on Introduction duty to greet the Guest Speaker and be his/her host for the evening.
Need to apologise or bring additional guests?
Advise the Receptionist at Professionals before 10.00 am on the Monday before the meeting on 233 9955 or email paremata@dwre.co.nz if you prefer.
Please provide the name (and spelling if necessary). The same applies if you're going to be late.
Euon reminded members that it is the role of the person saying Grace to host Cris for the evening.