Diary
Rotary Club of Plimmerton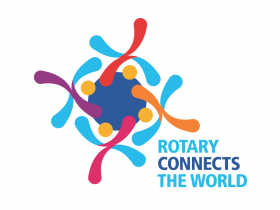 Visitors
President Euon welcomed Anne-Marie, Chris Garrett's new financée, and Tania Woodcock's partner, Tony Sutorius - and, of course, Cris.
The Speaker said ...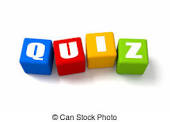 Unfortunately. the speaker had to reschedule but it was our gain as it turned out. In his absence, Bruce Couch improved our knowledge (particularly that of the immigrants present), by conducting an excellent quiz on New Zealand history - a very topical subject.
Viewpoint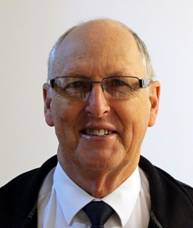 Graeme Tongs gave us his Viewpoint this evening. 'We live in an age,' he said, 'when there are many single-parent families or mum and dad live separate lives and the children are 'shared' between them. I wonder how many 'fatherless' young people in the years ahead will value their contact with Rotarian's (men and women) who have gone out of their way to befriend and support our youth and young adults. Are we up to the challenge?' You can read his Viewpoint here.
This week's happenings
Plimmerton Inner Wheel's September newsletter is on their page for you to enjoy.
And Mana Zonta has sent us their October newsletter. Lots to read this month.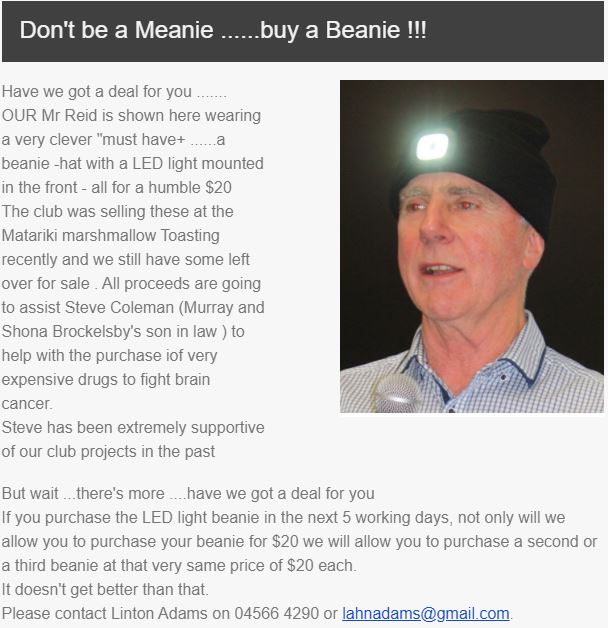 The editor bumped into Ganesh Cherian from Hutt City Rotary a couple of weeks ago. He was wearing a beanie with an oblong 'something' at the front. He later sent a copy of the Hutt City Rotary newsletter which provides the details about a fundraiser they're doing, selling beanies with LED lights incorporated. They're $20 each. The contact person is, in fact, Murray Brockelsby on 027 5661 977 and he lives in Lower Hutt. Or you can email him on shona.murray@xtra.co.nz (The editor has bought two if you want to inspect).
Snippets
Blood Pressure helpers will be needed on Saturday 5 October. Adrienne is coordinating this so please speak to her if you are able to volunteer to offer your time.
What's coming up in September and beyond?
Remember that Sunday is Daylight Saving. Your clocks will 'spring forward'.
Next week, 1 October, is the night for Planning Meetings.
On Tuesday 8 October, Paul Wah will be talking to us about the current economic/political situation regarding the China/New Zealand relationship and the need for New Zealanders to learn more about China, its people, its culture and its history.
Advance notice that Cris will be taking to us about Chile on Tuesday 15 October. Ana Lata and Fiona Sopi, both students from Porirua College, will also be speaking about the support and sponsorship they have received from the club. The Deputy Principal of Porirua College, Chris Wood, will be speaking in the Viewpoint slot. It will be a partners' night and we are expecting a number of visitors.
Parting thought
Deirdre Geyser's parting thought was a quote from Mahatma Ghandi, 'Be the Change you want to see in the world'.
Who's on duty for the next month?
Unable to do your duty? Please find a replacement and inform Philip Mottram.
If you're a late 'no show' please tell President Euon.
Please arrive at 5.45 pm if you're on Door duty or on Introduction duty to greet the Guest Speaker and be his/her host for the evening.
Need to apologise or bring additional guests?
Advise the Receptionist at Professionals before 10.00 am on the Monday before the meeting on 233 9955 or email paremata@dwre.co.nz if you prefer.
Please provide the name (and spelling if necessary). The same applies if you're going to be late.
Euon reminds members that it is the role of the person saying Grace to host Cris for the evening.