Diary
Rotary Club of Plimmerton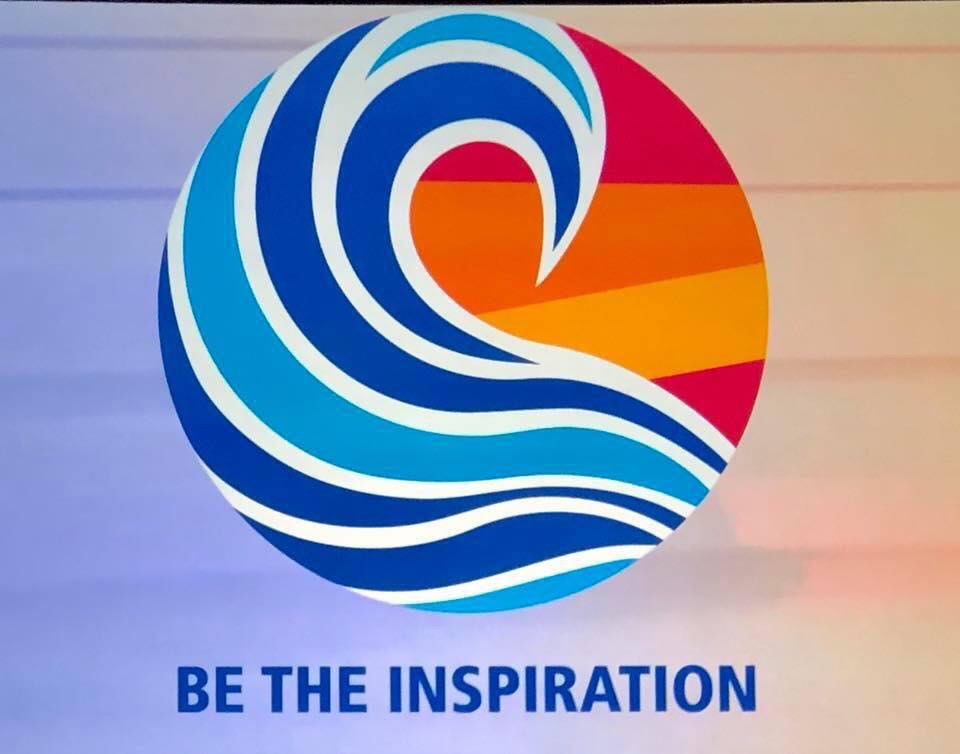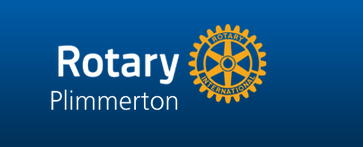 The Speaker said ...
Tonight, the President thanked the Board and Officers of the club and conducted a Forum.
Issues discussed included:
A possible donation to Christchurch Rotary Clubs for survivors of the Christchurch massacre, realising that many members have already donated.
A possible donation of a defibrillator on Mana Island.
A possible contribution to funding for ROMAC for 7-8 surgical procedures in the Pacific nations and the training of nurses with the benefit of a Global Foundation Grant. Members were reminded that some of the refunds from our meal money were sent to the Foundation at each individual member's request.
After managing the door since 2008 Peter Turner has decided to leave the job to somebody else. This is one of those jobs that is required to be undertaken very diligently to ensure the Club runs smoothly but the work that needs to be done is largely unseen and probably unappreciated by most of us. Euon Murrell paid tribute to the outstanding work Peter had done over the eleven years and noted that Peter was not retiring from the Club but merely retiring from the role. Peter Cox has kindly accepted the role of managing the door.
The Club Forum gave the directors the opportunity to speak about the work undertaken by their committees during the current Rotary year.
Euon Murrell spoke about the work the Administration Committee has done in achieving the smooth functioning of the Club and spoke about the upcoming Change-over being held in Parliament House. He said we will start from next week collating attendees' names which have to be sent in prior to the function for security reasons. He also commented on some of his views as the incoming President around some of the projects undertaken by the Club.
Jenny Lucas explained what had been achieved by the International Committee. The recent movie fundraiser for Emergency Response Kits (ERKs ) was a success having raised around $1700 which enabled the purchase of the two ERKS that had been the target. Jenny noted the exchange student Rosie Darrah had returned from Switzerland having had a good year and that Annie Grenfell is having a successful time in Chile. During the year Rotarians from Plimmerton and Kapati spent a week on Taveuni Island developing a house adjacent to the hospital to be used by expectant mothers awaiting the birth of their children. A prototype solar water pumping system was installed and is being evaluated. The two Cambodian students supported by the Club have almost completed their studies and when this is done some thought will be given to supporting another two. The Balibo school received support from an earlier movie fundraiser in the year.
Don Johnston detailed the work the Membership Committee has undertaken in building the membership of the Club. He noted that the team's potential members pipeline was empty and that it behoves every member to identify people who might be interested in joining Rotary and give those names to him. Our Club is very fortunate to have such a very good website and many plaudits should go to Wendy Betteridge our Webmaster for her development and management of the site. The website certainly does help in attracting people to our Club. At least two recent new members applied directly from the website. (Don's suggestions for all Club members will be in next week's Update)
Donna Reed in the absence of Marty Donoghue outlined some of the scoping work the Community Committee has been undertaking with respect to new projects the Club might undertake. She said that the committee has supported the Women's Suffrage event at Pataka (including working closely with students from Porirua College re this), and has made some preliminary progress with scoping out a community fair initiative, on how to support NGOs to access funding, and information gathering on the kinds of needs and support required by refugees. Work on a couple of other promising initiatives had to be cancelled due to burdensome council requirements etc.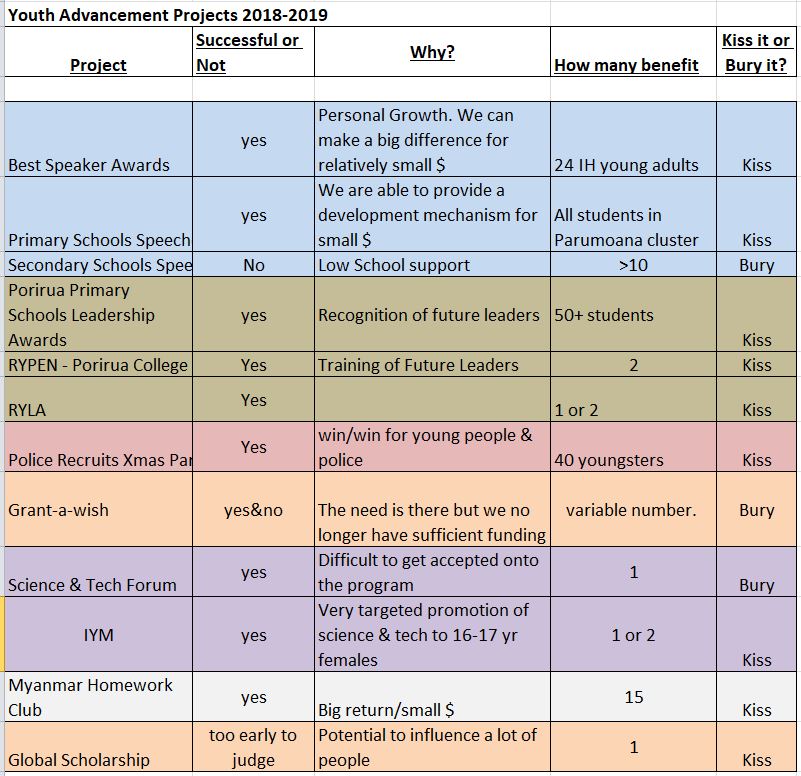 Bill McAulay ran through the various projects the Youth Advancement Committee has been working on during the year and rated them on the basis of "kiss" or "bury". Of the twelve projects reviewed nine were rated a "kiss" meaning that they were likely to continue for the foreseeable future while those classified as "bury" would likely be replaced with a more appropriate project. (The full chart will be on the website shortly).
Phillip Reidy outlined how the Communication Committee had performed against the Communication Plan presented earlier in the year and concluded that the team had achieved a sizable tick for the work undertaken. Here is his power point presentation. Comms_April_2019_Forum_Summary
AG Adrienne Murray spoke about her role as Assistant District Governor and what that entailed in the larger Rotary picture. It was noted that the number of Clubs was in decline and that the structure of Districts within New Zealand was likely to change over time. On behalf of the District Adrienne gave a reminder about the District Conference in Whanganui from 17-19 May. She also noted that April is Maternal and Child Health month in Rotary.
This week's happenings
President Donna mentioned that she had attended the meeting of the Rotary Club of Johnsonville to listen to their speaker, Kath Henderson, talk about 'The Wahine Disaster and my observations'. Kath was one of the last survivors to be pulled from Wellington Harbour and she mentioned aspects of that tragic event that are not in the official records. Following the visit of Greig Cunningham in 2018 when he was over from Australia to accept his brother Gary's posthumous award (he was killed in Balibo) for his photo of the Wahine tipping over, Donna reminded members that we had joined with six other 9940 Rotary clubs to rebuild Balibo by helping to put the roof on the new school which she and Peter Sinke hope to visit later this year. She showed a video clip of the opening of the school in Balibo Belola.
The latest membership list, dated 26 March, is now in the Intranet. If you need an Excel version, let Graeme Tongs or Wendy know.
The April Inner Wheel newsletter is now on our site and makes for good reading.
And the District 9940 April Bulletin is also available now. More reading for rainy days.
Snippets
President Donna thanked Allan and his team for the huge organisation of the Book Fair. She especially wanted to thank the team for organising the books to go to the prison libraries, refugees, Little Sprouts for the first time and Julie's effort to get books to schools.
President Donna read a letter from Coral Aitchison of the Friendship Exchange Committee regarding Rotary Clubs hosting the D5020 Vancouver Island and North Coast of Washington, USA Friendship Exchange Programme:
"Many thanks to you as President of your Rotary Club and also your club members for looking after our Inward Friendship Exchange guests so warmly. New Zealanders are renowned for their hospitality and this has been confirmed with the feedback received from everyone on their recent visit to District 9940. Individual hosts have already been thanked for their hosting, but as a Club President, you are to be congratulated on leading your team and enabling your members to open their homes and their hearts to our guests. Your generosity has been much appreciated. Many, many thanks."
The single mother of a young helper of Rotary projects has cancer and we have been asked to support the Porirua Club with meals or vouchers for them. Anyone who can help please contact Donna.
The national celebration of 30 years of Women in Rotary was postponed both in the South Island and in Wellington, although Auckland's event went ahead (in the rain). PDG Deb Gimblett will let us know when the event will be rearranged, probably towards next summer.
Donna told us she, and other Rotary members were fortunate to walk with James Talbot from Rarotonga around Te Ara Piko. James is raising awareness for special needs in Rarotonga.
A note from June Murugan advised us that Porirua and Plimmerton Rotary Clubs made it into the Cook Island News. For those wishing to find out more click here
"Mana Tangata: People of Action" is the working title of a coffee table publication being crafted by professional historian Dr Stephen Clarke. The steps our Club should take, or may have already taken, to ensure our stories are considered are set out in this article.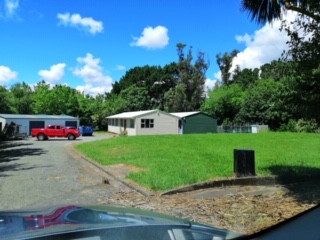 STOP PRESS:
Allan Nichols is delighted to announce that the key to the Men's Shed was handed over on Friday 12 April after four-and-a-half years of waiting. You can rest assured that there will be (much) more information about this in the coming weeks!
And in other Stop press news - our President retired on 12 April so, when school holidays are over, she will suddenly find that Monday, 29 April is not a school day for the first time in very many years! Congratulations, Donna, and welcome to the ranks of the idle (yeah right!) band.
The Almoner said ...
Terrie Turner's big aorta replacement happened over 2 days, one of the biggest operations a team of surgeons have done in New Zealand. We wish her and Ian all the best. Sue Adams tells us that, 'Terrie underwent her procedure on Wednesday and this was successful, however as you can imagine this has had an impact on Terrie. She is in the Wellington ICU where she is expected to remain for another 4-5 days and naturally there are no visitors to ICU. If all goes well after 5 days Terrie will be moved onto a ward and I will let us know when this happens. Terrie is improving which is certainly good news'.
What's coming up in April and beyond?
At our next meeting on 16 April, our own Rotarian, Sue Adams, will talk to us about elder abuse.
Porirua Rotary is having their Rotarian, Bevan, speak on Wednesday 17 April about his 47 years in Rotary.
Future events can be found on our Events page.
A heads up that the Mary Potter Hospice street appeal is on 20 - 22nd September 2019.
Parting thought
Peter Jackson gave us the parting thought, "People who think they know everything are a great annoyance to those of us who do."
Who's on duty for the next month?
Unable to do your duty? Please find a replacement and inform Philip Mottram.
If you're a late 'no show' please tell President Donna.
Please arrive at 5.45 pm if you're on Door duty or on Introduction duty to greet the Guest Speaker and be his/her host for the evening.
Need to apologise or bring additional guests?
Advise the Receptionist at Professionals before 10.00 am on the Monday before the meeting on 233 9955 or email paremata@dwre.co.nz if you prefer.
Please provide the name (and spelling if necessary). The same applies if you're going to be late.