Diary
Rotary Club of Plimmerton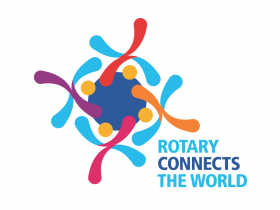 Visitors
President Euon welcomed our speaker for the evening, Rhys Jones, and welcomed back from holiday, David Knight and Graeme Tongs.
The Speaker said ...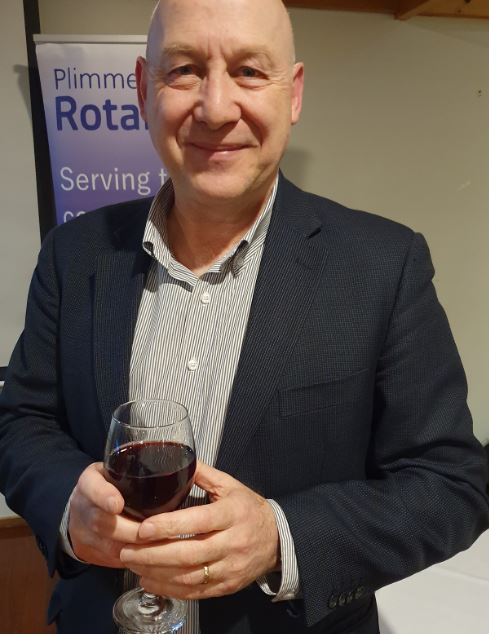 Read Mike Doig's article about what Rhys Jones, former Chief of Defence and now CEO of the recently formed Fire and Emergency NZ had to say. He gave us a lucid explanation of how this important function is organised.
Viewpoint
Les Callear's viewpoint delved deeply into the history and current state of the 'species' he calls 'migrants'. You can enjoy it again here.
This week's happenings
If you weren't able to attend the Porirua Primary School Leadership Awards on Monday 12 August, you may like to read through the outstanding citations written about our young leaders by their schools as they received their certificates from Mayor Mike and their Rotary theme pins from District Governor John.
The photos from the event have been loaded onto our Gallery page here. And if you're really technically savvy, Phillip has loaded a lovely post and photo onto our Facebook page (scroll down until you find it).
Rotary is planning an auction at Southwards Theatre in aid of Preventing Youth Suicide on Friday 4 October from 11.15 am-2.00 pm. If you're interested in going to this event, you can find the details here. Rotary_Charity_Lunch_and_Auction
In a very quick update from Berlin, Jessica tells us that she will send a full report soon. She has family from Malaysia and Australia with her in Berlin at the moment and they've been having a marvellous time. She sends warm and sunny rays to New Zealand and her regards to the 'lovely Plimmerton club'.
Snippets
President Euon reported that the Board had confirmed a grant of $2,000 to the long-awaited MenzShed.
Peter Sinke mentioned the difference that Cris Suarez had made to his and Linda's lives and said that he was a real pleasure to have around. He'd had offers of activities that Cris could join in from several members and urged all members to include him in activities that they might be arranging.
Bill McAulay says: "We had a very successful tree planting day at Taupo Swamp on Saturday afternoon with 40 supporters from Friends of Taupo Swamp, Kapiti Camera Club, Plimmerton Rotary Club and NZ Motor Caravans Assn. We had brief speeches from Mayor Mike Tana and Councillor Jenny Brash then planted about 300 trees adjacent to Taupo Stream on land that used to be covered with blackberry and wattles."
Phillip Reidy, Chair of the Communications Committee is keeping an Event Planner for the 2019-2020 year. Keeping it up to date relies on club members notifying him when they are first aware of events they are planning. Please make sure that you keep this in mind as you make your future plans for the year.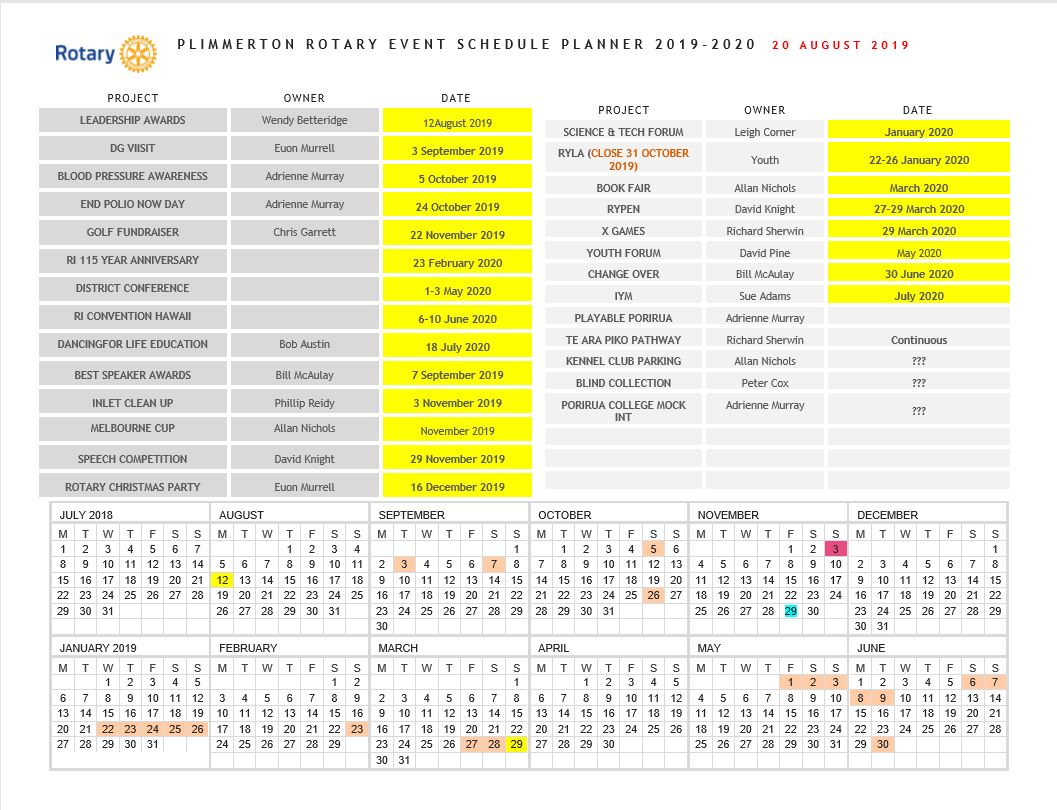 What's coming up in August and beyond?
The speaker next week was to have been Chris Theobald, who, although promoted on our Events page as the principal of Holy Family School, is now the principal of Bishop Viard College. Unfortunately, he's had to postpone so we will be treated to a talk from Bryan Waddle instead. This has not been entered into the Events page.
For all future events, go here.
Parting thought
The parting thought came from David Pine, who said, 'Don't use a big word where a diminutive alternative will suffice.'
Who's on duty for the next month?
Unable to do your duty?
Please find a replacement and inform Philip Mottram.
If you're a late 'no show' please tell President Euon.
Please arrive at 5.45 pm if you're on Door duty or on Introduction duty to greet the Guest Speaker and be his/her host for the evening.
Need to apologise or bring additional guests?
Advise the Receptionist at Professionals before 10.00 am on the Monday before the meeting on 233 9955 or email paremata@dwre.co.nz if you prefer.
Please provide the name (and spelling if necessary). The same applies if you're going to be late.
Euon reminded members that it is the role of the person saying Grace to host Cris for the evening.