Diary
Rotary Club of Plimmerton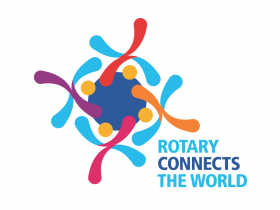 The Speaker said ...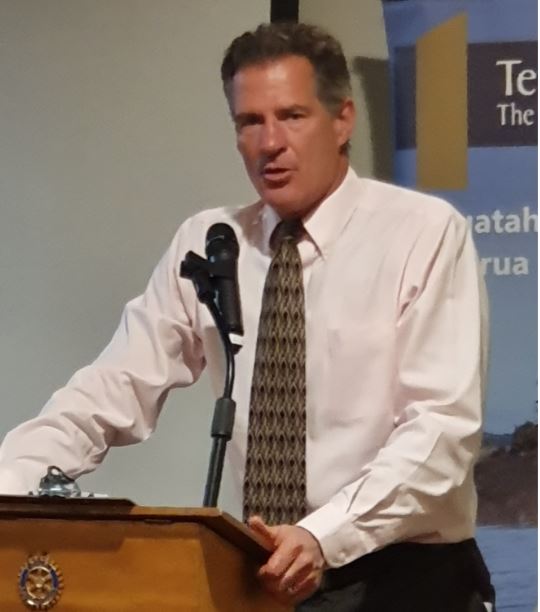 Mike Doig's weekly analysis of what our speakers say make for very enjoyable reading. Here he writes another provocative piece cleverly entitled 'Fake News' about what Scott Brown, the US Ambassador, had to say when he spoke to us last night. The heading alone will make our readers sit up and take notice!
Visitors
President Euon welcomed Scott Brown, the US Ambassador to New Zealand and Samoa, and his Assistant, Cat Guard, as well as a large number of visitors including Barbara Nichols, Val Sherwin, Christine Blick, Glenys Greaves, Christine Harrison, Brenda Callear, Lou Oldershaw, Sue Couch, Annmarie Whooley and Jenny Garnder. At it turned out later, Barbara was accompanied by several members of her family - her daughter, Paula Nichols-Cox and her husband Steve and their children James and Jack. Not to mention Allan!
Euon also welcomed Donna back from her travels and Wendy following her hip replacement.
Viewpoint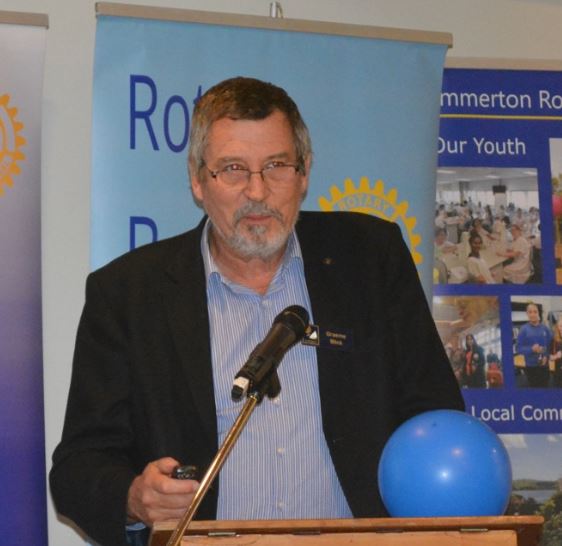 'Through the ages', said Graeme Blick in his Viewpoint, 'we have had a compelling urge to explore and to discover, the thrust of curiosity that leads us to try to go where no-one has gone before. Most of the surface of the earth has now been explored and we are now turning to the exploration of outer space as our next objective and to try and discover if we are really alone in the universe. As Cook must have done 250 years ago, we can only but dream of what the future might look like 250 years from now as we begin to venture out from this fragile and very special place among the stars that we live on and simply call "Our Home, PLANET EARTH"'.
This week's happenings
The latest membership list dated 25 July is now in the Intranet. If you need an Excel copy, contact Wendy or Graeme Tongs direct.
It was interesting to read the August newsletter from Mana Lions and to see that they will be voting on a change of policy regarding the possible admission of women members following their meeting on 14 August. A two-thirds majority is required. for any change to occur.
There are several interesting events coming up at the Zonta Club of Mana so there entire August 2019 newsletter is attached here. Zonta_Mana_August_2019_newsletter
Snippets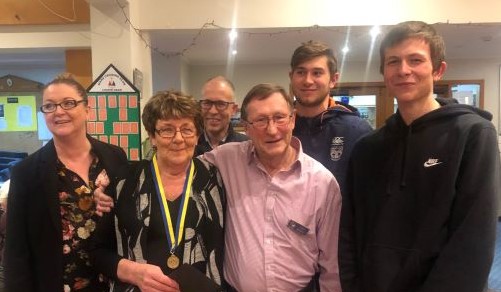 Tonight we celebrated a very special occasion. Past President Donna called upon Barbara Nichols to receive a Paul Harris Award. Unknown to Barbara, who was, for once, speechless, some of her family were 'waiting in the wings' and arrived in the hall just in time to witness the presentation. You can read the detail here. This was a very well-deserved award and welcomed by all the members present.


What's coming up in August and beyond?
Remember the MenzShed Open Day and BBQ on Saturday 3 August. If you can help with the preparations on Friday afternoon an/or Saturday morning, please contact Allan.
Next week, on 6 August, Hon. Judith Colins will be speaking to us. We haven't got a note of her topic yet so it will be a surprise. Check this link to see if this changes.
On Monday 12 August we will celebrate the firth anniversary of the Porirua Primary School Leadership Awards at Elim Church. If you can come, please let Wendy know so that we have the right number of reserved seats.
And a reminder that the August Planning Meetings will take place on 13 August instead of the usual 'first Tuesday of the month'.
Keith Harrison is doing a great job organising speakers well in advance. More information will be posted soon but in the meantime, you can go here to do your forward planning and think about guests you might want to invite.
Parting thought
John Gillon gave us the parting thought, 'The person who doesn't make mistakes is unlikely to make anything'.
Who's on duty for the next month?
Unable to do your duty?
Please find a replacement and inform Philip Mottram.
If you're a late 'no show' please tell President Euon.
Please arrive at 5.45 pm if you're on Door duty or on Introduction duty to greet the Guest Speaker and be his/her host for the evening.
Need to apologise or bring additional guests?
Advise the Receptionist at Professionals before 10.00 am on the Monday before the meeting on 233 9955 or email paremata@dwre.co.nz if you prefer.
Please provide the name (and spelling if necessary). The same applies if you're going to be late.
Euon reminded members that it is the role of the person saying Grace to host Cris for the evening.