Diary
Rotary Club of Plimmerton

Visitors
President Bill welcomed our guest speaker, our newest member, Dallas New. He also welcomed Honorary Members Jim Dearsly, Ron Lucas and Peter Turner and returning overseas traveller from Melbourne, Kay Phillips.
The speaker said …
Our recently-joined member, Dallas New, is a Canadian veterinary epidemiologist and last evening she enthralled us with her study of anthrax among bison. As Mike said in his report, President Bill noted that many of our members have fascinating stories to tell, and we should arrange to hear more of them.
What's coming up in May and beyond?
Contrary to what Kay had said a month ago, and because there will be no social event in May, Friday Frolics will take place this Friday, 14 May at The Supply Room on Mana Esplanade at 5.00 pm. You will see that it's reappeared in your Rotary calendar. It will be followed by BYO Fish and Chips or Pizza at Kay's home at 24 Margaret Shields Avenue, Aotea.
Next week, our speaker will be Bex Jackson who works with DOC in Southland. She will be telling us all about native bats. Bex is Ann Scannell's daughter.
As mentioned previously, the District is running a Pop-Up event at the National Library and is seeking support from local clubs. We are on duty on Wednesday afternoon, 26 May, and Bill is still looking for some volunteers.
There will be a joint meeting with Johnsonville, Porirua, and Tawa Rotary Clubs on 25 May. This is a cluster meeting and will be held at Porirua Club. Phillip will be emailing a Google form so that members can indicate their attendance. Please respond promptly (preferably with a YES) as numbers are required for catering. This is an opportunity to hear what each of the cluster clubs is doing with their key projects, and about opportunities for increasing membership. Just as importantly it is a chance to catch up with friends from other clubs.
To see future events, you can go here.
This week's happenings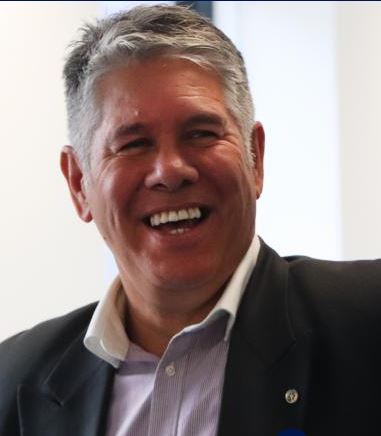 If any of us thought that we had led a busy and productive working life, we might become breathless when we read about what Dexter Traill has done with his, as he takes up his new role in the Office of the Ombudsman. You can read an excellent article that has recently appeared in Ten One Magazine, entitled 'In a league of his own'. Nothing could be closer to the truth.
Alison Cox reports that the Red Puppy Appeal raised $7,100.60 in Porirua this year and that the work of Kay, Wendy, Rhondda, Peter, John, Michael, and Mike raised $608 at Porirua New World. She thanks the club members for their support and mentions that the next appeal will be held again on 22-23 October this year!
May has been another busy month for the Inner Wheel Club of Plimmerton as you can read here.
Parting thought
Graham Craig gave us the parting thought tonight with a quote by Norman Wisdom who said, 'As you get older, three things happen. The first is your memory goes and I can't remember the other two.'
Who's on duty for the next month?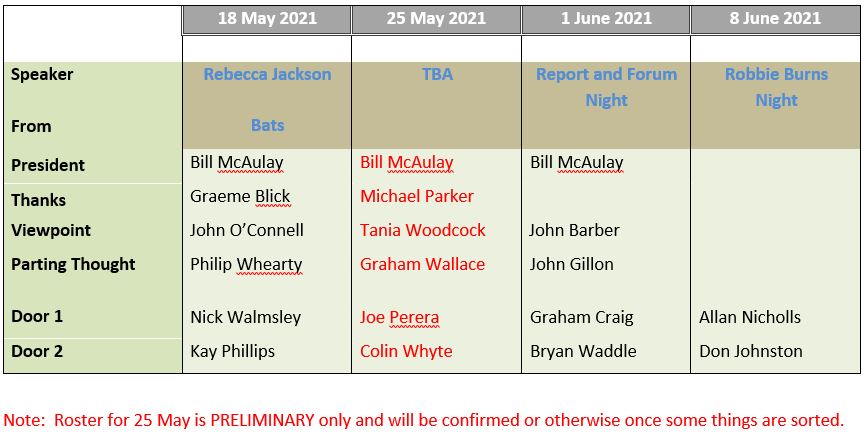 Unable to do your duty? Please find a replacement and inform Graham Wallace.
If you're a late 'no show' please tell President Bill.
Please arrive at 5.45 pm if you're on Door duty or on Introduction duty to greet the Guest Speaker and be his/her host for the evening.
Need to apologise or bring additional guests?
Advise the Receptionist at Professionals before 10.00 am on the Monday before the meeting on 233 9955 or email paremata@dwre.co.nz if you prefer.
Please provide the name (and spelling if necessary). The same applies if you're going to be late.