Diary
Rotary Club of Plimmerton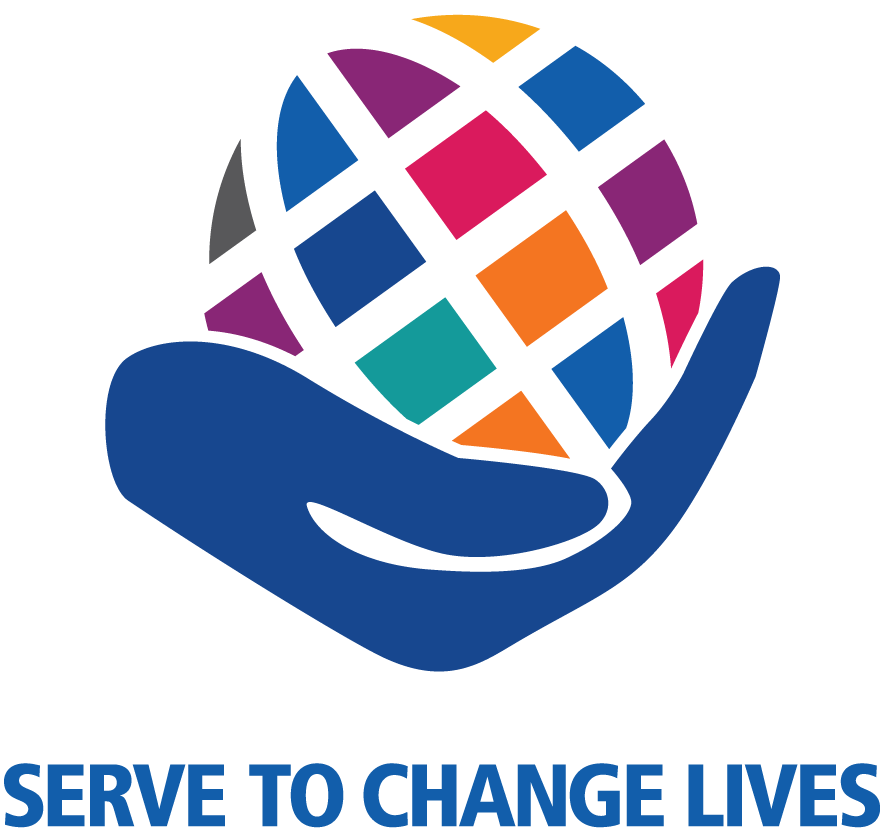 Stop Press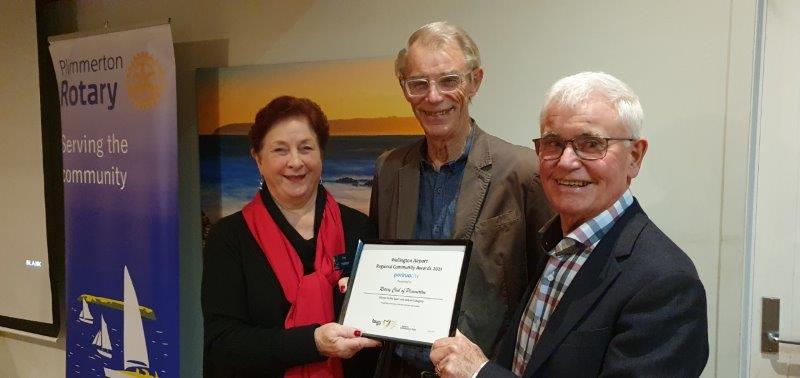 This item won't feature every week but it is a momentous occasion when the Club receives an Award such as that presented at the Wellington Airport Regional Community Awards 2021 in the Sport and Leisure Category. Phillip and Graham (Richard Sherwin was not in attendance) presented the framed certificate to President Kay to suitable fanfare, with the news that the Award included a prize of $1,000.
Visitors
President Kay gave a warm welcome to Murray Edridge, Wellington City Missioner, our guest speaker for tonight. She also welcomed Area Governor, Kath Beattie, Peter Sinke's guest, Andy Duncan (soon to return to Christchurch), and Philip Mottram, always a welcome visitor now living in Palmerston North.
The speaker said …
Murray Edridge, Wellington City Missioner, was our speaker this evening. Apart from being an excellent orator, he gave a challenging and thought-provoking talk about the plight of those in Greater Wellington living without choice or dignity. He urged everyone to make sure that any encounter we might have in the future with anyone less fortunate than us, to make eye contact and inspire hope. You can read Mike's report here.
Viewpoint
Bryan Waddle gave his Viewpoint tonight saying that, although he likes to think he's a caring person, he finds it incomprehensible that any politician could fund an organisation that has helped create the misery of drug abuse then pay them to support it.
What's coming up in July and beyond?
On Sunday, 25 July, Drinks and Nibbles will take place. Chris will send details of the venue/s shortly. If anyone who is not on the list would like to join in, please let Chris know.
On 27 July, John Burnet from the Wellington Beekeepers Association will talk to us about 'Beekeeping in the City and bees in your garden'.
Our next social evening, 'Tuesday with a Twist', will be on 10 August at Light House Cinema in Pauatahanui. As mentioned in last week's Update, you can get your tickets from Phillip (definitely not Kay) and you can read all about it here. If you have any queries about the event, please ask Phillip or Bryan.
To see all future events, go here.
Snippets
Standing in for absent Barry McEwen, Vice President Bill reminded members that the next planting in the Rotary Forest of Peace and Remembrance will be on Saturday 31 July between 9.00 am and noon. Although 5-6,000 plants are already in the ground, there is still lots to do so please come along because some of the jobs are less physical than others.
Tania reported on the progress of the baby Orca calf, Toa, who is still confined to his pool because of the recent flooding polluting Porirua Harbour. He is doing well and DoC is regularly assessing his health but there is no time limit on how long he will remain in captivity. Toa has been cared for 24/7 by Visser, DoC staff, and volunteers since becoming separated from his mother at Plimmerton on 11 July. Radio New Zealand has reported that the community's been fantastic and Tania confirmed this. The crew caring for the whale say they have been blown away by the support from the community, and have more cheese scones than volunteers! It's this support that needs more volunteers and Tania is preparing a roster, laying food out on tables, cleaning up, and doing the dishes. If you can help, please let Tania know.
Director's Reports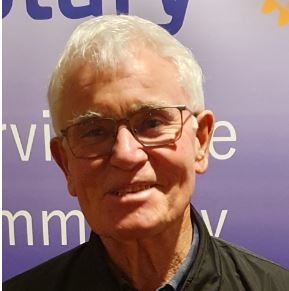 This week it was the turn of the Communications Director, Phillip Reidy who gave a Power Point presentation which is attached here.
Phillip outlined the changes that have been put in place to enable the Committee to be effective. The Update will be published each Friday, except for during the summer recess and deadlines have been set up to enable the Editor to get the document out on time. Elements that are submitted prior to being presented (e.g. Viewpoint and Parting Thought) are posted on the website as soon as they are received but are only visible to those who have administrative access which is limited for security reasons. In addition, future content for the Update will generally be restricted to Plimmerton or other Rotary-specific activities or entities associated with Rotary where it is a common project. Website links will be restricted to Rotary entities only. A document is maintained by the editor showing the activities carried out in each presidential year since the Club's inauguration in 1973. Some recent presidents have omitted to submit their reports for their years and these presidents are being followed up. Future presidential summaries are to be provided within three months of the Rotary year-end.
To reinforce the deadlines sought by the Committee, here is the chart that Phillip outlined: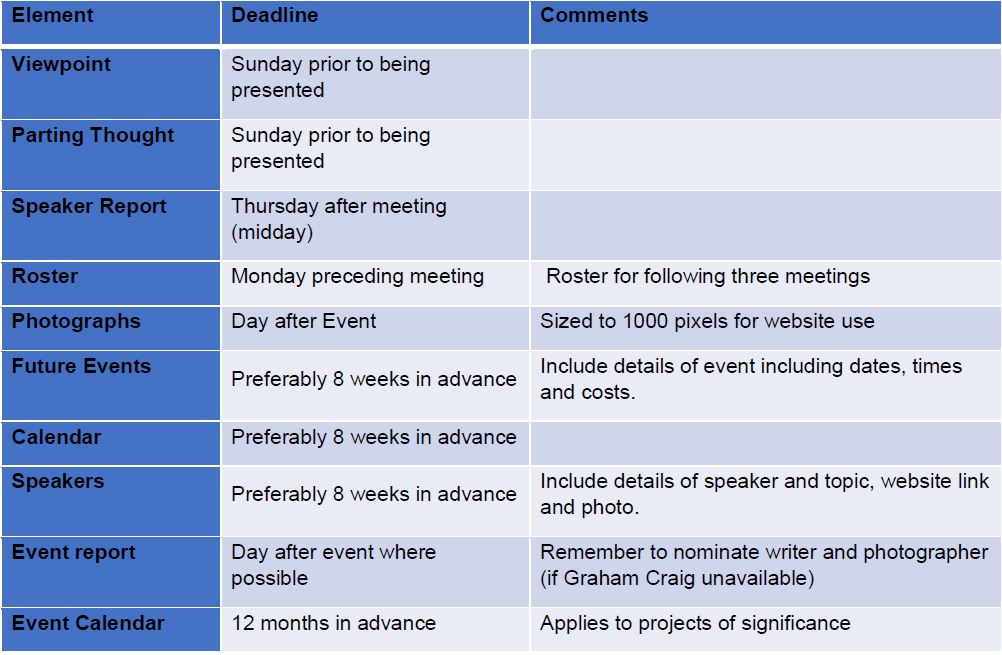 This week's happenings
Thanks to Graeme Tongs, you can go to the Intranet if you would like a little more reading matter. Under the heading Reports and Accounts in the right column, you can find the latest copies of monthly Board Minutes and Monthly Charitable Trust Board Minutes.
Parting thought
David Pine gave us the Parting Thought tonight from a quote by the late Charlie Flowers, an American Insurance agent and an internationally acclaimed speakerhe had the privilege to know, who said, 'If you ever feel depressed, think of four things to be thankful for. It is impossible to be thankful and depressed at the same time.'
Who's on duty for the next month?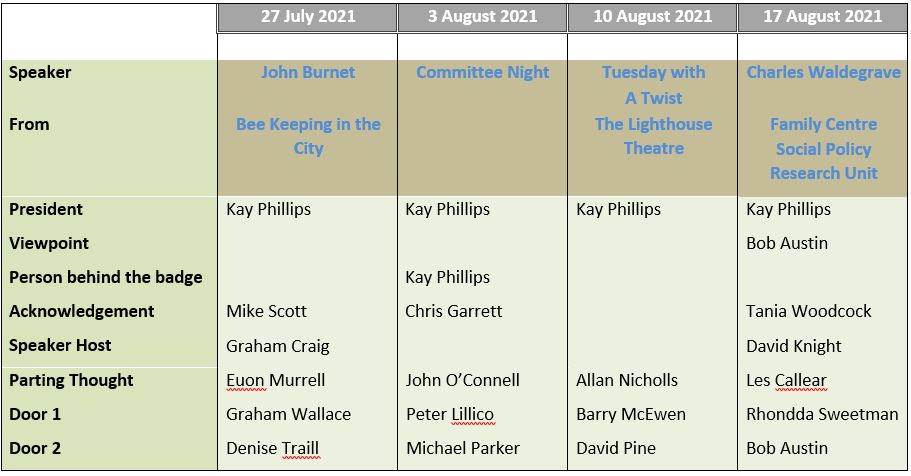 Unable to do your duty? Please find a replacement and inform Graham Wallace.
If you're a late 'no show' please tell President Kay.
Please arrive at 5.45 pm if you're on Door duty or hosting the Guest Speaker for the evening.
Need to apologise or bring additional guests?
Advise the Receptionist at Professionals before 10.00 am on the Monday before the meeting on 233 9955 or email paremata@dwre.co.nz if you prefer.
Please provide the name (and spelling if necessary). The same applies if you're going to be late.