Diary
Rotary Club of Plimmerton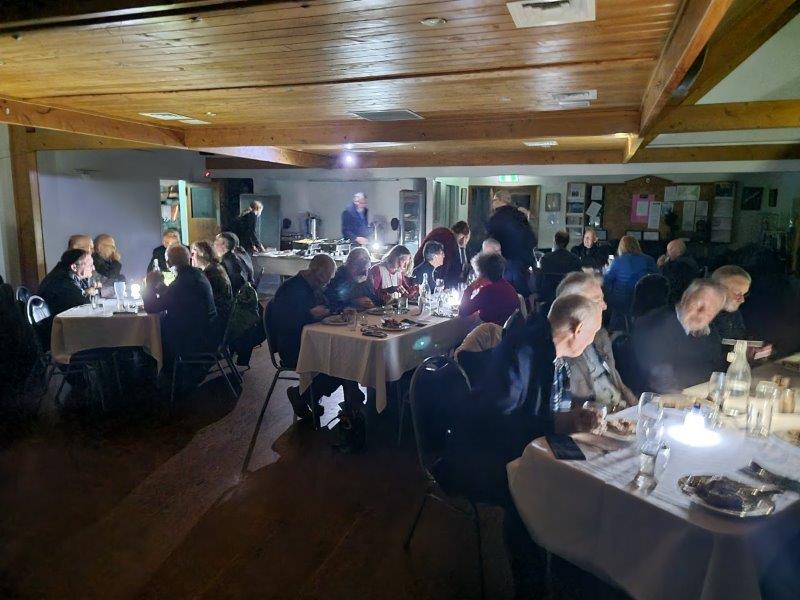 Everyone was rooted to the spot, watching the big screen as the Prime Minister announced that we would return to a nationwide Level 4 Lockdown with effect from midnight in response to one case of the Delta variant in Auckland. And the lights went out! Phone flashlights were turned on, MCC staff provided torches, members made their way to their seats and the meeting continued in the gloom! Mana Cruising Club was only one of a few other buildings affected so there was plenty of ambient light coming from the distant road and buildings. Chris Garrett was clever enough to capture the mood with his new camera! Graeme Tongs and Philip did a grand job helping out.
Visitors
President Kay welcomed Rotarians, partners, and friends and gave a special welcome to our Guest Speaker Charles Waldegrave. Bill brought several guests, May Bass, Joop De Ruiter, Jude Gedye, Paul Taylor. In addition, she welcomed Honorary Member Peter Turner and Mike's wife, Philippa.
The speaker said …
In the (somewhat murky) circumstances. Charles Waldegrave graciously agreed to come again at a later date and President Kay, undaunted, worked her way through the programme in the gloom.
Viewpoint
Bob Austin gave us the Viewpoint tonight about Rest homes/Retirement villages and more specifically the Summerset and Ryman complexes. His Viewpoint was, 'Family Comes First'.
What's coming up in August and beyond?
Friday Frolics for this Friday, 20 August, at The Supply Room from 5.00 pm has been cancelled.
And on Saturday, 21 August, some members would have been off to the second Guess Who's Coming to Dinner. As we won't know when Covid levels will be relaxed in Wellington until midnight on Friday, this has been postponed.
Subject to lockdown regulations, next Tuesday, 24 August, Nicola Kane, founder of Moving Memories, will speak to us about capturing life stories and memories.
The following week, 31 August, Rachel Callear will speak about children with Arthritis. And remember that the Building Hope Fundraising Lunch will take place at lunchtime that day. The details are on the Events page as is the poster Building_Hope.
You can see future events here. The Club Calendar can be seen here. For changes or additions to these, please contact Wendy for the Events Page and for the Club Calendar, contact Nick for anything to do with Tuesday nights and kay for activities and events.
Snippets
President Kay made some announcements:
Thanks again to Wendy and all her team for a seventh successful Primary School Leadership Awards ceremony.
Thanks to Phillip and Janet, and the staff at The Lighthouse, for a hugely successful Te Ara Piko movie night. The movie created a lot of discussions. We should be able to pay for two Emergency Rescue Kits from the proceeds plus the Wellington Regional Airport Community Award money. If anyone is still confused as to what The Man in the Hat was actually about, Phillip has provided an excellent summary of one point of view from Neil Minow, which you can read here. As the report says, this is the kind of film that viewers could debate for hours!
President Kay also reported on outcomes from the August Board Meeting. The Board Minutes will be available very soon on our website:
Only three Tuesdays prior to Christmas do not have a speaker allocated. Keep those suggestions going to Nick, please.
The Pre-school Clothing Project District Matching Grant has been approved.
16 people have so far registered with Christine Blick for the 11 September Charity Ball in aid of the Breast Milk Bank.
Committee Directors have been asked to include membership and speaker programme on their agenda each month so this is a heads up to give these things some thought beforehand, please.
Kay has been asked to improve the timing of meetings so dinner can be eaten as soon as it is put out. Future dinners will be at 6.50 pm. (ironically the black-out prevented that this week!)
The weekly dinner charge for non-members is to be raised to $30. Bruce will explain this at our next meeting and it will start the following week; Covid-19 permitting.
President Kay is encouraging any of our newer members who have joined in the last couple of years, and anyone with an interest in learning more about Rotary generally, to register for the Rotary Leadership Institute workshop that is being held at Avalon Fire Station, 955 High Street, Lower Hutt on Sunday 5 September - Covid permitting. Please let Bruce and Kay know if you want to attend (the Club pays your fee) and register directly with Lee Wilkinson by email or on her mobile - 021 455 326. Lee will want to know your contact details, any dietary requirements, and whether you are holding a club office this year. It is not only an opportunity to learn but also to make contacts outside the club.
Donna gave a report on several ongoing Youth projects. The information made a great time-filler while we waited to see if the Cruising Club staff could work miracles and serve dinner without electricity. Youth is clearly a very busy committee achieving heaps for our community. While you're locked down in Level 4, you may have time to read the report here, with lovely photos, about some of the things she told us.
The pre-school clothing initiatives and the shopping expedition with Chris Blick, Lindsey Wood, and her friend Av.
Success with the District Matched Grant for the Early Childhood Clothing Initiative.
Nick and Rhonda's generous donation of a sewing machine to the Myanmar Homework Club and Gaylene Lines of Tawa's contribution, as well as the work with the children which stretched from literacy to world affairs.
The transformation of the playground at Calliope Park that all began with work by Peter Sinke and his team in 2015. And what had developed out of the Paekakariki Bicycle Library into the Pasifika Bike Riding initiative near the
playground.
Importantly, she reminded members that RYLA 2021 at The Silverstream Retreat (18-25-year-olds) and the Science Forum in Auckland (Year 12 students) are both coming up in January. Application forms are available so please tell Donna if you know of someone to recommend.
This week's happenings
The Rotary Club of Hutt Valley has sent us an invitation to their movie fundraising night to see 'Respect' on Wednesday, 25 August at 8.00 pm at the Light House Cinema in Petone. Tickets are $26 each. You can see the flyer here. Hutt_Valley_-_Respect You can register and buy your tickets online.
Comings and Goings
The first order of the evening was to induct a new member, Lindsey Wood. Donna gave a very comprehensive introduction which revealed that Lindsey has had many and varied occupations ranging from Air Traffic Control to managing a Rest Home (and we can't wait to find out more). President Kay inducted Lindsey into the membership of Plimmerton Club - not a stranger to Rotary as she has been a member of two other clubs previously - and welcomed her to the community committee under Les Callear's leadership. Members gave Lindsey the usual welcome but more personal welcomes will have to be delayed until we can all see Lindsey more clearly. A photo will also follow as soon as possible.
Many of you are aware that Ian Turner resigned just after Terrie did. Ian joined Rotary in 2001 but as he had been unable to get to Rotary for many months and is unlikely to be able to in the foreseeable future, he felt it best to resign. Regrettably, we have just received the retirement notice of another long-term member, Derek Oldershaw. Many of you are friendly with Derek and he has served our Club very well since joining in 2002. Both Derek and Ian were awarded PHFs in recognition of their work in Rotary.
Parting thought
Chris Garrett gave us the Parting Thought tonight, 'Surround yourself with positive people. Negative people find a problem for every solution'.
Mike must be one of the positive people. He predicted that the lights would come on as soon as the meeting was drawing to a close - and they did!
Who's on duty for the next month?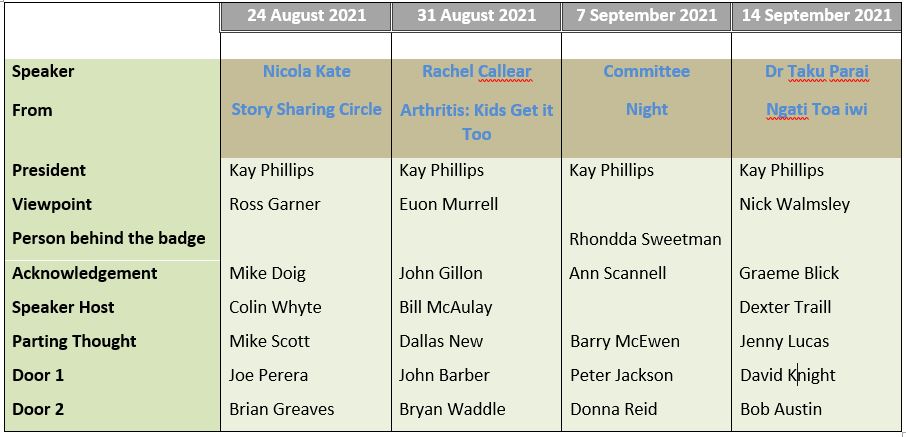 Unable to do your duty? Please find a replacement and inform Graham Wallace.
If you're a late 'no show' please tell President Kay.
Please arrive at 5.45 pm if you're on Door duty or hosting the Guest Speaker for the evening.
Need to apologise or bring additional guests?
Advise the Receptionist at Professionals before 10.00 am on the Monday before the meeting on 233 9955 or email paremata@dwre.co.nz if you prefer.
Please provide the name (and spelling if necessary). The same applies if you're going to be late.