Diary
Rotary Club of Plimmerton

Stop Press
Les Callear writes: It is with deep regret that the Dancing with Life Education event has been cancelled. This is because the producer, who has a critical role in organising the event, has decided to relinquish her involvement. So without a suitable replacement available in time, it is too risky to continue. This was a decision made by our Board and the Life Education committee members. We apologise if this causes any concern.
Visitors
President Bill welcomed our speaker from the deep south, Bex Jackson, a field worker with DoC in Te Anau. Bex is Ann Scannell's daughter, hence the photo of them together. He also welcomed Annette Austing who dropped in to thank us for our support for her and her family. Also welcomed were honorary members Ron Lucas and Peter Turner.
The speaker said …
Bex Jackson has Bachelor's and Master's degrees in zoology and conservation. and is, among other things, is involved with a project studying New Zealand's native bats. She gave us a well-illustrated account of the work, which is centred on Eglinton, in Fjordland and you can read Mike's report here.
Viewpoint
Vinyl is one of the best ways to listen to music, said John O'Connell in his Viewpoint tonight. He believes that the superior sound quality and being able to hold the physical record and actually read the lyrics are enough to justify the investment. A few members asked John for additional information following his talk. This has been added at the end of his post.
What's coming up in May and beyond?
Bill is still looking for volunteers for the Pop-Up event that the District is running at the National Library. Plimmerton is rostered on Wednesday afternoon, 26 May.
Next week on 25 May there will be a cluster meeting with Johnsonville, Porirua, and Tawa Rotary Clubs at the Porirua Club. Porirua Rotary has changed the time of their meeting to coincide with ours so it will still be 6.00 for 6.30 pm. The address is 1, Lodge Place, Porirua City Centre. You will all have received the form that Phillip has emailed to you individually so that he can indicate attendance for catering purposes. This is an opportunity to hear what each of the cluster clubs is doing with their key projects, and about opportunities for increasing membership. Just as importantly it is a chance to catch up with friends from other clubs.
There will be a Forum at the meeting on Tuesday 1 June when President-Elect Kay will be seeking input from members. If you want to participate in the future of the club, this is your opportunity so please come along and have your say.
To see future events, you can go here.
Snippets
Annette Austing asked for a few moments to express her, sometimes emotional, thanks for the support following the death of Les and for the many offers of help. She said she was overwhelmed by the kindness she continues to receive. She recalled one of his earlier projects for the Club, Boots for Bosnia, which he and Noel Evans had orchestrated. Such was his pride for their son, Hayden, that he couldn't resist telling the media that he was being deployed to Bosnia even though this was meant to be kept secret until the formal announcement. The moral of that story was, not to tell Les anything that he might want to pass on!
Euon mentioned that Graham Henry will be the main speaker on 31 August at an event being staged by The Derek Wootton Trust, 'Building for Hope'. Tawa Club and our Rotary cluster clubs. are running the event. The venue is Porirua Club and the time 12.00-2.30 pm. A limited of 200 tickets are being sold for $50 each. Jason Pine will be the Emcee. Funds raised will go to support young people in Porirua with mental health problems who are in danger of committing suicide.
Following the start of his new position in the office of the Ombudsman, Dexter's email address has changed. You can find it on his profile page on the Intranet.
Also on the Intranet, you can find the approved Board and Charitable Trust Board Minutes for 12 April 2021.
The Almoner said …
No message from the Almoners themselves but one from Donna who wanted to record how wonderful our two almoners had been in responding to the news that her son, Chris, based in England (and only 39) suffered a serious heart attack last week and is still in danger.
Parting thought
Philip Whearty's parting thought reflected the speaker's theme for the evening, 'How are bats like real estate agents? It's all echo-location, location, location.'
Who's on duty for the next month?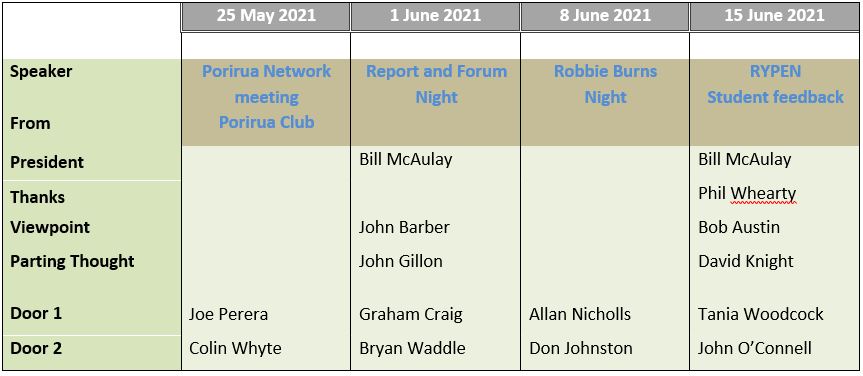 Unable to do your duty? Please find a replacement and inform Graham Wallace.
If you're a late 'no show' please tell President Bill.
Please arrive at 5.45 pm if you're on Door duty or on Introduction duty to greet the Guest Speaker and be his/her host for the evening.
Need to apologise or bring additional guests?
Advise the Receptionist at Professionals before 10.00 am on the Monday before the meeting on 233 9955 or email paremata@dwre.co.nz if you prefer.
Please provide the name (and spelling if necessary). The same applies if you're going to be late.