Diary
Rotary Club of Plimmerton

Visitors
President Bill welcomed our speaker for the evening, Kevin Clarke and his wife, Barbara. He also welcomed Nicki Dutton who also spoke. Visitors included Jackie Edkins, a friend of Wendy's, Simon and Carol Lillico, Jim and Matt Butler, Honorary members Jim Dearsly, Noel Evans, and Peter Turner. Partners attending were Anne-Marie Garrett, Barbara Nichols, Bev Lillico, Meryll Evans and Carolyn Wallace.
The speakers said …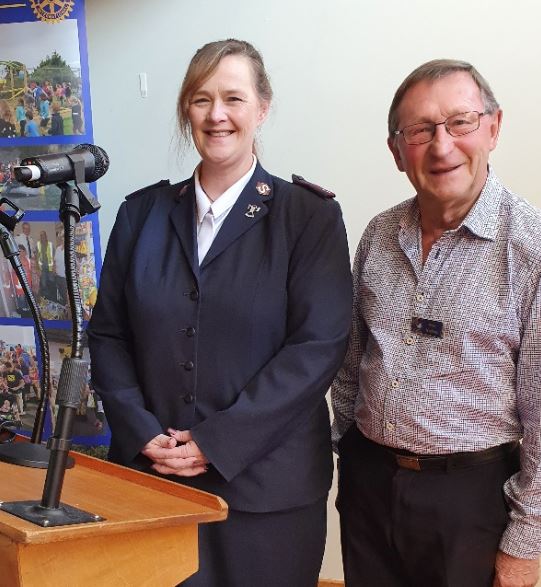 We had an extra visiting speaker tonight. Allan Nichols brought members up to date with the help we have given to the Salvation Army Foodbank over the past 18 years. Malcolm Turner was in charge of this programme for the first ten years and for the past eight years, Barbara and Allan have faithfully delivered $80-worth of food offerings to the Foodbank every week. Allan introduced Nicki Dutton, Director of Community Ministry for the Salvation Army. She calculated that a donation of $80 a week, for eighteen years, amounted to $42,200, a donation that they could not do without. This donation to the Foodbank may often provide a gateway, especially for people who are finding it harder and harder to survive.
Nicki told us about one or two of the initiatives they are running to help their community.
Running a parenting course for Maori and Pacifica men
Preparing food parcels for 4,000 families each week over lockdown
Preparing multiple food parcels each week containing such things as 590 cans, 75 packets of pasta, 75 litres of milk and 100 boxes of cereals
Nick told us that on 27 April the local Salvation Army team will be talking to us about their finances and budgeting services.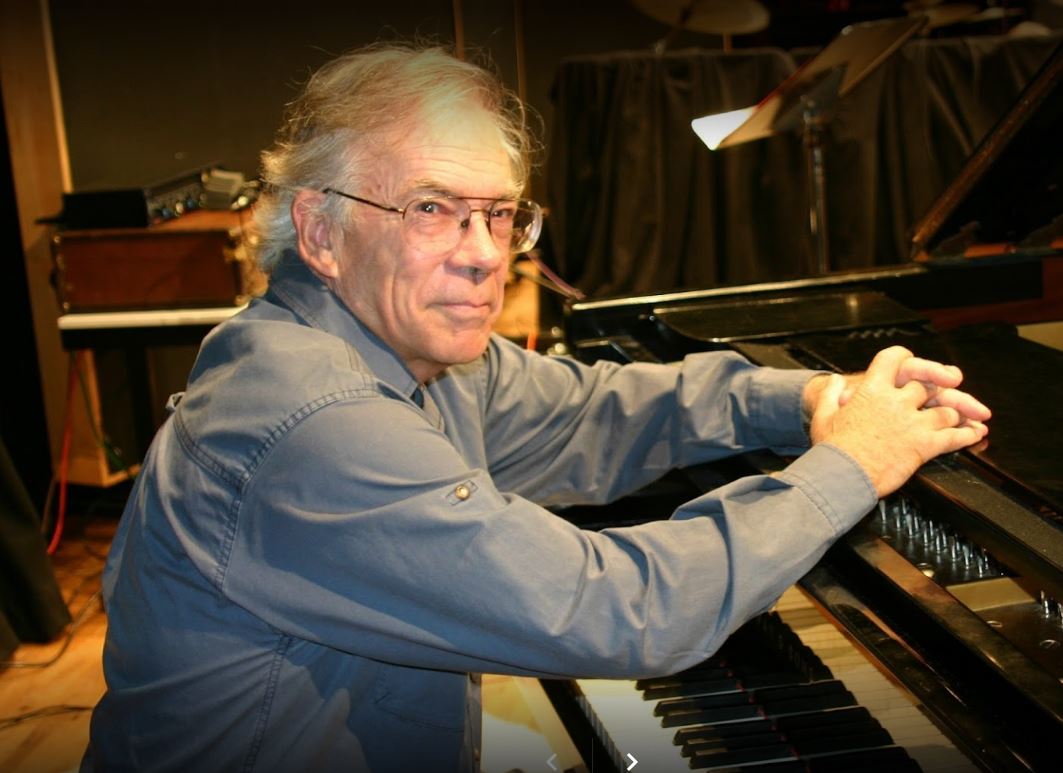 Mike has written his customary flawless synopsis of Kevin Clark's fascinating and entertaining talk last night entitled 'Baghdad or Bust' about which he has written a book. You can relive the memory of what Kevin had to say here.
Viewpoint
Dexter Traill gave us his Viewpoint tonight. He said he believes that the only way for his boyhood community in Eketahuna to be kept safe was for the border with Australia to remain closed until the numbers of Australian and New Zealand residents who have received Covid-19 vaccinations exceed 70% of the populations enabling community herd protection. He also said that, while his viewpoint might not have a right of reply, his ride home after the meeting would be interesting as his fellow Rotarian wife has an opposing view.
What's coming up in March and beyond?
Our next Drinks and Nibbles will take place this Sunday, 28 March. Chris will send details of the venue later in the week.
Our speaker for next week, 30 March, will be Dr Russ Ballard, Chairman of The Board at Rotary Peace, Remembrance and Community Forests Trust. He spoke at the Conference in Carterton at the weekend and will have plenty to tell us. Members from Porirua and Tawa clubs will be joining us and it will also be a partners' night.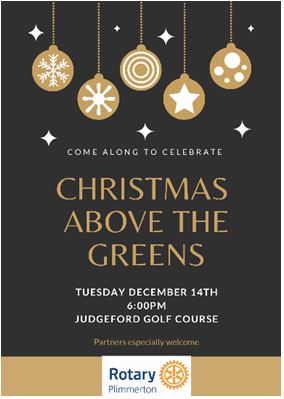 Remember to put these important dates into your diary:
Changeover Night is on Tuesday 29 June at the Silverstream Retreat. The theme will be announced very soon. Our graphics expert is busy. Please let Kay know if you are coming if you have missed the check list.
Guess Who's Coming to Dinner on Saturday 10 April will have the same arrangements as previously. Again, a checklist will be sent around but if you missed it, let Kay know if you'd like to be included. And please let Kay know if you will be happy to be a host. We need more hosts please.
Looking way into the future, the Club Christmas Party will be on Tuesday 14 December at Judgeford Golf Club.
To see some of our future events, you can go here.
Snippets
President-Elect Kay, President-Nominee Denise, and Past Presidents Wendy and Donna represented the club at the District 9940 Conference. Each gave a brief report on some of the presentations they had enjoyed over the weekend. You can see what they had to say here.
President Bill told members that we have received a note of thanks from Arohata Prison for the books we provided following the Book Fair.
For those who kindly volunteered to collect for the Red Puppy Appeal on Saturday 27 March at New World, Porirua please remember your place on the roster.
Kay says that Tawa Rotary's stock of shortbread has run low and the bakery is busy with making hundreds of Hot Cross Buns... Thank you for your orders which will be filled the week after Easter when you will be asked for payment. Kay will take further orders until next Tuesday night.
This week's happenings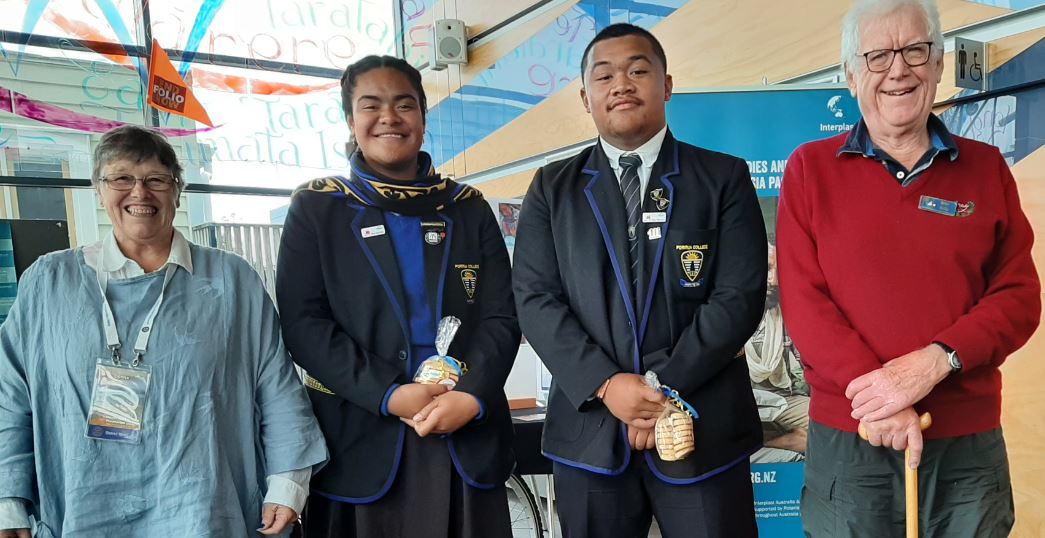 Donna writes that Gemma and EJ really did Porirua College and the Rotary Club of Plimmerton and their families proud at the Rotary District Centennial Conference at Carterton. They overcame their nervousness and shyness to speak about their experience at the Rotary Youth Enrichment Programme (RYPEN) last October. Not only did they give up a Sunday and wear their College uniform, but they spoke to over 120 Rotarians. We were met by RYPEN organiser Mel Cook who congratulated them again afterwards. Many Rotarians said they had a tear in their eye as they listened to them. They were even mentioned again when our District Governor Gillian Jones did her sum up of the Conference. Sincere thanks to David for all his organisation for RYPEN 2020 and to Mike for bringing the students over to Conference.
Plimmerton Inner Wheel has posted its January, February, and March 2021 newsletters and you can find them here.
Thanks to Secretary Graeme, you can now find the monthly Board and Charitable Trust Board minutes in the Intranet.
For those who are following the sailing lessons for primary school students at the Titahi Bay Boating Club, scroll through this inspiring link.
Parting thought
Donna gave us the Parting Thought tonight - 'Live with no excuses and travel with no regrets.'
Who's on duty for the next month?
Unable to do your duty? Please find a replacement and inform Graham Wallace.
If you're a late 'no show' please tell President Bill.
Please arrive at 5.45 pm if you're on Door duty or on Introduction duty to greet the Guest Speaker and be his/her host for the evening.
Need to apologise or bring additional guests?
Advise the Receptionist at Professionals before 10.00 am on the Monday before the meeting on 233 9955 or email paremata@dwre.co.nz if you prefer.
Please provide the name (and spelling if necessary). The same applies if you're going to be late.