Diary
Rotary Club of Plimmerton

Visitors
President Bill welcomed our speaker, Dr Helen Woolner, a former graduate of He Haurahi Tamariki, and Helen Webber, who took over from Dr Susan Baragwanath who started and developed HHT in 2005, and her husband Rick. He also welcomed Honorary Members Les Austing and Christine Blick.
The speaker said …
Read what Mike has to say about Helen Woolner's story from when she was a student at Porirua College and at the age of 16 found herself pregnant. Instead of staying at home to care for her baby, Helen enrolled in He Huarahi Tamariki (HHT), the school for teenage mums founded by Susan Baragwanath in Porirua. Now she is Doctor Helen Woolner, and in demand as an inspirational speaker.
Viewpoint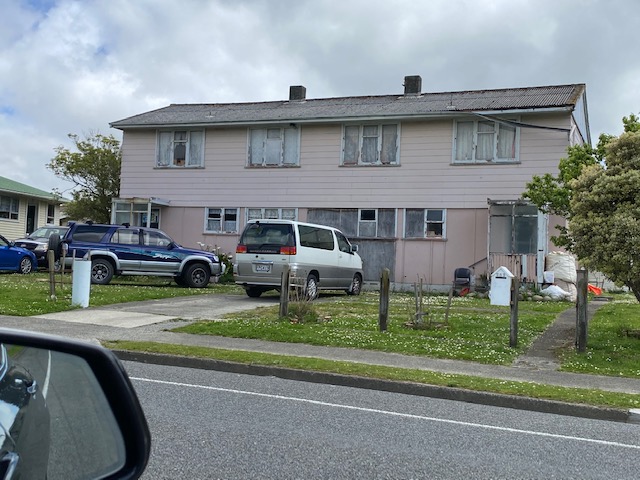 Euon Murrell gave us the Viewpoint tonight about the housing situation in East Porirua. There are 6,000 statehouses in New Zealand, he said, with only 450 in the Healthy Homes situation. There are huge numbers of privately owned houses that also do not meet the standard, caused mainly by those who do not maintain their present homes. Houses such as these two have not had any work done on them for years and years. Intensification will be the pattern of the future. With both housing and infrastructure on the Council agenda, we are going to see some challenging times ahead and big decisions will have to be made. Rate increases in the Wellington Region alone are being signalled by the various councils of between 10% to 18% to pay for the forecasted renewal /upgrade of infrastructure Porirua alone is required to spend 1.4 billion over the next 30 years.
This week's happenings
Thanks to Graeme Tongs, the Board Minutes and those of the Charitable Trust are now available in the usual place in the Intranet if you want to have a read.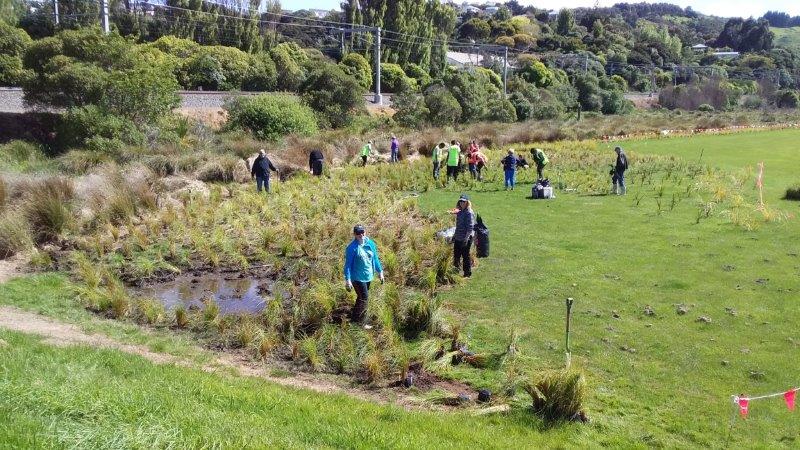 Barry McEwen thanked everyone who has given up their time over the last four weeks to help out. He reported that there are still a small number of trees still to be planted, that are in much harder ground and PCC have kindly offered to use their contractors to carry out this task. He may need help to carry out some weeding from time to time, but this will not be a big job. He and President Bill are planning to meet up with Nigel and Rachel (PCC) in the coming weeks to sort out our planting plan for 2021, This will involve listing and ordering the different types of trees and plants and the areas they will be planted in when we restart our 2021 planting programme in June. If members and other groups have not yet been around to see what has been happening at the Domain, Barry suggests that you pop around over the summer and have a look. He thinks you will be impressed.
Snippets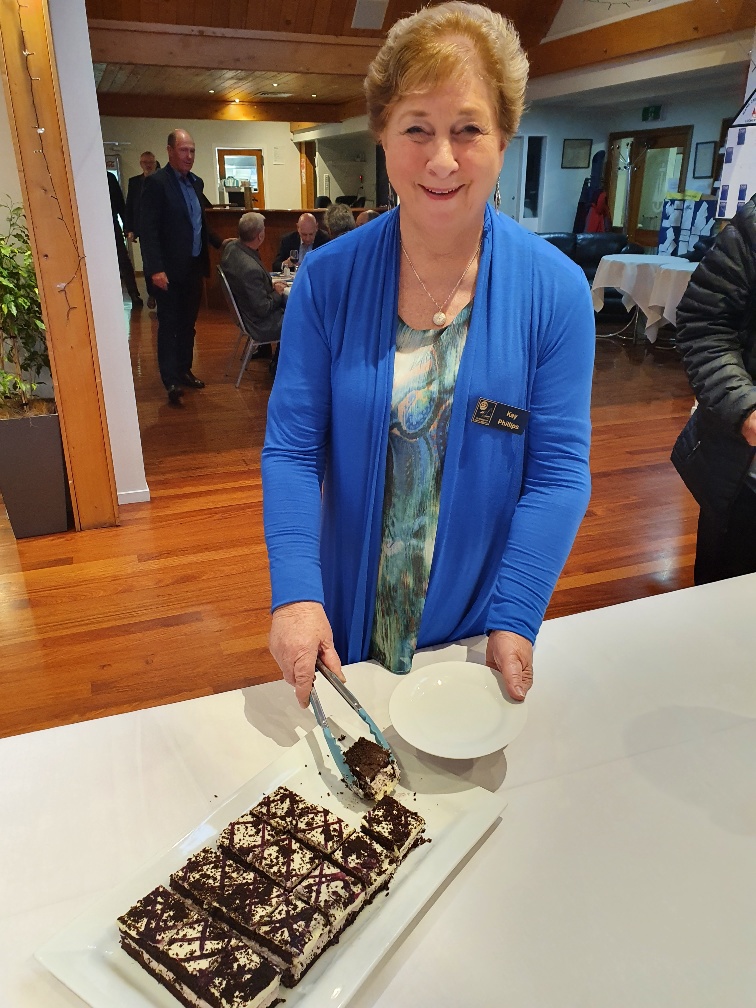 Twenty-six of our members and partners enjoyed a Labour Weekend of warm sunshine in Hawkes Bay. Meeting with members of the Rotary Club of Napier on Friday night for drinks and finger food at Shed 2 in Ahuriri set the scene for a weekend of fun activities. The two mornings were taken up with golf, ably organised by Bruce who excelled on the course on Sunday, and garden visits. The gardens included the wonderful Rose garden at Frimley Park where a member of the Rose Society gave us an informative talk about the history of the garden and pavilion, and three amazing private gardens with their equally amazing owners. The platter and pizza lunches at Abbey Winery and Brewery and Church Road allowed us to eat great food in fantastic settings. Tastings were held at Sileni and Te Mata. Dinner on Saturday night at Mister D was a pure culinary experience and at Mission Estate on Sunday night we were treated to equally superb food. A weekend to be treasured with some special memories. Graeme Blick thanked Kay for her wonderful organisation and said that he hoped we can do it again before too long.
What's coming up in November and beyond?
This is a weekly reminder to check out our Plimmerton Rotary Calendar which you can now find on the right-hand side of our Home page below the four photos. If you use your mobile phone to access the Club's web page, turn your phone sideways so that the items that appear in the right column on a pc are visible.
The next Drinks and Nibbles will be held on 1 November. You will notice that the date has been changed because of the Rotary visit to Hawkes Bay. Chris will send details of the venue nearer the time.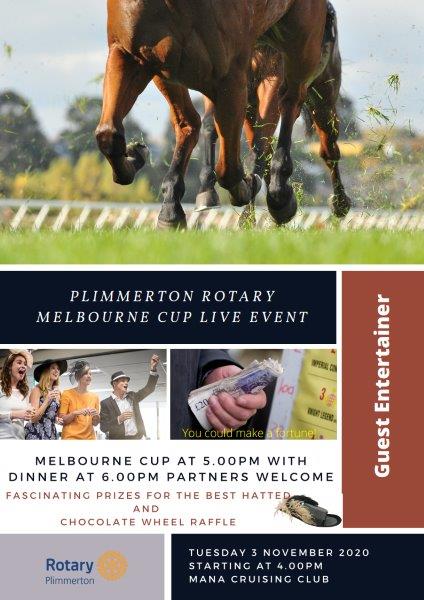 Last reminder for the Melbourne Cup Event next Tuesday 3 November with an early start of 4.00 pm when the bar will open! Partners and friends are most welcome and normal meal rules apply to please let Professionals know if you are not coming, or are bringing a guest so we can get the catering right. The Chocolate Wheel has many prizes to be won (Allan would welcome some more donations) so make sure you bring a pocketful of cash for this and have plenty left over for the Guest Entertainer to laughingly extract. Remember the evening's proceeds will go to 'End Polio Now' which still just needs that last push to be a magnificent worldwide success. As a bonus, there are some fascinating prizes for the best 'Fascinator' with judging to be done by a person of some eminence. Come along and have a night of fun in style! You might go home with more or less, depending on your skill and luck.
On Sunday 22 November we can take part in the 2020 GOPI Clean-Up of the Pāuatahanui Inlet. Please rustle up your friends and neighbours and register at Browns Bay Car Park at 10.30 am. Here is a poster that will tell you all you need to know. As usual, the event will be followed by a family sausage sizzle at 12.00 noon.
Another reminder about the Mary Potter Hospice Charity Golf Tournament that will be held on Friday, 27 November 2020 at Judgeford Golf Club. Here is the flyer. Chris will appreciate any help you can give him and his team in finding Hole Sponsors at $350 each and Raffle prizes, as well as sausages and bread (not being donated this year) for the BBQ.
You can find future events on the Events page.
Parting thought
Joe Perera gave us the parting thought tonight from a fax that the All Blacks received during the 1995 rugby final in South Africa, 'Remember rugby is a team game so all 14 of you pass the ball to Jonah.'
Who's on duty for the next month?
Unable to do your duty? Please find a replacement and inform Graham Wallace.
If you're a late 'no show' please tell President Bill.
Please arrive at 5.45 pm if you're on Door duty or on Introduction duty to greet the Guest Speaker and be his/her host for the evening.
Need to apologise or bring additional guests?
Advise the Receptionist at Professionals before 10.00 am on the Monday before the meeting on 233 9955 or email paremata@dwre.co.nz if you prefer.
Please provide the name (and spelling if necessary). The same applies if you're going to be late.