Diary
Rotary Club of Plimmerton

Visitors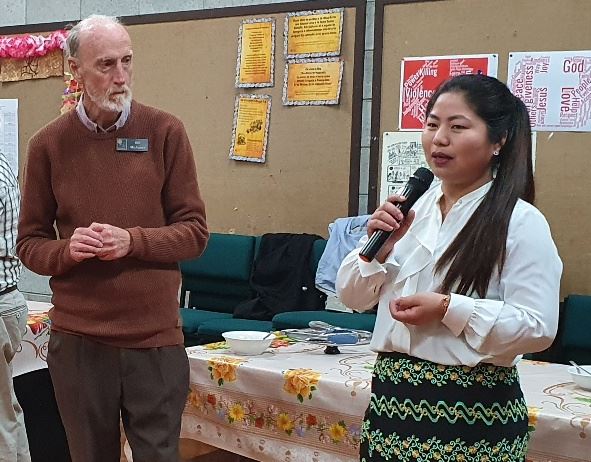 Club members were the visitors this week. We were royally welcomed and entertained by the Myanmar Community in Porirua, set up by the New Zealand Myanmar Ethnics Council. The leaders of the local group, Christalin, told us a little about Burma / Myanmar, the numbers of different ethnic groups and languages that make up the rich tapestry of the country, and the difficulties that face immigrants when they find themselves in a totally new environment with little or no knowledge of the language or customs.
President Bill also spoke and asked all of us to use the Burmese word for 'hello' - mingalaba. Christalin congratulated Bill on his pronunciation!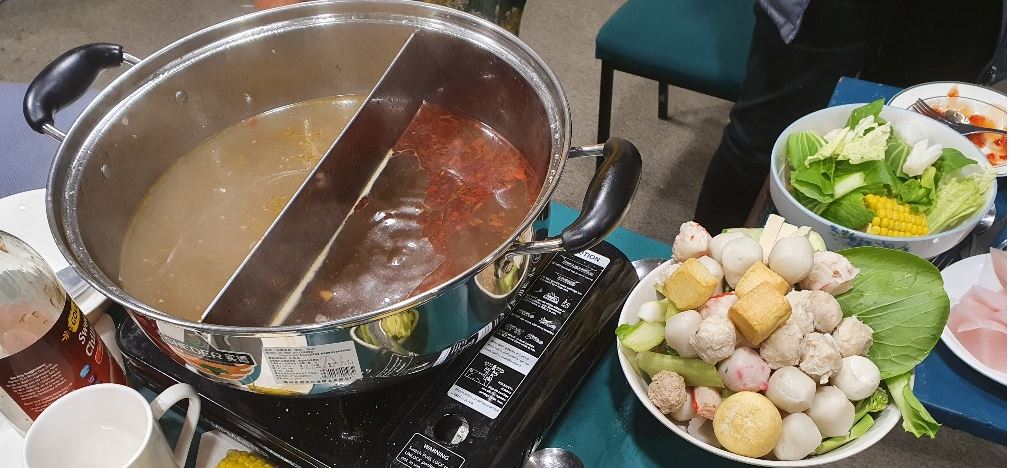 Members of the community had prepared plates of meat, fish, shellfish, quail's eggs, vegetables, tofu, and even some things that some of us didn't recognise. We were instructed to choose from the very many choices and then to put what we'd chosen into one or other of the soups on offer, one sweet and one spicey. It was a delightful experience and the food was delicious. Dessert followed but we didn't need to cook this time.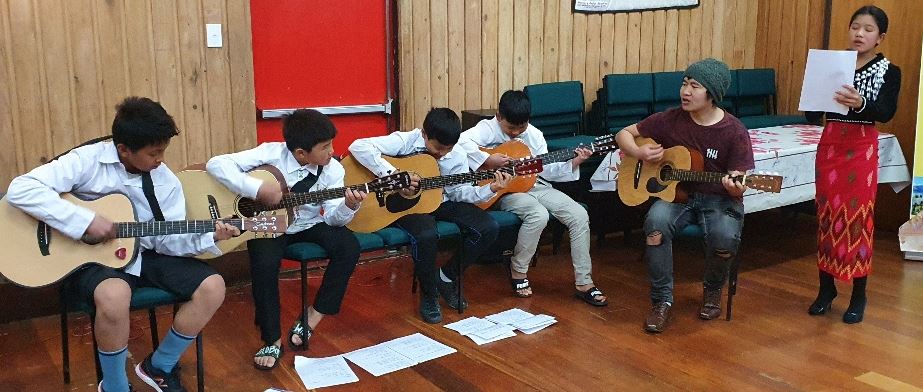 With the meal over, we were treated to a couple of musical numbers from some of the young members of the community who had been coached by Christalin's brother, Kim. The women then encouraged us to join them in a traditional Burmese dance and, to be fair, most members joined in with enthusiasm. It was then out turn to teach them a childhood rendition of the Hokey Pokey dance - no touching of course!
All in all, this was a lovely evening and each of us would have returned home well-entertained and perhaps a little wiser.
This week's happenings
President June from Porirua Rotary has sent us an invitation to a fundraiser lunch at Whitby Taj for a menu of rice, naan roti and two curries on Sunday 18 October at 12.00 noon. There are only 60 seats available so ring Gurpreet Kaur if you would like to book one - 021 0236 7733, Their poster will give you more information.
Snippets
Last week, I alerted members to an opportunity to join a Zoom meeting with the Rotary Club of Bridport, Dorset, England. Their speaker was Habib Saba, President of Beirut Cosmopolitan Rotary Club, who joined the meeting virtually to talk about the situation in Lebanon.
Habib's presentation was superb, tragic on the one hand, and very educational on the other. Since that meeting, I have been corresponding with Habib and he has sent me, not only his presentation, but also some of the information that he covered. Clearly, we in New Zealand, traditionally support projects in the South Pacific, and Lebanon is far away. That having been said, you may know of some way in which we could help by way of a New Zealand global grant.
What's coming up in September and beyond?
The restrictions in place to combat the spread of Covid-19 may put future plans in jeopardy. If any of the following events cannot take place, we will notify you by email.
This is a weekly reminder to check out our Plimmerton Rotary Calendar - which you can now find in the top right-hand corner of our Home page. If you use an Android mobile phone to access the Club's web page, you will notice that the items that appear in the right column on a pc are not visible. To access all those items, scroll down to the very bottom of the page and - voila - there they are! If, however, you use an i-Phone, just turn it sideways and the whole page will be revealed. Isn't technology wonderful?
Our speaker for next week is Jonty Mills. The topic of Jonty's talk is 'The Evolution of Drowning Prevention in Aotearoa New Zealand'. Jonty will talk about the drowning problem; why do we have such a high drowning, injury, and hospitalisation toll? What are the impacts and what do we do about it as a sector? What is the impact of Covid-19 on participation and drowning? And the changing landscape - the challenges that lie ahead.
If you have booked in, remember that our September Social Event will take place this Saturday 19 September 2020. The venue is 23 Blenheim Street, Maidstone, Upper Hutt 5018. Brewtown is Wellington's only craft beer village with a number of great craft breweries and a boutique distillery. They've got a passion for craft brewing and want to share it with us. You will find lots of information about this outing here.
You can find future events on the Events page.
Who's on duty for the next month?
Unable to do your duty? Please find a replacement and inform Graham Wallace.
If you're a late 'no show' please tell President Bill.
Please arrive at 5.45 pm if you're on Door duty or on Introduction duty to greet the Guest Speaker and be his/her host for the evening.
Need to apologise or bring additional guests?
Advise the Receptionist at Professionals before 10.00 am on the Monday before the meeting on 233 9955 or email paremata@dwre.co.nz if you prefer.
Please provide the name (and spelling if necessary). The same applies if you're going to be late.