Diary
Rotary Club of Plimmerton


In Memoriam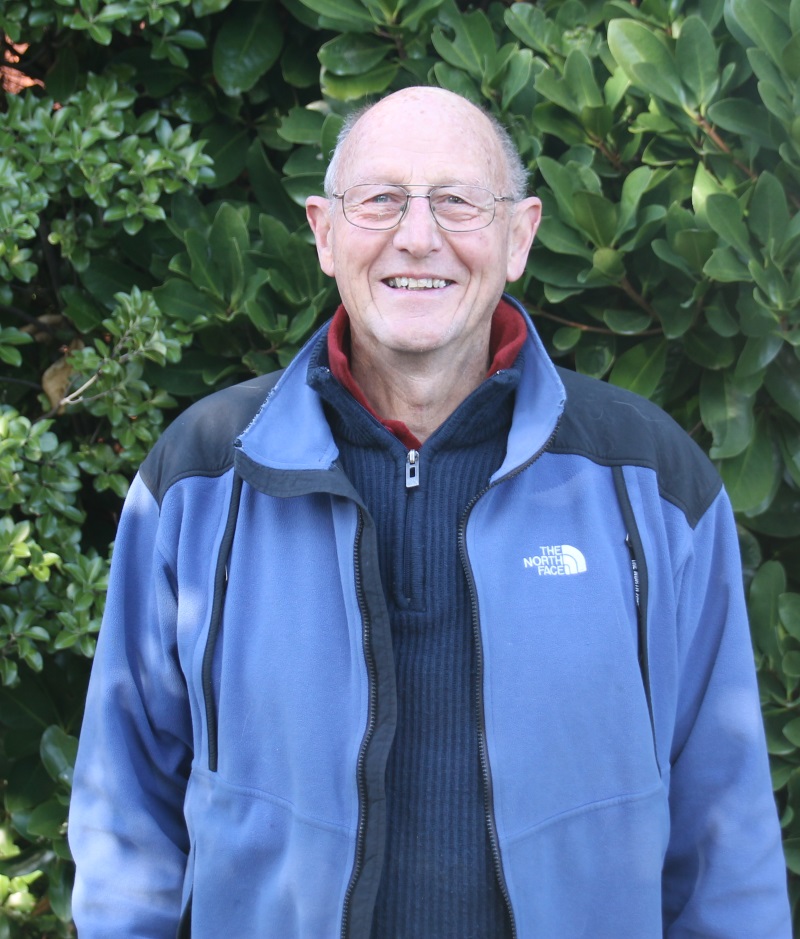 President Kay confirmed that our Communications Director had emailed members to advise of the death of Peter Lillico. She acknowledged that most members knew Peter far better than she did but in the time she has been a member she rapidly became aware of the very special qualities of this man. From the tasks such as phoning members for special events, through the social Card Group to community projects, Peter was an exemplary Rotarian who epitomised all the Rotary tenets. More will be said another time about Peter and his contribution to our Club and the wider Rotary world. In the meantime, she asked members to stand and observe a minute's silence as a mark of our respect for Peter.
Under the current restrictions, numbers who will be able to attend his funeral are limited to 100 so it is by invitation only. Mindful of the huge number of friends who would want to celebrate Peter's life, there will be a separate function when our lives return to more normal levels. As soon as Kay knows more, members will be informed.
Visitors
President Kay welcomed our speaker, Marilyn Garson who was subsequently introduced by Joe Perera. She also welcomed partners May Bass, Sheryl Perera, Janet Reidy, Linda Sinke, Tony Sutorius, and Carolyn Wallace. Two other welcome visitors were past member, Dianne McGavin, and friend of the Sinke's, Nigel Brown.
Viewpoint
David Pine gave us the Viewpoint tonight, appropriately with Peter as its main topic. He said, 'Peter Lillico was a giant Totara among us – extraordinarily generous, always cheerful and upbeat, ever willing to help in any way that he could, happy to go the extra mile. If there was a job to be done, Pete was always the first to put his hand up.'
The speaker said …
Our speaker this week was Marilyn Garson, a Canadian-born New Zealander who has spent many years in the world's worst trouble spots, trying to bring relief to communities devastated by war. Since 2011 she has been in Gaza, and stayed on with the UN after the 2014 war between Israel and Hamas. You can read Mike's report on what she had to tell us here.
What's coming up in November and beyond?
After discussion with a number of people, Allan has decided that the Melbourne Cup and Casino Evening on 2 November will be cancelled for this year. The rules of meeting under Level 2 do not allow for the mixing that is a necessary part of the evening. While this is an enormous disappointment for us all, everything is not lost. Allan and Bruce ran a sweepstake with payments out next week. Allan confirmed that the Melbourne Cup itself will go ahead in Melbourne, despite his attempts to delay it. While there will be no Casino event it is possible that a social event will be arranged around this in the future.
Next week we will revert to the usual Committee Meeting night.
Please check the roster carefully for the next two weeks as there are several changes.
Arrangements for Guess Who's Coming to Dinner on Saturday 30 October have also been changed. As we have had to change our plans for Saturday night to comply with Level 2 protocols, we will no longer be meeting at 7 Portage Place for drinks and nibbles. The draw as to which venue members are to go to will be done by Allan and President Kay. Barbara will email members by email on Saturday morning as to which venue they are to go to at 6.30 pm. No correspondence will be entered into! As usual, please take along your beverage of choice for dinner but some wine will be provided for a pre-dinner drink at your venue. Allan hopes you all have a great evening but we will miss the camaraderie of a big group get-together prior to dinner.
On Tuesday 9 November, the AGM will take place, followed by a discussion meeting with DG Mark Wheeler who will provide an outline of the possible transformation of Rotary in New Zealand. Members are being encouraged to participate in this process and President Kay asked members to contribute their suggestions and options on the night.
Snippets
Brian and Glenys Greaves will move to their new home on 4 November. Brian's contact details remain the same and you can obtain their new address from Graeme Tongs. We wish them good luck with the move.
This week's happenings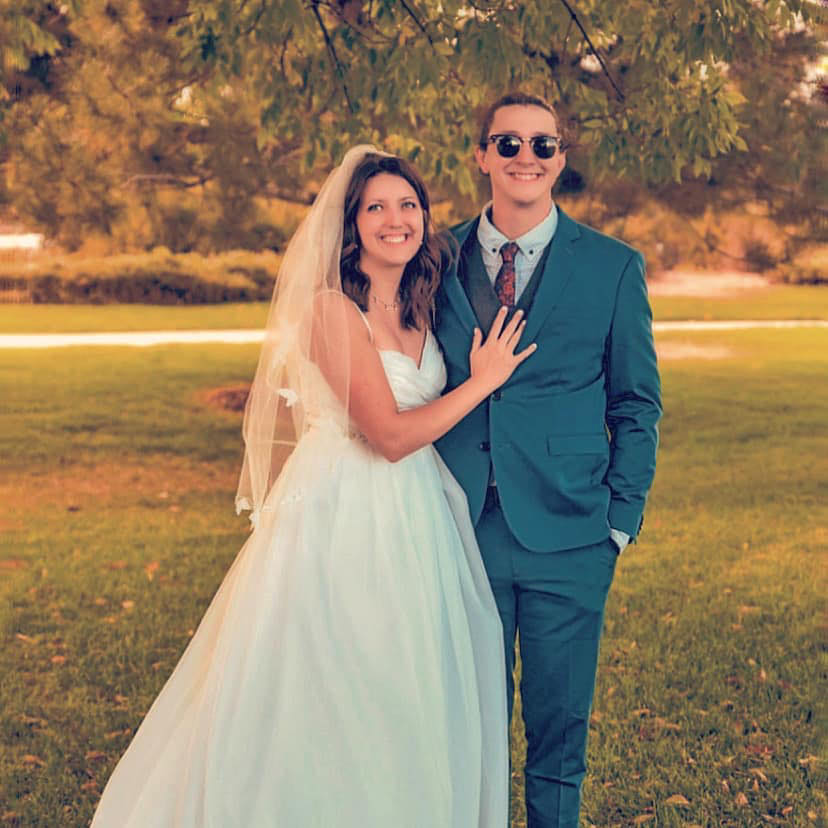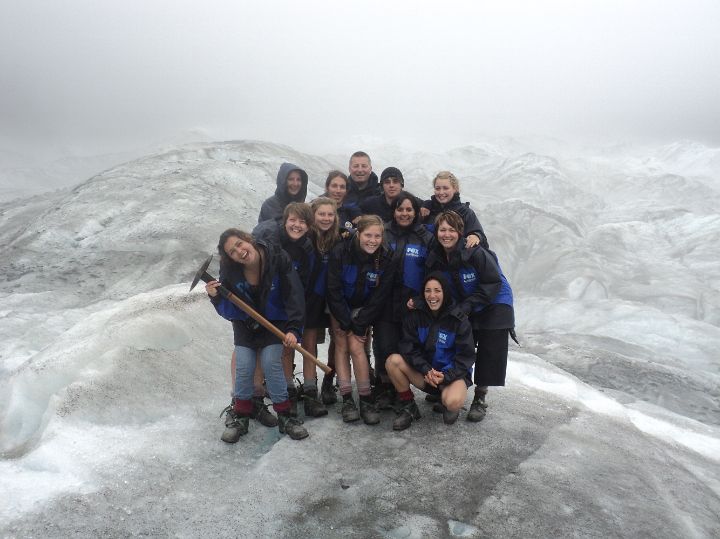 John O'Connell has provided this photo of Liz Snyder, the first of six students he and Cherryl hosted, he thinks in 2010-2011. She married Janzen Lenz on 9 October in Colorado. Up until recently, Liz was a Writing Consultant at the University of Denver in Colorado. The second photo is of Liz when she was on a Rotary South Island trip during her Rotary Exchange.
Parting thought
Graeme Blick gave us the Parting Thought tonight from Stephen Hawkins, 'We are just an advanced breed of monkeys on a minor planet of a very average star. But we can understand the universe and that makes us something very special.'
Who's on duty for the next month?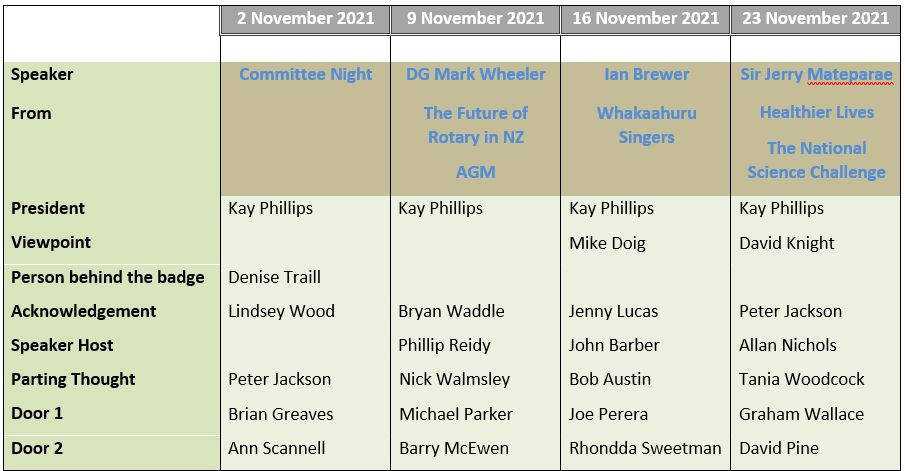 Unable to do your duty? Please find a replacement and inform Graham Wallace.
If you're a late 'no show' please tell President Kay.
Please arrive at 5.45 pm if you're on Door duty or hosting the Guest Speaker for the evening.
Need to apologise or bring additional guests?
Advise the Receptionist at Professionals before 10.00 am on the Monday before the meeting on 233 9955 or email paremata@dwre.co.nz if you prefer.
Please provide the name (and spelling if necessary). The same applies if you're going to be late.