Diary
Rotary Club of Plimmerton
Visitors
President Kay welcomed our guest speaker for the evening, John Burnet. She also welcomed Aleha Thorn, a recent attendee at Innovative Young Minds, and her father, Joel Ginter; Rachel McKinnon, guest of Graeme Blick, Kath Beattie, our Area Governor, partner, Sue Couch, and potential new member, Lindsey Wood.
The speaker said …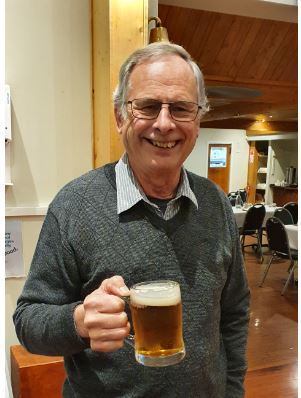 Phillip reported on what our speaker for tonight had to say about bees. Some 30 years ago John Burnet acquired a single beehive, and this introduced him to the exciting world of bees and the consequent growth of his hive holding to 24. This hive empire, which is urban-based, produces about 200 kg of honey in a year and John consumes some himself and then sells the surplus on the local market.
Viewpoint
Kath Beattie gave us a run-down on what is going to change in our District. We want new members and we want to recruit younger members. District 9940 has been asked to pilot the new plans. Area Governors will have slightly different rules. You can see her presentation here.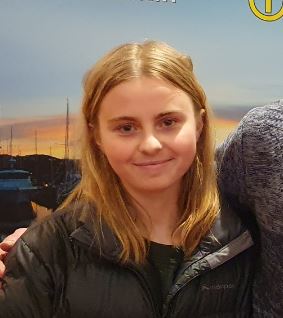 Aleha Thorn spoke about her visit to the Innovative Young Minds Programme held at the Silverstream Retreat and staged by the Rotary Club of Hutt City and supported by Rotary Clubs throughout New Zealand. Phillip has summarised here what she had to tell us and we wish her well in the future. The full text of her speech is included too.
And to round off the evening, Graeme introduced his guest, Rachel McKinnon, who told a spirited story about her grandfather and the birth of the Shelter Boxes.
What's coming up in August and beyond?
Remember the final planting this Saturday, 31 July at 9.00 am. Barry has eight names on his list and is hoping for more to supervise the Scouts from Whitby. Other Rotary clubs are participating so he's hoping for a lot of helpers. Wear your gumboots and congregate on the south end of the domain, near the bridge to the railway station.
Next week, 3 August, is our second committee night of the year. Judging by the reports from Directors there's a lot on so bring your ideas and your energy and be ready to share both with your committee.
On Monday 9 August we will be celebrating our young leaders at the seventh annual Primary School Leadership Awards at Elim Church from 10.30 am until 12.00. This event is followed by lunch at Peppermill for those who want to stay in the inspiring mood created by the event. Judge Andrew Becroft will speak to the students again this year and we will be treated to some beautiful singing at the start and finish from #squareup, a Barbershop Quartet from Porirua College who have reached the national final of the Young Singers in Harmony competition which will take place on 23 September in Palmerston North. Wendy urged members to attend if they were free and Kay reinforced this message wholeheartedly.
Just a reminder about our next social evening, 'Tuesday with a Twist', which will be on 10 August at the Light House Cinema in Pauatahanui. Applications for tickets are reaching the limit so Phillip sent around another board for a final check on. Seats will be allocated as payment is received. Payment can be made online to the Plimmerton Rotary Charitable Trust Account. Those who have indicated they are wanting to enjoy the celebration and fun will have received an email with more details.
To see all future events, go here.
Snippets
Allan Nichols sent around another board so that members could check their availability for Guess Who's Coming to Dinner on 21 August 2021.
Parting thought
Euon gave us the Parting thought tonight with a quote from Abraham Lincoln who said, 'In the end it's not the year's in your life that counts It's the life in your years'.
Who's on duty for the next month?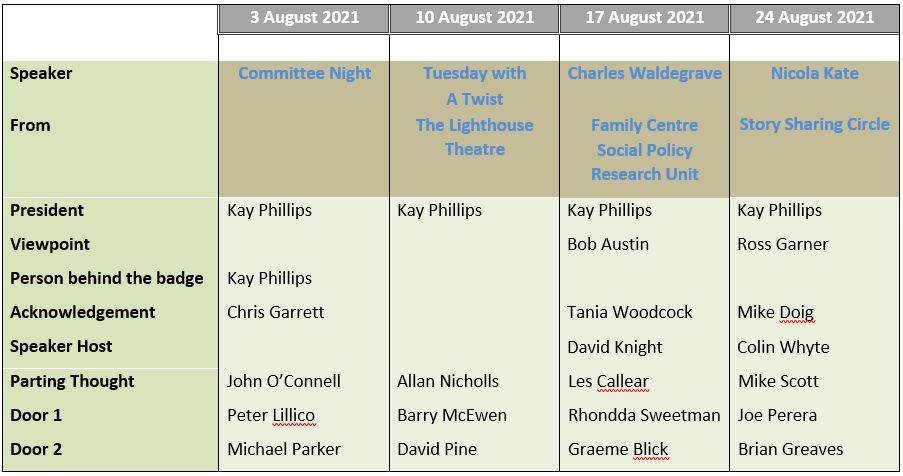 Unable to do your duty? Please find a replacement and inform Graham Wallace.
If you're a late 'no show' please tell President Kay.
Please arrive at 5.45 pm if you're on Door duty or hosting the Guest Speaker for the evening.
Need to apologise or bring additional guests?
Advise the Receptionist at Professionals before 10.00 am on the Monday before the meeting on 233 9955 or email paremata@dwre.co.nz if you prefer.
Please provide the name (and spelling if necessary). The same applies if you're going to be late.