Diary
Rotary Club of Plimmerton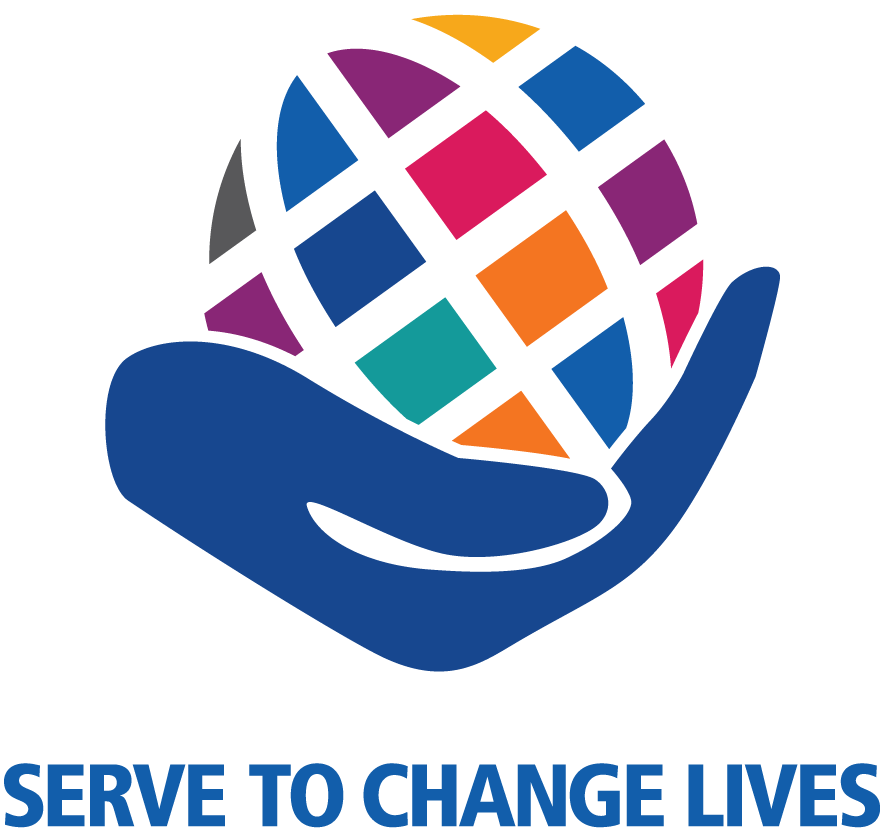 It's Rotary International New Leadership Month. How appropriate is that?
Visitors
Simply too many to mention on this fun-filled and special night. The photos taken by Graham Craig tell it all, however! You can find these on the Gallery page. When you see the post, click either on the heading or the photo. Either will lead you to the photos.
The speaker said …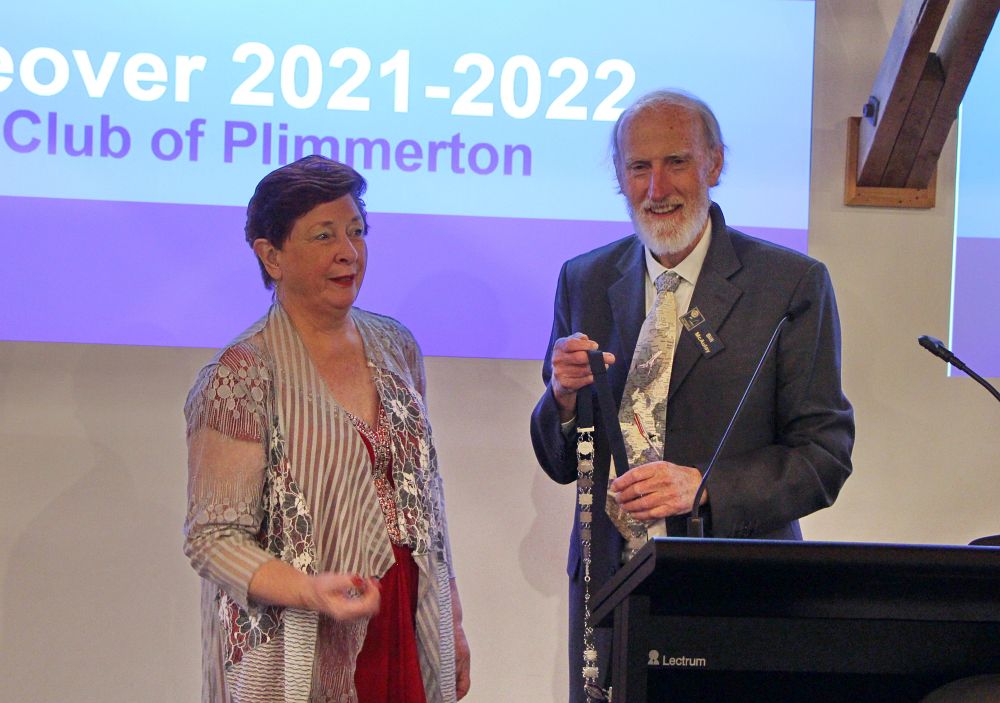 President Bill gave an excellent roundup of his year which included his appreciation for the support he has received from the membership at large with special mention to several individuals who have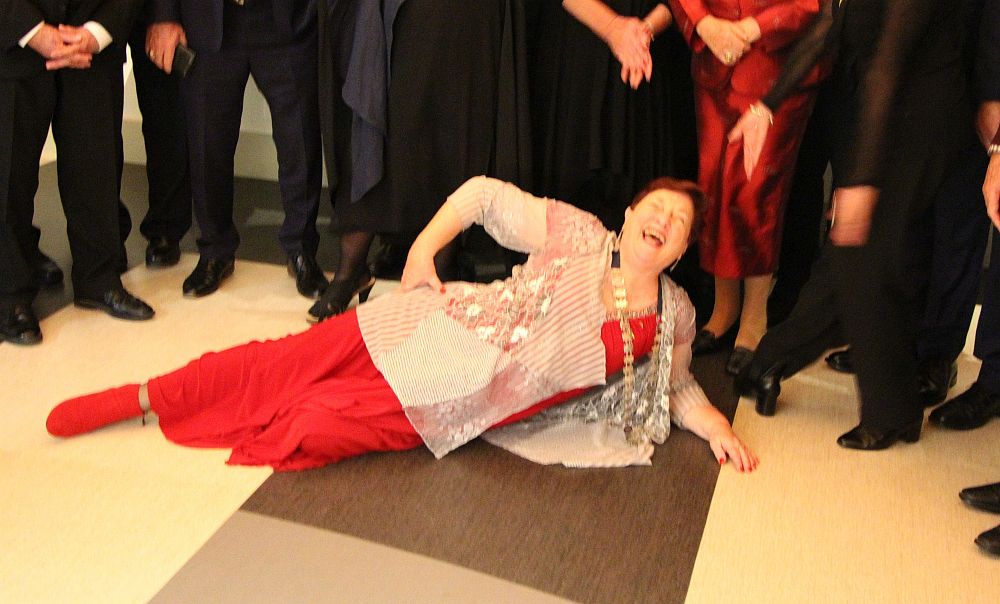 given him outstanding support. You can read his full report here.
Newly elected President Kay Phillips started her presentation to the Club with an introduction to her Board for 2021-2022, followed by an introduction to the Club Officers. She went on to share her hopes and dreams for the Club for the year ahead. It's clearly going to be a fun-filled year!
What's coming up in July and beyond?
Remember the District Changeover and Action Planning meeting this Saturday, 3 July. The venue is Massey University Institute of Sport, Turitea Campus, Palmerston North from 9.30-10.15 am. You can still register here. If you cannot attend, there is live streaming interaction. The Zoom link will be available from 9.30 am to 3.30 pm here. Kay would love some company ...
Our first Committee Night is next Tuesday, 6 July. As well as their annual planning and budgeting, each Committee will conduct a Straw Poll regarding the suggestion of incorporating Te Reo Māori as a section in each meeting. The pros and cons as presented at the recent Forum will be reiterated prior to committee meetings. Make sure you are there to make your voice heard on this important issue. The poll results will be used by your Board to decide whether to include this at meetings.
The following Tuesday, 13 July, will be a social evening and details will be forthcoming soon.
For future events, go here.
This week's happenings
For those of you who may not have received the June edition of the District 9940 Bulletin - DG Gillian's last, you can find it here.
Messages from the President
Dear Rotarians, Friends, and Partners. I'm taking this opportunity to thank each and every one of you who attended the Changeover at Silverstream on Tuesday night. Many people helped to make the evening the huge success it was. There are a few folk I need to mention in particular but others helped too – you all know what you did. Thank you again, Euon, for your generosity with the Euon Murrell Bus Service and the placemats which Phillip kindly designed. To Sue Couch who not only made the beautiful table centrepieces but donated three of the four Lucky Draw prizes, as well as providing a lot of personal support for me in the background. Thanks. Thanks to all who helped set up and decorate the room and for the pack down at the end of the evening. This list would be incomplete, as was my unfortunate omission from the list of officers, without a special mention of our fabulous Peter Sinké who was always there helping – arranging the musicians – even offering them a bed when the weather looked as though they wouldn't make it home again; organising bus lists and pick-up points; preparing the Av equipment; setting up and packing down – the list is endless. Bryan Waddle truly set the tone for the evening with a never-ending supply of jokes some of which some of us couldn't understand. His timing comments somehow managed to focus on the bar. Fortunately, we had Dexter to lend a little touch of class with his introduction and karakia. And, of course,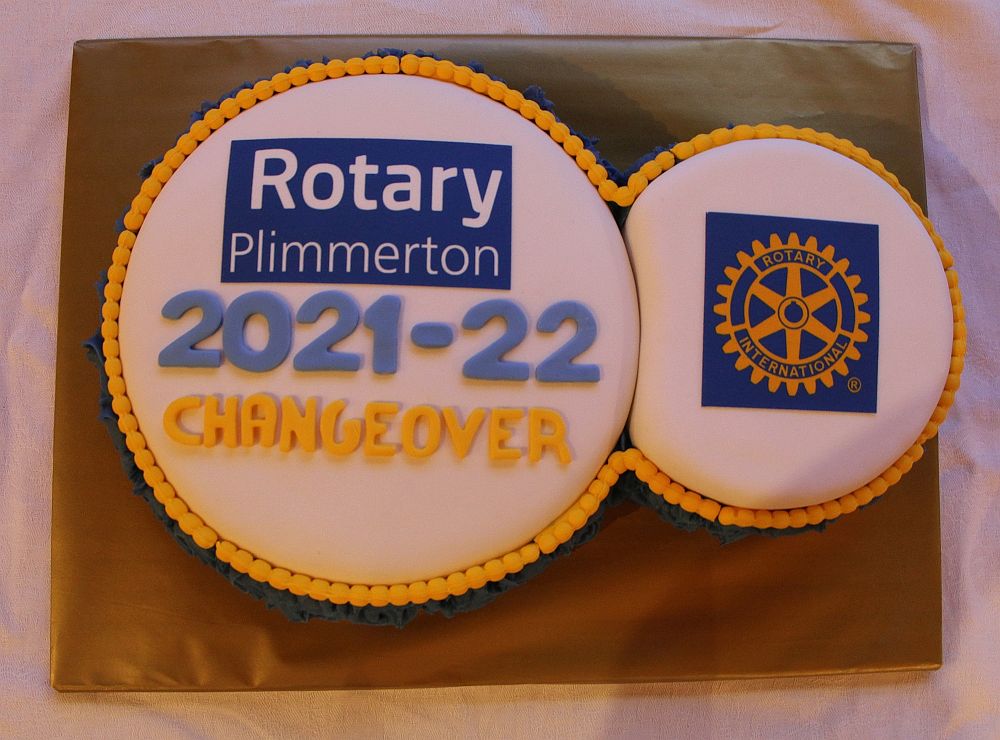 what sort of night would it be without all the attendees; Rotarians, the Executive Bus Monitor, partners, spouses, friends, our fellow Rotarians from Porirua Rotary Club, my Aaron, and Lisa - wasn't it a great cake? No wonder my blood sugars reached their highest point ever the next morning. You all braved the ghastly, inclement weather and showed what splendid Rotarians you are. You looked as though you were enjoying yourselves with the delicious food, the toe-tapping music – was that really our Wendy B and Jim Dearsly leading a very long, very noisy Conga dance? An excellent venue - again, Euon's idea. Thank you for making my presidential year start on such a high note. You are wonderful people and I'm looking forward to your company along my journey over the next twelve months. Thank you, my Rotary Family.
President Kay warmly invites the wives and partners of our Rotarians, to afternoon tea at Flighty's Café at Judgeford Golf Course next week, Wednesday 7 July at 3.00 pm. The meeting is to discuss a couple of ways in which you may like to support our Club. President Kay does not intend to encroach on Inner Wheel territory – this is about Rotary rather than Inner Wheel. If your partner doesn't read the Update, please draw this to her attention. An RSVP to 46nanakay@gmail.com by Monday 5th would be helpful.
The Outside World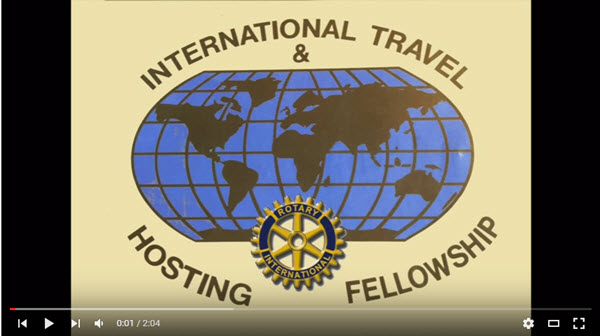 Do you know about Rotary Fellowships? Rotary Fellowships, the hidden gem of Rotary, are international or local groups that share a common passion. Being part of a fellowship is a fun way to make friends around the world, explore a hobby or profession, and enhance your Rotary experience. Rotary Fellowships began informally in 1928 when Rotarians with a shared interest in the international language Esperanto joined together. In 1947, a group of Rotarian boating enthusiasts began flying the Rotary flag from their crafts, calling themselves the International Yachting Fellowship of Rotarians - which now holds the distinction of being the oldest continuing fellowship. The scope of fellowships has changed significantly over the years, but their purpose remains the same: to unite Rotarians in friendship and provide opportunities to enjoy favourite recreational or professional activities. The wide range of almost 100 Fellowships for Rotarians and partners includes such diverse groups as Wine, Cricket, 4-Wheel Drives, Photographs, Cycling, and Railroads. One Fellowship you may know about is the Friendship Exchange which is an international exchange program for Rotary members and friends that allows participants to take turns hosting one another in their homes and clubs. Participants may travel as individuals, couples, families, or groups, and may be Rotary members or not. Members of our Club have been members of this Fellowship. Update will bring you information about a few of the Fellowships each month. If you want to seek more information yourself go here.
Who's on duty for the next month?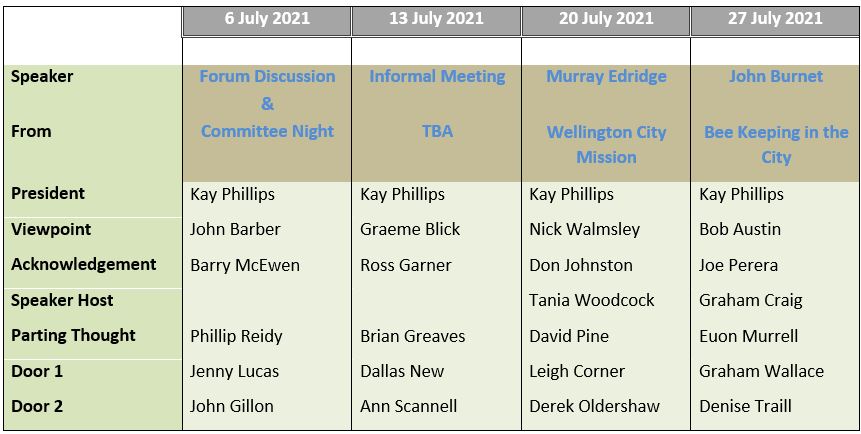 Unable to do your duty? Please find a replacement and inform Graham Wallace.
If you're a late 'no show' please tell President Kay.
Please arrive at 5.45 pm if you're on Door duty or on Introduction duty to greet the Guest Speaker and be his/her host for the evening.
Need to apologise or bring additional guests?
Advise the Receptionist at Professionals before 10.00 am on the Monday before the meeting on 233 9955 or email paremata@dwre.co.nz if you prefer.
Please provide the name (and spelling if necessary). The same applies if you're going to be late.