Diary
Rotary Club of Plimmerton


Visitors
President Kay welcomed our speaker this evening - our own Dexter Traill, who will tell us about The Role of the Ombudsman. She also welcomed a former member, Kevin Millard, currently a member of the South Wairarapa Rotary Club.
President's Announcements
Kay made special mention of a member who toils away on our behalf throughout the year. As most members know, Nick Walmsley organises our speaker programme. We've had many excellent speakers with more to come so Kay offered her thanks to Nick tonight.
Following on from last week, Kay presented a Chocolate Fish from last week to Philip Whearty for all his work on the Admin Committee.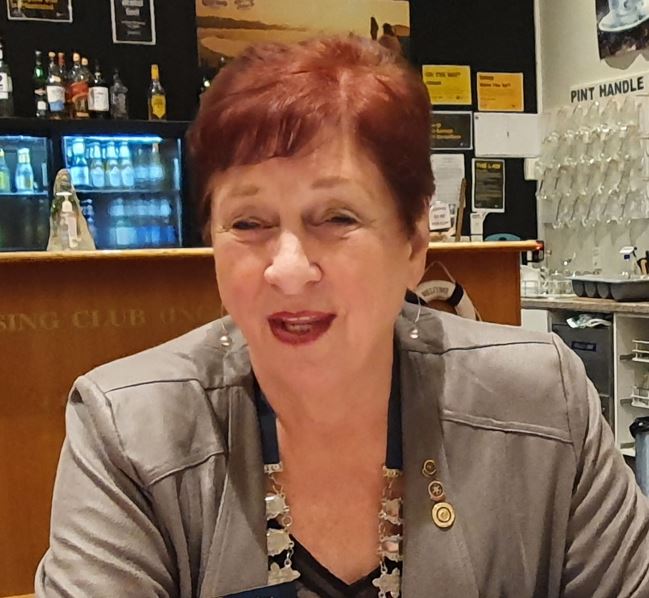 President-Elect Denise surprised President Kay by wishing her a happy birthday (the following day). Kay hadn't thought that anyone knew but was delighted to receive a bottle of wine and a voucher for Palmers Garden Centre (cleverly obtained by Philip Whearty), not to mention a rousing rendition of Happy Birthday and three cheers led by Chris Garrett! It was good to have an opportunity to give something to Kay who has been very generous to members during her presidential year.
The speaker said …
Ex Inspector Dexter Traill is a man of many talents. These days he works with the Office of the Ombudsman as the Kaiwhakahaere: Maori Hononga Hapori - Director: Maori and Community Engagement. You can read David's report on his speech here.
Viewpoint
Rachel McKinnon gave us her Viewpoint tonight, based on the book, 'Atomic Habits' by James Clear. She asked what would happen if we were to apply the principles in his book beyond ourselves. You can read the full text of her Viewpoint here.
What's coming up in April and beyond?
Next week, 26 April, Dr Gavin Knight will speak to us about 'Private Investigation - Old game, new rules'. He was to have spoken to us a few weeks ago, but Covid intervened.
On Saturday 30 April, many of us will enjoy Guess Who's Coming to Dinner. It's a great opportunity to meet members of the Club in a different environment. Allan has ordered the meals based on the 38 people who have put their names down, so please do not change your 'booking' unless absolutely necessary. The evening will begin at 7 Portage Place from 5.30 pm sharp. You can find the detailed instructions on the Events page.
The next Drinks and Nibbles will be held on Sunday 1 May. Chris will send out details of the venue shortly.
Please note that the dates for the Garden and Golf weekend have been changed to 14-17 October 2022. Kay will need to confirm accommodation fairly soon so please let her know if you are interested in joining the group.
For future events, go here.
Snippets
Graeme Blick gave a report from The Council of Legislation Meetings which took place over four days. There were 325 delegates in Chicago and another 198 attended virtually via Zoom. There were 94 enactments, 12 were withdrawn, 29 were passed, 51 were rejected and two were passed back to Rotary International for further consideration. He gave some of the results:
An enactment requesting that the name chosen for new satellite clubs could reflect their own venue rather than that of their proposing club was rejected.
An enactment for more inclusivity around gender, ethnicity, and sexual preference was passed.
Historically, members who do not reside in the same neighbourhood as the meeting place for their Club cannot remain a member. This has been changed.
Subscriptions either for The Rotarian or Rotary Down Under remain mandatory.
The enactment to increase per capita dues by approximately 17% over the next 5 years was passed.
The enactment to allow Zone 8 run a 6 year pilot to set up a structure to better manage itself and reflect the character of the Zone and address some of the challenges such as falling membership was passed by a good margin. This move will represent New Zealand and the region better.
The enactment to remove attendance reporting requirements was passed.
In summary, Graeme said that it was an interesting exercise. It was very procedural and some of the outcomes will flow through to our own Club Constitution.
Graham Craig reported that the Porirua Garden is working well. He said that he needs at least two people to form a committee to meet, say, weekly, to help to manage the workload. Please email Graham if you are interested in being on the committee.
The Almoner said …
Some good news for a change. The stitches in Bill McAulay's leg have been removed and we look forward to seeing him at Rotary again soon.
Parting thought
Bruce Couch gave Michael Parker's Parting Thought tonight in his absence. Michael says that he has been thinking. "When I was younger I thought that we had inherited our land, New Zealand; from migrant ancestors. Upon reflection , I am thinking that the reality is that we have actually borrowed it from our Grandchildren's Grandchildren'.
Who's on duty for the next month?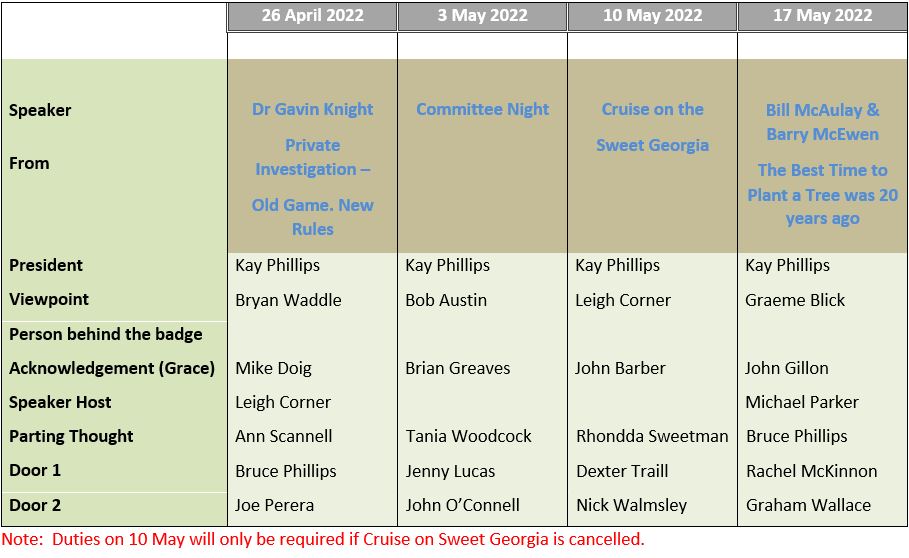 Unable to do your duty? Please find a replacement and inform Graham Wallace.
If you're a late 'no show' please tell President Kay.
Please arrive at 5.45 pm if you're on Door duty or hosting the Guest Speaker for the evening.
Need to apologise or bring additional guests?
Advise the Receptionist at Professionals before 10.00 am on the Monday before the meeting on 233 9955 or email paremata@dwre.co.nz if you prefer.
Please provide the name (and spelling if necessary). The same applies if you're going to be late.