Diary
Rotary Club of Plimmerton

The speaker said …
With Committee meetings following dinner this evening, there was no speaker.
Viewpoint
Ross Garner gave us his Viewpoint tonight. He said, 'So next time we get wrapped up in modern living, think about your grandparents/great grandparents and why they never understood how hard your school/work/social life is today!'
This week's happenings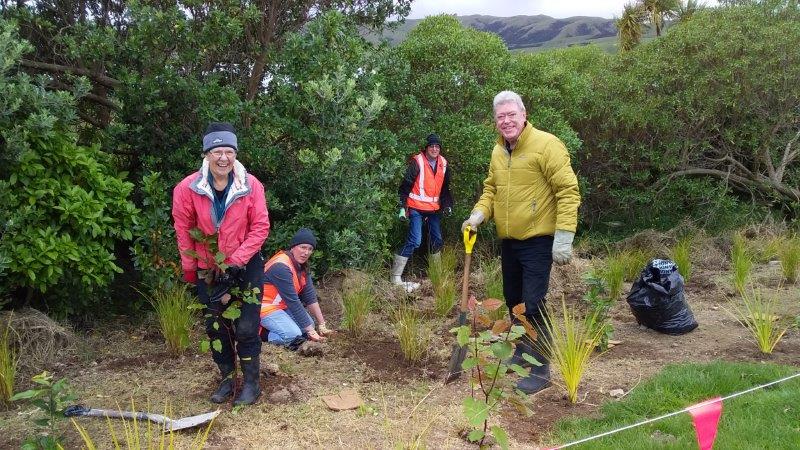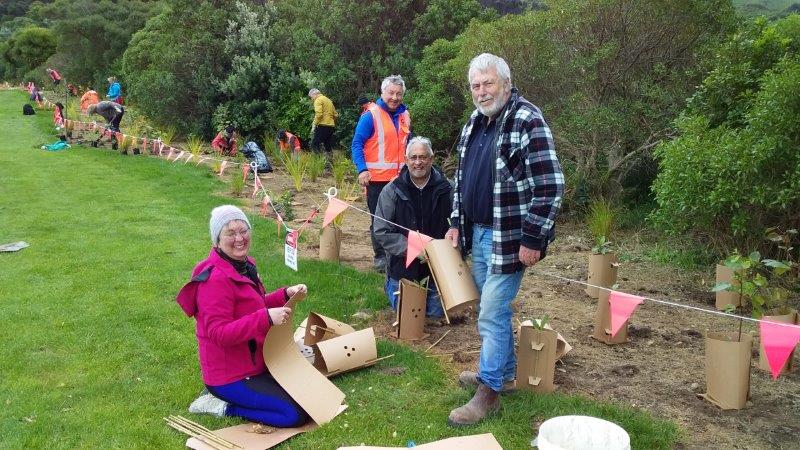 President Bill reported that Saturday 3 October was the first day of the plan to develop a Rotary Forest of Peace and Remembrance on Plimmerton Domain. We had fifteen Rotarians and Inner Wheelers on the job and quickly planted 100 trees and 100 Carex plants. The holes were all pre-dug by Ron with his auger, which greatly sped up the planting work. This modest start enabled us to have confidence to aim to plant 1,000 stems on Saturday 10 October. Bill will be following up contact with other organisations during the week to get more volunteers for next Saturday. He hopes to get in excess of 50. This is a joint project for Plimmerton Rotary and Porirua City with funding from the "Billion Trees" Programme. If you missed the press release here it is Press release.'
Barry McEwen reported that this coming Saturday, 10th of October is the year's big planting day with plans to plant 1,000 saplings. Most of the holes are already dug and as many people as possible are needed to help. The day will begin at 8.30 am with the laying out of the plants. Come along at 9.30 am to be shovel ready to work with your elected councillors and Mayor Anita Baker to get the next tranche of the 9000 plants in the ground. If you cannot plant come along as support and morning tea goodies are always well received by the planters.
Once again, Zonta Club of Mana is collecting bras and new knickers for the women in Arohata Prison. They will be passing the collected items to Arohata staff at their November meeting. If you have any donations you would like them to collect please get in touch with Pat Liddell with your details and she will make contact with you. They will be grateful for your support. Here is their poster.
Please remember that Chris Garrett has provided advance notice of the Mary Potter Hospice Charity Golf Tournament which will be held on Friday, 27 November 2020 at Judgeford Golf Club. Here is the flyer. Any help you could give Chris and his team in finding Hole Sponsors and Raffle prizes would be greatly appreciated.
Snippets
John O'Connell reported that the Membership Committee is struggling to get names of prospective members. He asked members to think about their own (past) classification and come up with others in the same line of work. This would be a good start because the Club definitely needs some new members.
Mike Doig mentioned the Aotea mock interviews that will be taking place on Thursday 29 October at 1.00 pm. He is looking for volunteers to help with this project so please let him know if you can help.
Allan Nichols reminded members about the Melbourne Cup night on 3 November. It will be an early start at 4.30 pm as the race starts at 5.00 pm. Tawa Rotary will be joining us as they did last year. There will be amazing prizes, especially for the most fascinating fascinator for the ladies as well as something for the men as well. As usual, there will be a chocolate wheel, proceeds from which will go to Polio Eradication. World Polio Day is observed internationally in late October to honour the birthday of Dr Jonas Salk who led the development of the first polio vaccine, so this fundraising event is timely. Allan asked for donations of prizes, say, $10-$20, so that the club can raise as much as possible. You can find more details on the Events page.
The Almoner said …
Rhondda reported that Donna is now at home. She is still unwell and will probably not be back at Rotary for another six weeks. She is quite positive and will take time to recover. Donna says she is very grateful to all the visitors who have already visited. The house is full of beautiful bouquets and the fridge is very grateful for the lovely contributions. (Remember that she is eating fat and dairy free!)
What's coming up in October and beyond?
This is a weekly reminder to check out our Plimmerton Rotary Calendar which you can now find in the top right-hand corner of our Home page. If you use your mobile phone to access the Club's web page, turn your phone sideways so that the items that appear in the right column on a pc are visible.
The next Friday Frolics will be held at 5.00 pm on Friday 9 October at the Sandbar Mana Bar and Restaurant on Mana Esplanade. Kay has booked dinner for those who would like to stay on and eat.
Our speaker next week, 13 October, will be Christine Hurley who is a member of the Rotary Club of Wellington. She will be talking to us about her work on the steering group of the centenary immunisation project, Rotary Give Every Child a Future. You can read more about her background on the Events page.
And just advance notice that the District Governor will be visiting us the following week, 20 October. A fun night is being planned and more details will follow shortly.
You can find future events on the Events page.
Parting thought
Denise Traill gave us the Parting Thought tonight which was first spoken by Kate Sheppard, First President of the National Council of Women New Zealand. 'Do not think your single vote does not matter much. The rain that refreshes the parched ground is made up of single drops.'
Who's on duty for the next month?
Unable to do your duty? Please find a replacement and inform Graham Wallace.
If you're a late 'no show' please tell President Bill.
Please arrive at 5.45 pm if you're on Door duty or on Introduction duty to greet the Guest Speaker and be his/her host for the evening.
Need to apologise or bring additional guests?
Advise the Receptionist at Professionals before 10.00 am on the Monday before the meeting on 233 9955 or email paremata@dwre.co.nz if you prefer.
Please provide the name (and spelling if necessary). The same applies if you're going to be late.