Diary
Rotary Club of Plimmerton


The speaker said …
It is committee night so there was no speaker.
Viewpoint
Peter Sinke gave us a Viewpoint with a difference tonight. It was a video of a rousing speech given by Navy Seal Veteran, Admiral McRaven telling his audience that one man had helped him to conquer his greatest malady, fear, and gave him hope. The Admiral concluded by saying, 'You will all have an opportunity to inspire someone around you. Never, ever miss that opportunity.' Pete introduced the video by saying that it echoed his own sentiments and beliefs. For those of you who would like to watch the video again, Peter has kindly given us the link. (Click on Skip Ads if these appear).
What's coming up in March?
Next week, 9 March, is the Bowls night at Whitby Bowling Club so remember not to come to Mana Cruising Club or you will be alone and meal-less!
Also, as President-Elect Kay mentioned last week, you can expect some Irish "high jinks" at the 16 March meeting. Please come dressed in something green, or everything green if you prefer! Kay asked members to 'bone up' on their Irish general knowledge - there will obviously be some questions!
Kay reminded us that the March social event will be held on Saturday 20 March, in the afternoon, at the Masterton home of Denise and Dexter Traill. Anyone is welcome, conference attendee or not. It will be a themed 1973 afternoon! Please let Kay, Denise, or Dexter know if you wish to go.
How long is it since you attended a Rotary Conference? Let's go! Registrations are still open for the District Centennial Conference at Carterton Events Centre from 19-21 March. Go to this link 2021 Conference. Registrations are open for the whole Conference or just the Saturday night dinner - our Club dress theme will be based on 1973 (the year we were chartered).
To see some of our future events, you can go here.
Snippets
Treasurer Bruce will be sending out the meal refunds at the end of the month for the period up to 31 March 2021. As cheques are no longer being used, please email or text him your Bank account number so that he can arrange, if appropriate, a direct credit to your account. If he doesn't already know how many of your meal apologies you would like to donate to the Foundation, or if you would like to change this number, please let him know.
Kay mentioned that the feedback from the last Guess Who's Coming to Dinner had been very positive and consequently it will be repeated on Saturday 10 April 2021. Please let Kay know if you want to be a host. As before, we will be starting the evening at the home of Alan and Barbara Nicholls before drawing for places at dinner with various hosts.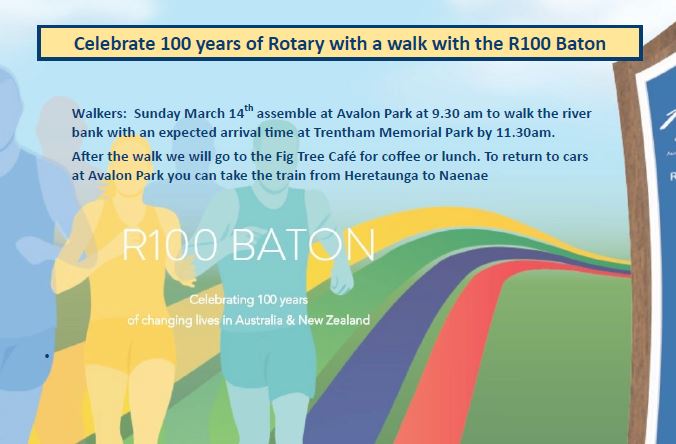 President Bill mentioned the Peace Walk that is taking place to celebrate 100 years of Rotary with a walk with the R100 Baton. If you would like to join this walk, assemble at Avalon Park at 9.30 am on Sunday 14 March to walk the river bank with an expected arrival time at Trentham Memorial Park by 11.30 am.
Fraser Carson is engaged with one of the many Rotary Centenary projects and is currently on the hunt for good-quality photographs of Rotary people in action. If you have taken any photo recently that fits the themes below, please could you let Wendy know as soon as possible.
Promoting Peace
Fighting Disease
Providing Clean Water
Saving Mothers & Children
Supporting Education
Growing Local Economies
Protecting the Environment
This week's happenings
In case you missed it, here's the February District Bulletin.
The Zonta Club of Mana has sent us their March newsletter. Zonta . It includes news of scholarships they have awarded and contains dates for interesting events coming up.
The Almoner said …
Almoner John told us that Les is now at home. Annette has taken him to the Bowling Club and he is progressing well.
Parting thought
Ross Garner gave us the Parting Thought. 'if your children or grandchildren ever ask you why education is so important, show them an Obama speech and then a Donald J Trump speech'.
Who's on duty for the next month?
Unable to do your duty? Please find a replacement and inform Graham Wallace.
If you're a late 'no show' please tell President Bill.
Please arrive at 5.45 pm if you're on Door duty or on Introduction duty to greet the Guest Speaker and be his/her host for the evening.
Need to apologise or bring additional guests?
Advise the Receptionist at Professionals before 10.00 am on the Monday before the meeting on 233 9955 or email paremata@dwre.co.nz if you prefer.
Please provide the name (and spelling if necessary). The same applies if you're going to be late.