Diary
Rotary Club of Plimmerton


Stop Press - We won!
Last night at the Wellington Airport Regional Community Awards Plimmerton Rotary won the final in the Sport and Leisure category.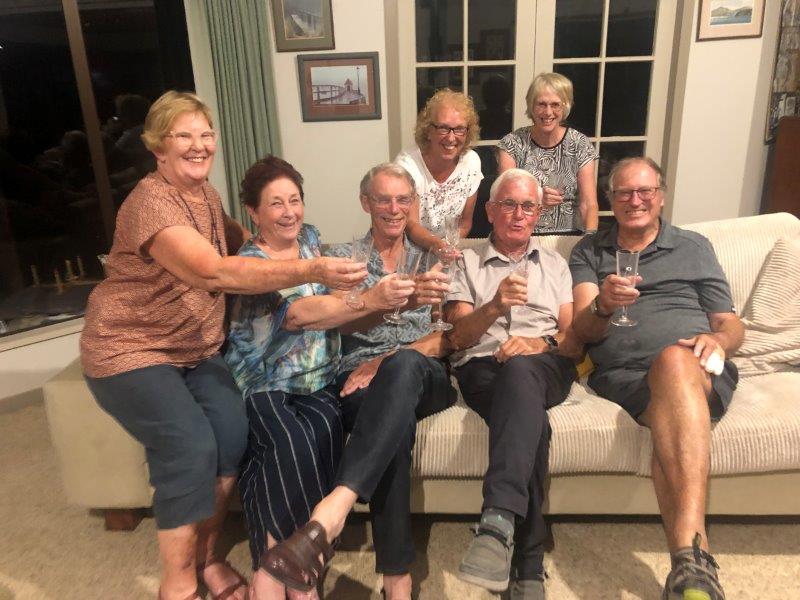 Like many events a live function was not possible so it was held virtually and participating was a new experience for the small group representing Plimmerton Rotary.
The Awards have been running for 17 years and for this round there were 270 nominations so we were one among many. Watching the presentations made one mindful of how much great work is undertaken by volunteers in our community.
A great result for Plimmerton and Rotary in general.
Here is the link to our winning presentation (in case you missed it previously) Award Video
Visitors
President Kay welcomed members and visitors, specifically Bruce Phillips, guest of Bryan Waddle and perhaps a future member.
President's Announcements
Kay passed round a tick sheet for garden volunteers. She stressed that signing up was not a commitment but would enable the committee to get in touch to find out what spots each volunteer could fill. She encouraged members to sign up to help wherever possible. Work is carrying on apace and it's clear to see that, even for those who can't bend their knees, there will be plenty of places they will be able to reach! Ron and the team have been building some sturdy-looking planter boxes.
She also reminded members that there will be a morning tea on Friday 4 February at 10.,00 at Judgeford Golf Course for women associated with our Club.
Viewpoint
Ann Scannell revealed some of 'The Person behind the Badge' tonight, She told us about where she grew up, her education, her love for tramping, and much more ...
What's coming up in February and beyond?
Next week, 8 February, will be the Casino evening brilliantly run, as usual, by Allan and his team. Allan gave members more details about this special social evening. There will be a BBQ and some standard Casino games, not to mention 'lots of fantastic prizes'. Members will receive money at the door which they will be able to use at the Auction which will be run by Euon. Spouses, partners, and friends are all very welcome. Remember that there will be very special prizes for the Best Dressed Woman and the Best Dressed Man!
Since 1 December 2021, there have been 39 deaths by drowning in New Zealand. An event will be held next week on Thursday 10 February from 2.00 - 4.30 pm as a small fundraiser before we see whether this is something we'd like to pursue as a Club. The event will be both enjoyable and informative. Christine Blick, Carolyn Wallace, and Sheryl Perera are all known for their wonderful culinary skills so they are putting on a Cooking Demonstration. The theme is Nibbles (Hors d'oeuvre). Each of the women will demonstrate how they cook their favourite hors d'oeuvres which will be served with tea or coffee at the end. You can read more about the event here. RSVP to Kay by Tuesday night please.
To check out future events, go here.
Snippets
Treasurer Bruce gave us the somewhat unwelcome news that the monthly cost of meals was on the rise again. owing to a change in the catering and the use of contractors. He asked members to increase their monthly APs to $120 effective from their March payment. Guests will also be asked for $30 at the door, effective immediately. Kay reminded members that we agreed with the caterers that dinner would be served at 6.50 p.m., each week.
John O'Connell announced the start of a membership campaign and challenged each committee to bring in three new prospective members, who should have already been contacted by the referrer, by the end of February. John will then make contact with each prospect by the end of March. He stressed that introducing new members to the club is the responsibility of every member.
As Graham Wallace kindly puts out the roster one month in advance, President Kay reminds us all that, if we are listed as having a duty - and cannot do it - we need to take responsibility to find a replacement and tell her - and Graham.
The Social Committee is organising a fishing trip out of Mana Marina, possibly in April. It could be a half-day or longer and the cost might be $100-$200. The Committee needs expressions of interest to determine which fishing charter would be appropriate. Please respond to Jenny Lucas (jenny.lucas46@gmail.com) before 15 February so that plans can be finalised and bookings made. Partners are welcome.
Parting thought
Graham Craig gave us the Parting Thought tonight. He said he wasn't sure which philosopher said it but it is, in fact, the US Democrat's Platform. He said, 'the biggest waste of time is arguing with the fool and fanatic who doesn't care about truth or reality, but only the victory of his beliefs and illusions. Never waste time on discussions that make no sense. There are people who, for all the evidence presented to them, do not have the ability to understand. Others who are blinded by ego, hatred, and resentment, and the only thing that they want is to be right, even if they aren't. When ignorance screams, intelligence moves on.
Who's on duty for the next month?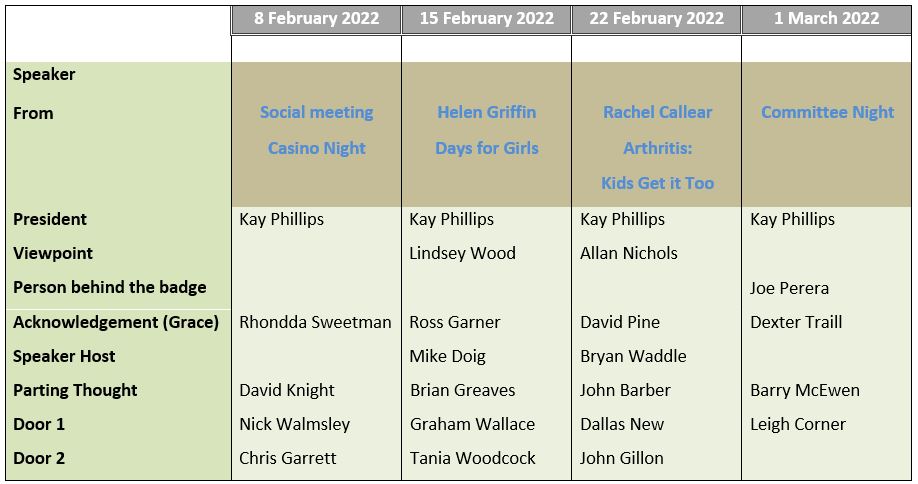 Unable to do your duty? Please find a replacement and inform Graham Wallace.
If you're a late 'no show' please tell President Kay.
Please arrive at 5.45 pm if you're on Door duty or hosting the Guest Speaker for the evening.
Need to apologise or bring additional guests?
Advise the Receptionist at Professionals before 10.00 am on the Monday before the meeting on 233 9955 or email paremata@dwre.co.nz if you prefer.
Please provide the name (and spelling if necessary). The same applies if you're going to be late.