Diary
Rotary Club of Plimmerton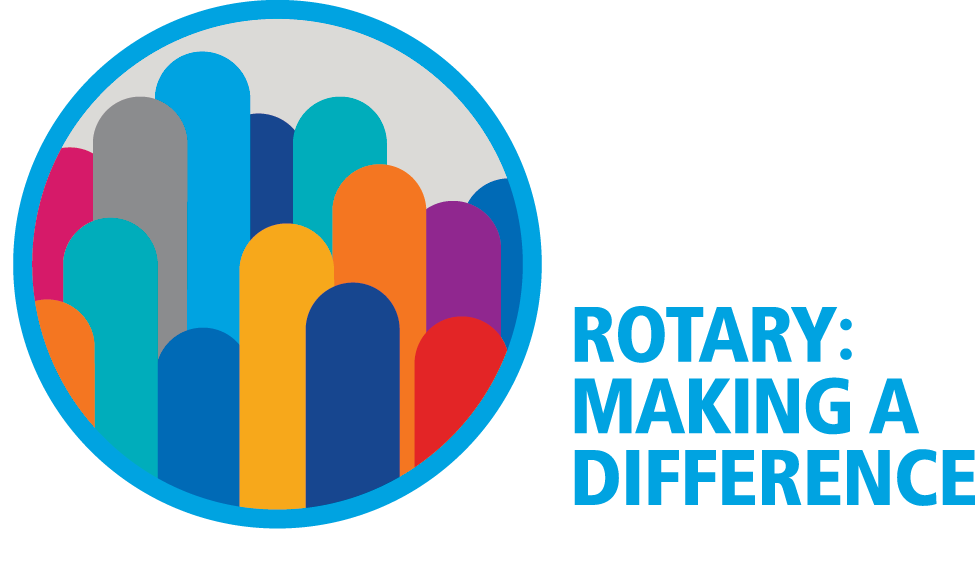 The Speaker said ...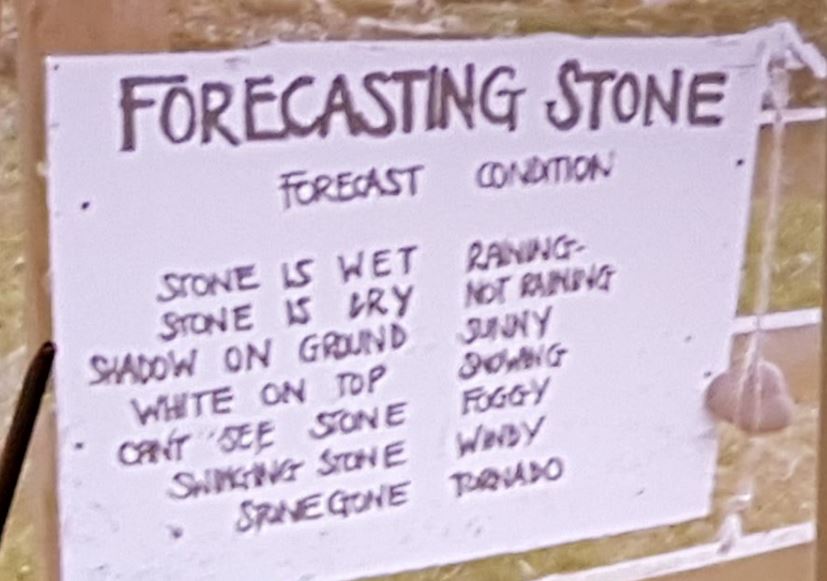 'You can always be wrong and still have a job'. In a lively and entertaining presentation at Plimmerton Rotary on 22nd August, Met Office Communications Meteorologist and self-confessed "weather geek" Lisa Murray explained that even with all the latest methods, weather was still unpredictable to some extent.
You can refresh your memory about all the things she covered here.
Snippets
Graeme Blick proudly introduced Dr Swee Tan and thanked the Rotary Clubs of Eastern Hutt, Johnsonville, Karori, Petone, and Tawa for their contributions in raising $22,000 for the Institute to provide a scholarship for Erin Paterson to attend the Salk Institute in San Diego for six weeks. The research is about creating embryonic stem cells from mature cells. Scientists can create these cells so they are specific to a disease (DiPSCs). The technology means that the cells can be expanded and grown at will, so it can be a lot easier to study disease models and to run lab and human drug trials.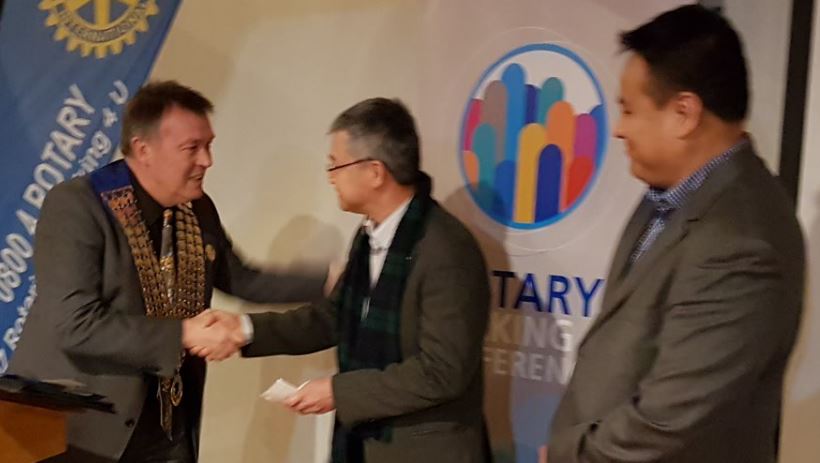 District Governor Mitch Brown presented a cheque for $22,000 to Dr Swee Tan on behalf of the clubs. He said it is important to recognise what these people do for humanity and noted that New Zealand was one of the best places in the world to undertake research because of the reduced amount of bureaucracy compared to most other countries.
In reply, Dr Swee Tan said that the Institute "aspires to relieve human suffering" and that this will be closer to achievement because of our support. He also commented that Dr Tinte Itinteang – Chief Scientific Officer had given up a successful medical career to do full-time stem cell research. Further information on the Gillies McIndoe Research Institute can be found here.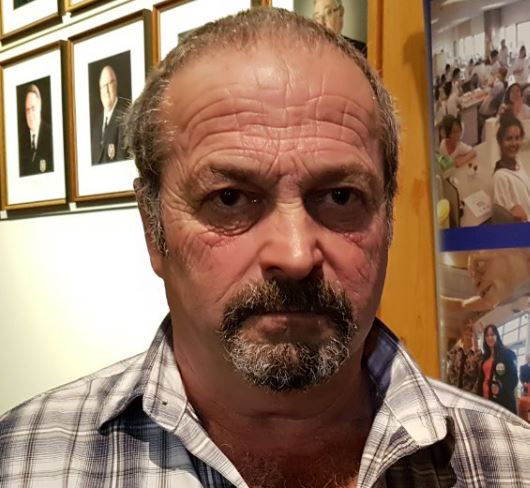 DG Mitch Brown presented a cheque to Matt Hipperson the Commodore of the Plimmerton Boating Club as a contribution to the club providing a Defibrillator, which was attached to the exterior wall of the club last week. Matt said that the defibrillator was there for the whole community as well as for the boaties who use the club. He thanked Plimmerton Rotary for their contribution.
The raffle hamper, created beautifully by Raewynne Graf, raised $362 which will go towards eradicating Polio worldwide. It was won by past president, Peter Cox.
News from the Almoner
David Knight advised that he and Velma had visited Ian Catherall in Wellington Hospital who was waiting for his discharge papers. Ian will now be living with his son, David, on a permanent basis. Visitors are most welcome, particularly during the day and should come down the drive. Prior to visiting, it may be worthwhile calling David on his mobile (details available from Graeme Tongs). And it was good to welcome back Richard Sherwin on his mobility walker.
The Outside World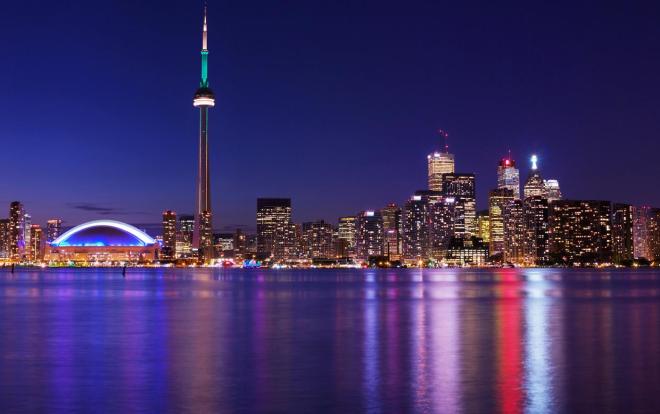 Toronto will be hosting the 2018 Rotary International Convention from 23-27 June 2018. A tour of Rotary's 2018 convention city reveals one common thread: a welcoming spirit. Read about what they've got planned here.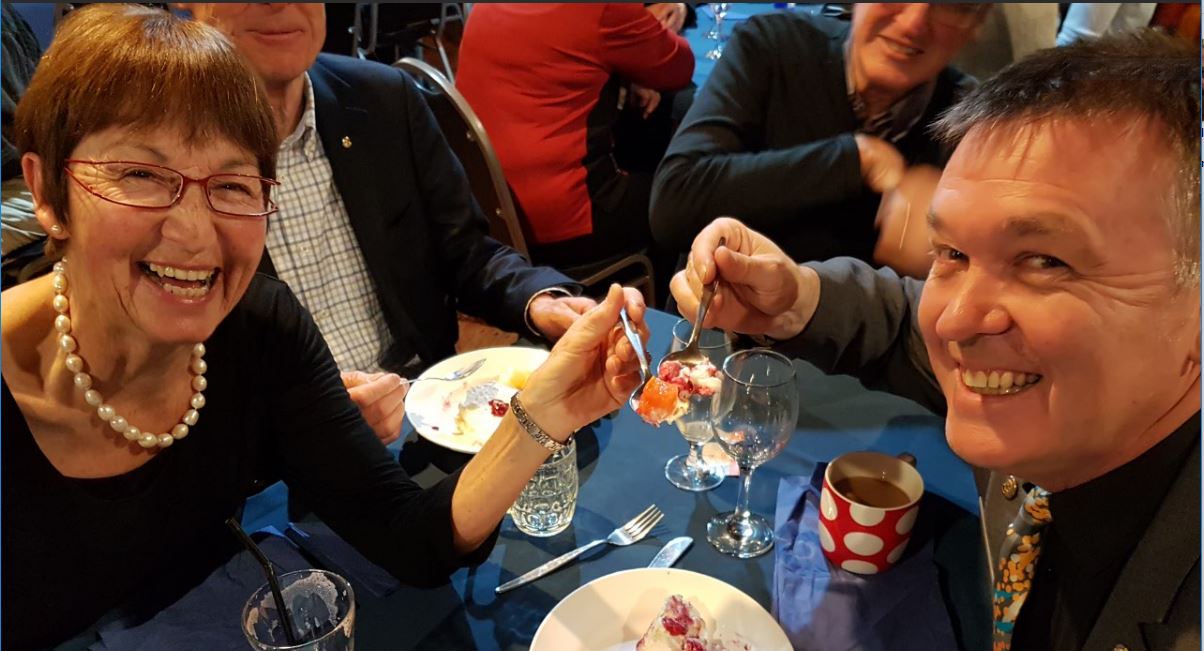 And just to show how much fun DG Mitch had tonight, here he is sharing dessert with Marg Pine just before Lisa Murray began her entertaining presentation.
Parting thought
Sandie Ryan gave the parting thought: People were created to be loved. Things were created to be used. The reason why the world is in chaos is because things are being loved and people are being used.
Visitors
President Jenny welcomed a multitude of visitors, so many that they merit a special segment this week.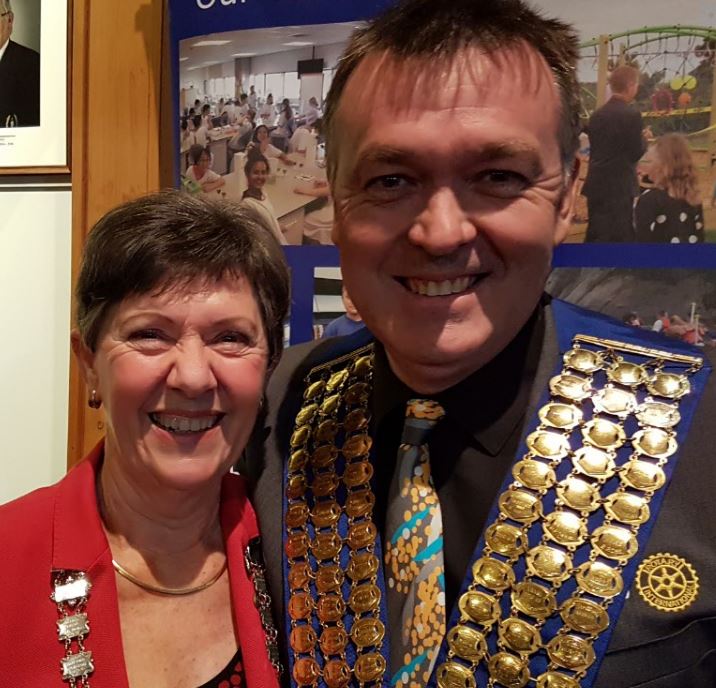 District Governor Mitch Brown and his wife, Fiona and AG Lee Wilkinson. While Mitch networked his way around the room,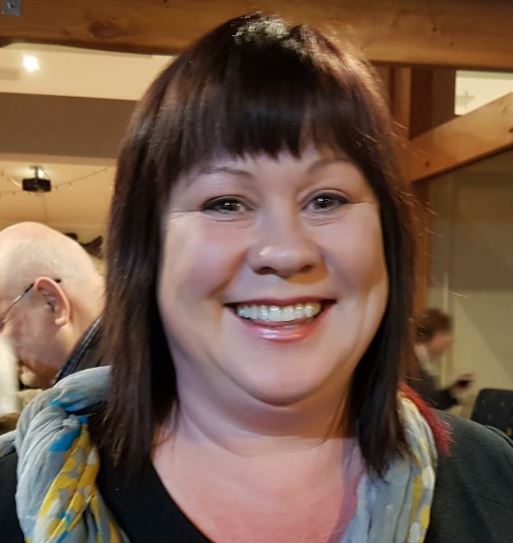 Fiona remained calm and serene as all good DG partners know how to do so well!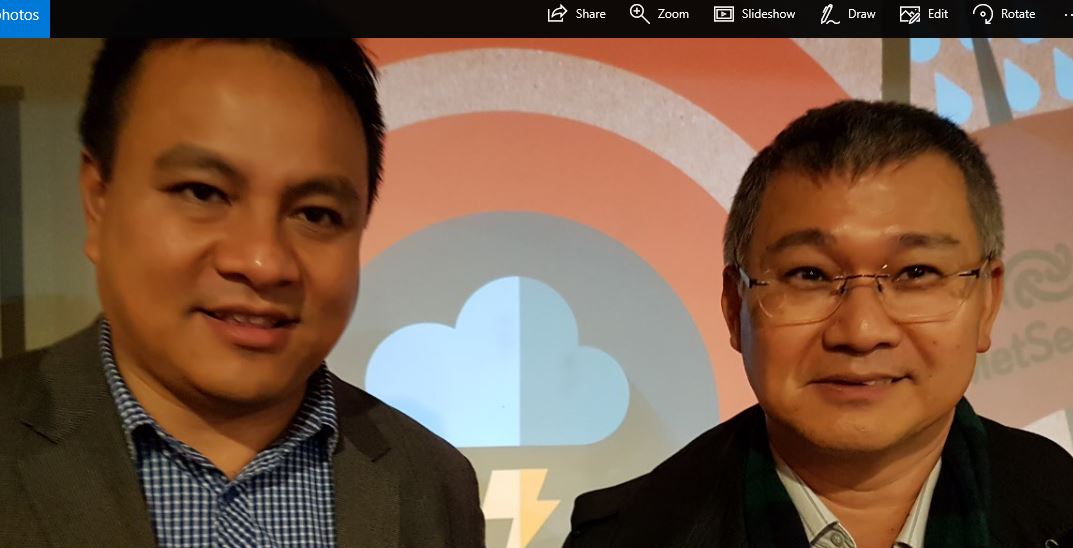 Dr Swee Tan, Executive Director of the Gillies McIndoe and Dr Tinte Itinteang, Chief Scientific Officer.
Rotarians Sisira Jayanatha from the Karori Club and President Richard Perry, Judy Dearsley and Jay Howie from Eastern Hutt Rotary who were present to enjoy the presentation to the Gillies McIndoe Institute.
Commodore Matt Hipperson from the Plimmerton Boating Club.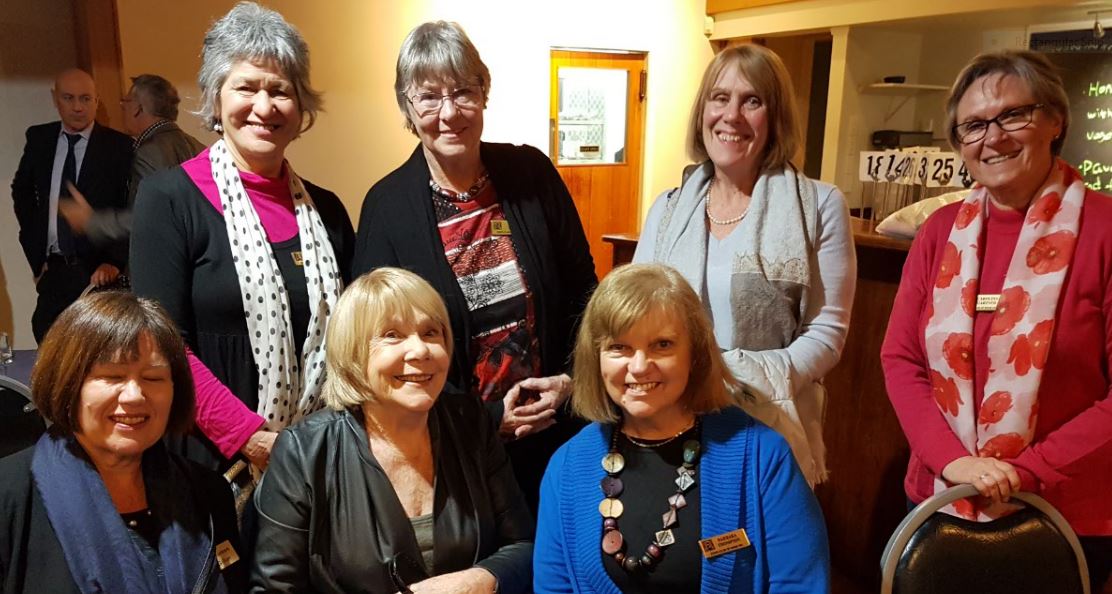 Zontians President Carolina Gartner, Veronica Allum, Kay Middleton, Ngawai Richardson, Jenny Brash, Barbara Thompson and Maureen Gillon.

Rotary partners and, in some cases, also members of Plimmerton Inner Wheel, President Christine Blick, Judith Tanner, Dianna McGavin, Helen Scott, Christine Harrison, Glenys Greaves, Joy Tongs, Janet Reidy, Carolyn Wallace, Sheryl Perera, Julia Mottram, Bev Lillico, Margaret Pine, Velma Knight, Lorraine Whyte, Val Sherwin and Steph Rugg.
Honorary members, Noel and Meryll Evans, Jenny and Spencer Harris.
And on his third visit, prospective new member, Keith Harrison.
This week's happenings
Wellington Free Ambulance is staging a 'One-of-a-Kindness Gala' at the TSB Arena in Wellington on 25 November. The event is to celebrate their 90th birthday and it will be an evening of glitz and glamour. Gala tables are $2,000 for 10 people or $220 for single tickets. Speak to Jenny if you would like to join a Cluster Table. You can read more about this special event here.
What's coming up in August and beyond?
Remember the Rotary Tree Planting Day at Bothamley Park this very Saturday, 26 August. Here's the flyer again. Rotary_Planting_Day
On Tuesday 29 August, we will hear from two students, Liza Mascoe and Josiah Gagamoe, both from Porirua College, who attended the Rotary Youth Programme of Enrichment 2017. We will also be hearing from the new Principal of Porirua College, Mrs Ragne Maxwell. You can read more here.
On Monday 4 September the Be a Gift Leadership Awards will take place at Elim Church from 10.30-12.00. Wendy Betteridge spoke about this exciting event and told members that they were welcome to come along to Elim Church on the day. You can find out more details here.
Chris Garrett is organising the next Wine & Cheese for Sunday 10 September. Contact Chris if you would like to be included.
You can view future events on our events page here.
Who's on duty for the next month?
Please arrive at 5.45 pm if you're on Door duty.
Please arrive early to greet the Guest Speaker and be his/her host for the evening if you're on Introduction duty.
Unable to do your duty? Please find a replacement and inform Peter Turner.
Need to apologise or bring additional guests? Email the Receptionist at Professionals before 10.00 am on the Monday before the meeting. Or you can ring on 233 9955 if you prefer.
The same contact details apply if you need to let someone know that you're going to be late.