Diary
Rotary Club of Plimmerton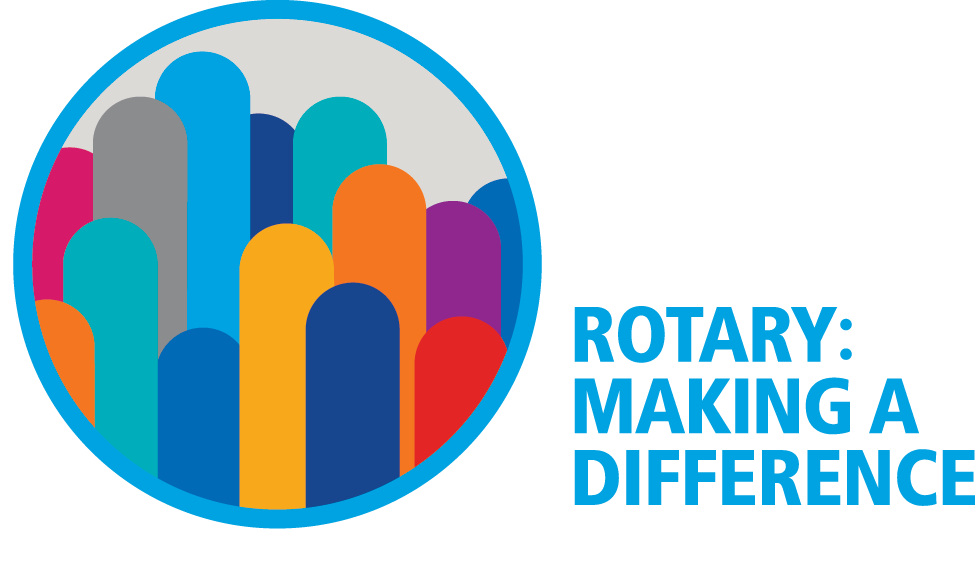 The Speaker said ...
Dr George Allan told us that the key to becoming a successful manager of projects is to lead people in the direction you want them to go, in such a way that they will think it was their idea. Read David's summary of his speech.
Snippets
Past President, Peter Cox, kindly stepped into the breach and managed the meeting in the unavoidable absence of both Jenny and Donna.

Many thanks to Richard Sherwin for applying to Z Energy to be one of four groups to be rewarded by their 'Good in the Hood' initiative. Help to Finish the Te Ara Piko Pathway by filling your car at the pump at the Mana station any day this month and you will be given a token to choose which charity you want to support . Support the club so that we can raise more money for the Pathway. Or save on the Fuel Discount day from 6 am Thursday 17 May until 6 am Friday 18 May. "Every customer that comes into a Z service station will get a 6c per litre discount off fuel when they pay in store, and Z will also donate 6c from every litre sold to Good in the Hood groups in the region," says the marketing. Funds will be divided equally across the 4 groups that are asking for support. This means that Thursday 17 May (which is next week) is a good day to fill up with fuel.
Friday 18 May is the Mental Health Foundation's Pink Shirt Day. President Jenny would like us all to wear something 'pink' at the meeting on 22 May. So start searching through those cupboards and drawers or, in the editor's case, ask a friend for help!
After some careful calculations from our Treasurer Bruce Couch and Grant Application expert Richard Sherwin, Richard was able to tell us that just over $970,000 has gone through our charitable trust over the last five years to contribute to Te Ara Piko. Richard is particularly keen that we raise another $30,000 by the end of this calendar year so we can say that we raised over a million dollars for this project. There is still more to be done. At the moment we still have a 'bridge to nowhere'. There is funding for the continuation of the pathway from the bridge over the Kakaho stream to Motukaraka Point, but not sufficient to complete the pathway from that bridge to the start of the Camborne walkway. Richard and Phillip Reidy will speak to the hearings on the Porirua Long Term Plan on Wednesday next week about their proposal for further funding from the Council so that the pathway can be completed.
Adrienne has also been asked to speak to the hearings about our proposal that the development of a community (or destination) playable area be developed. This is another long-term project. Discussions with the previous Council began in 2014 and Otago University's Physiotherapy Research team became involved from 2016. Plimmerton Inner Wheel has donated an accessible swing which is to go into Bedford Park within the next month, but the development of a new accessible playground is still some way off. However, there will be a new inner-city playground started by January next year. At this stage, there has not been the need for any funding, simply people hours.
The Almoner said ...
Noel has been transferred to Ward 4 at Kenepuru Hospital and is improving gradually. Visiting hours are open during the day other than 1 pm to 3 pm when you will not be allowed in the ward.
Graham has had a couple of setbacks but is making progress, and President-elect, Donna, is recovering well from eye surgery.
The Outside World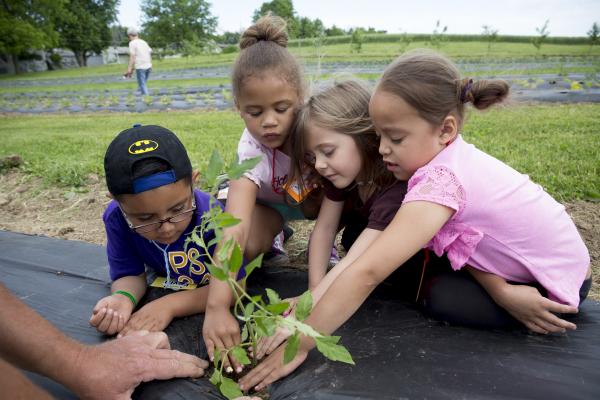 Now here's an idea for supporting our community. Rotary members in Harvard, Illinois, USA, have teamed up with community groups to help alleviate hunger and bring the community together.
Visitors
We were delighted to welcome Tania Woodcock, a Camborne resident, for her second visit and delighted to hear that she might be interested in joining the club.
This week's happenings
Last week I said I'd get hold of Ron's report on the project planned for Taveuni Island. Here it is with thanks to Jenny.
Graeme Tongs updated the Membership List on Thursday 3 May 2018. You can always find a .pdf copy of the latest list in the Intranet which, as you know, is password protected for privacy reasons. If you want a hard copy of this list, click on the .pdf in the Intranet and print a copy for yourself. If you'd like a copy of the list in Excel so that you can use it to cut and paste email addresses from it, for example, just let Wendy know.
Adrienne has sent everyone a copy of the May 2018 District Bulletin but just in case you missed your copy, you can find it here.
What's coming up in May and beyond?
We are taking a space in the marquee at ROTAFEST 18 on Saturday 12 May to show off two of our major projects, Te Ara Piko and Playable Porirua as well as information on some of our Youth projects. As both the major projects are being carried out in partnership with Porirua City Council, the Council has helped us prepare some information, which includes posters and a video to be displayed. Members of the public have been invited to visit ROTAFEST from 10 am Saturday through to 3.30 pm when many Rotary projects will be on display. There will also be Jazz bands, Mark Williams, Rodger Fox Big Band, entertainment for children and, of course, food trucks to tempt appetites. Come on up to Palmerston North, bring the family and the grandchildren for what looks to be a great day out.
On 15 May you can hear Dr Wayne Severn, a Drug and Substance Analyst, talking to us about training detection dogs in the detection of illicit drugs.
On Wednesday 23 May, Porirua Club has invited us to put forward an 'interclub' team of 6 to compete for a Quiz Trophy. We have a team of five so far so PE Donna will be looking for a sixth. The event is to raise funds for local colleges, specifically Aotea and Porirua, for their Polyfest event. The time is 6.30 for 7.00 pm, the cost is $30 per head which includes dinner and raffle tickets are 3 for $5 so bring some pennies.
Remember to put 26 May in your diary to come along to the Rotary Best Speaker Awards at Anchor Church in Whitby. This event is getting bigger and we now have over 23 speakers to listen to in the morning. The best three will then compete in the afternoon with finalists from other areas. This means that the event will now start at 9 am at the Anchor Church and the morning session may go through to 1 pm. In the afternoon session, we will have six speakers, our three from the morning, two from Auckland and one from the South Island. Please come along if you can. These young people are inspiring to listen to, you may need tissues!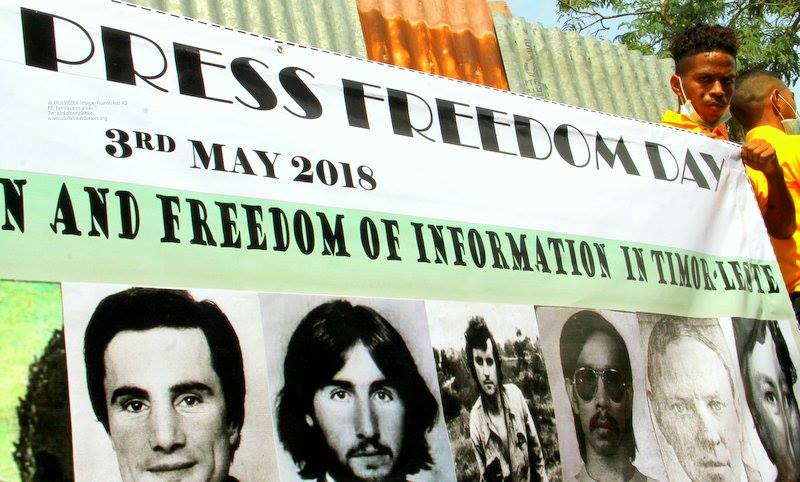 The Light House in Pauatahanui has been booked on Wednesday 18 July for a showing of the Balibo movie. May 3 was World Press Freedom Day, an opportunity to 'celebrate the fundamental principles of Press freedom and pay tribute to journalists who have lost their lives in the line of duty'. Gary Cunningham, brother of Greig who came to talk to us, is featured on the right of this photo.
You will find information about all future events here.
Parting thought
This came to us in two parts tonight. From Ross Garner, 'Learning from a failure is very important to prepare for a success'. And from Acting President, Peter, 'The person who risks nothing, does nothing, has nothing and achieves nothing. And so they will not learn, feel change, grow, love or live. Only a person who risks constantly is truly free.
Who's on duty for the next month?
Unable to do your duty? Please find a replacement and inform Philip Mottram.
Please arrive at 5.45 pm if you're on Door duty or on Introduction duty to greet the Guest Speaker and be his/her host for the evening.
Need to apologise or bring additional guests?
Advise the Receptionist at Professionals before 10.00 am on the Monday before the meeting on 233 9955 or email paremata@dwre.co.nz if you prefer.
Please provide the name (and spelling if necessary). The same applies if you're going to be late.