Diary
Rotary Club of Plimmerton
Plimmerton Rotary Weekly Update
Tuesday 4 April 2017
The speaker said ...
There was no speaker tonight but members enjoyed a noisy evening where they contested most of the answers to a quiz, very ably led by Nick Walmsley and his assistant, Laurie Boytard. The winners, by a hair's breadth, were Us (seven exceptionally talented men) with Project Angels (five extraordinarily intelligent women) coming a close second.
Snippets
2017 Book Fair: President Peter thanked all who had been involved in this mammoth project, and especially project leader Allan Nichols. Gross sales were $20k, the same as in 2016. We should net about $16-17K, which will be shared with the Life Education Trust. A full story on the Book Fair will be available shortly.
President Peter Cox welcomed back Bryan Waddle, who has been away on commentating duties, and again congratulated him on his 250th cricket test match. He can remember them all in great detail.
Book Fair.
The Friendship Exchange with Africa (well, with some of them) has been cancelled because of visa difficulties.
Club members can still sign up for Windows 10 Professional more or less free, but they will have to move fast. Contact Peter Sinke.
The Nursery Working Bee: A reminder that this is on Saturday from 9.00-12.30.
Adrienne Murray outlined an upcoming project called "Accessible Playgrounds in Porirua", which is the subject of a MoU with Inner Wheel and the PCC. She called for volunteers to help with the initial audit of the city playgrounds over May and June. Training will be available at half-day workshops on both 18 and 19 April. This is a long-term project that the club can really get behind. Several members signed up for this at the meeting but others can contact Adrienne at any time.
Wendy Betteridge is hosting a young Frenchwoman from 14 April to 16 June. Lucie is studying law and will be an intern in our court system. Club members are encouraged to include Lucie in any appropriate family activities while she is here.
Thought for the week
From Wendy Betteridge: Buddha said, 'The trouble is, you think you have time'.
This week's happenings
The March OP E-Newsletter was circulated last week. If you didn't receive your copy, you can find it here.
The 2017 Rotary Best Speaker Awards will be held on 20 and 27 May. Julie McLagan is seeking all the help she can get to spread the word far and wide to potential participants so please encourage friends and associates to attend this inspiring event. Can you help?
And another event to diary is the 2017 Porirua City Secondary Schools Speech Contest being organised by David Knight and his team, which will be held on Friday 16 June.
You can find an April message from DG Martin here.
What's coming up in April and beyond?
Tuesday 11 April - Judge Andrew Becroft, Children's Commissioner, will be our guest speaker. Partners and visitors are especially welcome.
Tuesday 18 April - Another Planning Meeting so get your creative juices flowing.
Tuesday 25 April - ANZAC Day so no meeting.
Friday 21-Sunday 23 April - District Conference and District Training Assembly in New Plymouth.
Tuesday 2 May 2017 - Brian Colegate will talk about his experience of Bi-Polar disorder.
Tuesday 9 May 2017 - Former member, Peter Snow QSM, will talk to us about the Mission to Seafarers

Who's on duty next week - 11 April?
Greeters: Peter Turner and Connie Palmer
Hosting Laurie: Peter Sinke
Grace: Roy Gilmour
Introduction: Julie McLagan
Thanks: Wendy Betteridge
Parting Thought: Terrie Turner
The Outside World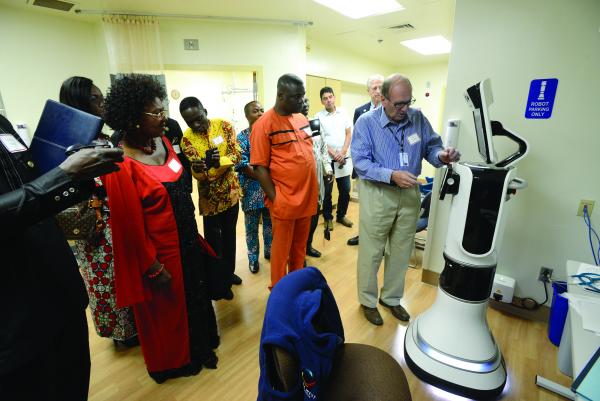 On a visit to southern Nigeria last October, Dr. James K. Gude of Sebastopol, California, and Mikel Cook of the Rotary Club of Sebastopol Sunrise, learned how hard it can be to bring medical care to rural areas.