Diary
Rotary Club of Plimmerton
Plimmerton Rotary Weekly Update
Tuesday 23 May 2017
The speaker said ...
David Pine has once again captured the salient points of Kirk Hope's talk this evening about the role of Business NZ. You can read all about it here.
Snippets
President Peter opened the meeting by teasing Ken Gardner for getting lost earlier in the day, in Pukerua Bay. It's a big place, after all.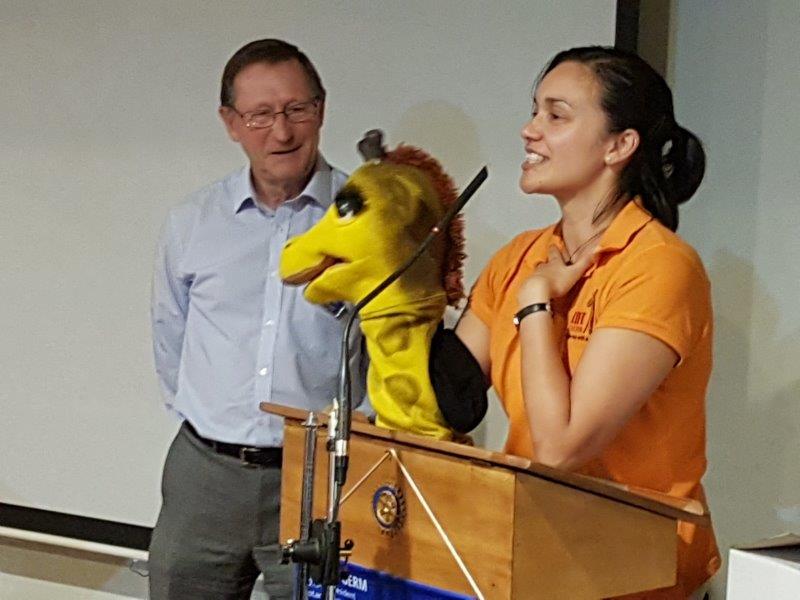 He welcomed Kapa Te-Aho (the Educator from the Life Education Trust). and presented her with our cheque for $8500 (half the proceeds from the Book Fair). Kapa responded with an entertaining talk, aided by her giraffe, baby Harold. It costs $14 per child to deliver the Life Ed programme, so the money is badly needed.
President Peter also welcomed old friend and member, Tim Beere (sporting a new beard), honorary member Ian Catherall, and Wendy's guest Lucy Fierdehaiche.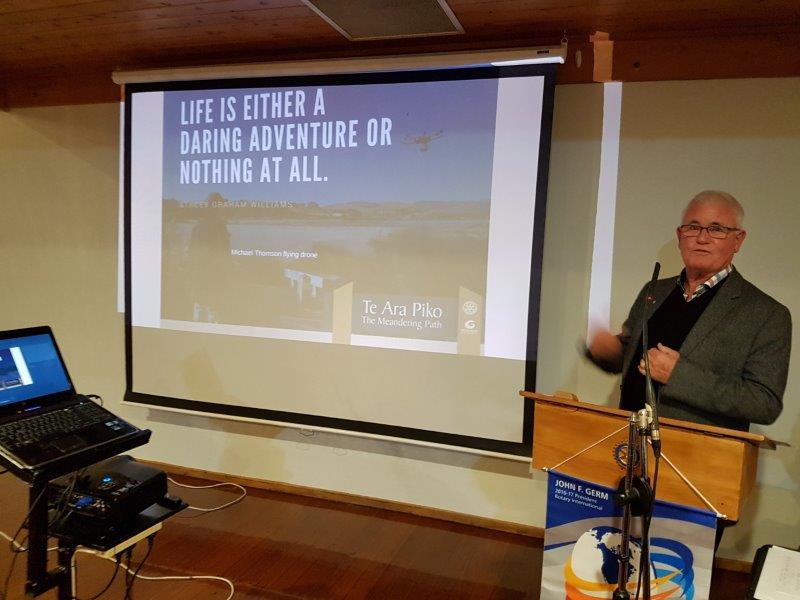 Phillip Reidy gave the club a detailed update on the Te Ara Piko (Pathway) project. He described the new outreach plan for the Pathway, which includes a regular mail out, NewsPost, and an updated website. He rightly described Te Ara Piko as a "world class Rotary project".

Parting Thought for the week
Brian Waddle was unprepared but improvised by reminding us that "politicians are like diapers: they should be changed regularly, and for the same reason!"
This week's happenings
Here's the latest edition of Hot off the Press dated 19 May. You may have got your copy direct, but if not, you can find it here.
What's coming up in May and beyond?
Saturday 27 May - The Rotary Best Speaker Awards event is this Saturday, starting at 10.30 a.m. A good number of club members are involved in this, and everyone else is urged to attend. Judging by last year's event it will be another memorable occasion.
Tuesday 30 May - Chris Moore will speak to us about 'Caving in New Zealand'.
Tuesday 6 June - Paul Craven will tell us how SAR activity is coordinated within his vast region and how the distress beacon works.
Tuesday 13 June - Laurie will give her very last speech to the club about her experiences throughout the year.

Friday 16 June - Join us at The Anchor Church for the Porirua City Secondary Schools Speech Contest at 6.30 pm. You can ask David Knight if there is anything you can do to help.
The Outside World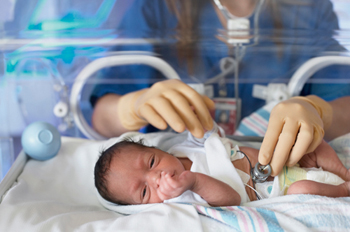 The Rotary Club of Registro-Ouro in Brazil raised $172,500 to save newborns in Brazil by partnering with two clubs in Nakatsugawa, Japan on a Rotary Foundation global grant. By adding five incubators to the NICU, the hospital nearly doubled the number of babies its nurses and doctors can care for.


Who's on duty next week - 30 May?
Greeters: Peter Turner and Ken Gardner
Hosting Laurie: Wendy Betteridge
Grace: John Barber
Introduction: John O'Connell
Thanks: Colin Whyte
Parting Thought: Bruce Couch