Diary
Rotary Club of Plimmerton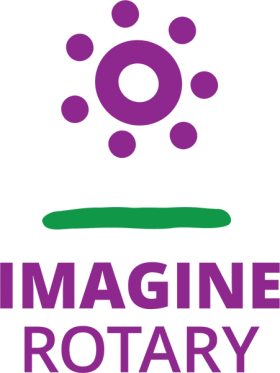 President's Opening Remarks
President Denise welcomed everyone and outlined her plans for the Committee part of the evening. She asked the Event 50 teams to meet in their groups to start planning their approach to the tasks they have been allocated. After that, normal Committee Meetings could take place if there were important matters to discuss.
Person Behind The Badge
Wendy told us a little about her childhood and life up to her Rotary years and commented how privileged she felt to have had such a happy childhood and upbringing. In her mind the pleasure she gets from her Rotary experiences today is due in large part to earlier life. You can read the whole story, and see the photos, here.
What's coming up in March and beyond?
Bryan reminded members that next week, 14 March, is our Annual Bowls Night at Whitby Bowling Club, in memory of Les Austing. Roll-ups can start between 4.30-5,00 pm. Bryan himself will be in charge of the catering. Please let him know if your name isn't already on the list and you would like to come.
Remember that the District 9940 Conference will take place from 17-19 March. Let Bruce know if you want to join a group of Rotarians who will be going to the dinner on the Saturday evening.
You can find all future events here.
Snippets
Colin told us that Rachel McKinnon had been in touch to say that she has started a charity initiative called Dancing in the Rain, focusing on offering help and stimulation to students who may need it. She will be bringing a group if 12 students between 11-13 to fish off one of the wharves and wondered if any Rotarians who know something about fishing would like to help. Fishing rods and suitable equipment would be helpful. The date has not yet been decided. If you would like to know more, please talk to Colin.
Parting thought
Allan used his Parting thought to express his heartfelt thanks to every single member of the club who had helped in many different ways at the Pop-Up-Shop during the previous week. The final takings were $3,272.98 and, after expenses had been deducted, $3,000 was donated to Wellington Free Ambulance. The remaining clothing was donated to Arohata Women's Prison who said that it would be of great value to those on remand who had been brought down from Hawkes Bay with almost no spare clothing to their names. Other articles had gone to Free For All in Auty Lane where a $5 donation will enable you to take anything you want or need. Bryan expressed a sincere vote of thanks to Allan (and Barb) for the weeks of hard work they had undertaken before the event, collecting, storing and transporting, as well as their presence almost every moment of the entire week.
Who's on duty for the next month?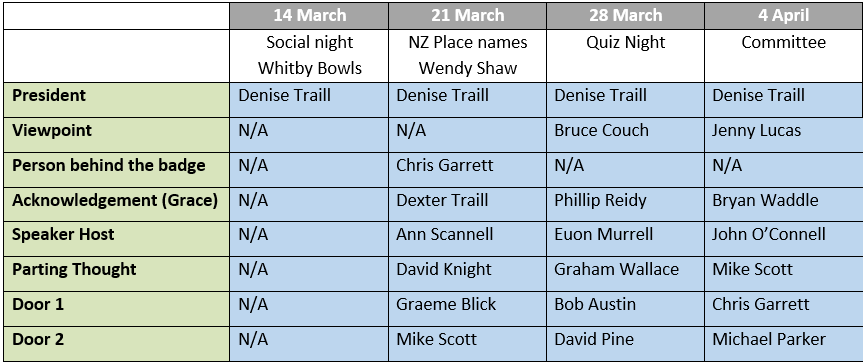 Unable to do your duty? Please find a replacement and inform Leigh Corner.
If you're a late 'no show' please tell President Denise.
Please arrive at 5.45 pm if you're on Door duty or hosting the Guest Speaker for the evening.
For apologies or additional guests, please phone or email Phillip Whearty before 10.00 am on Mondays (or before 10.00 am on Tuesdays if Monday is a statutory holiday) on 027 448 9094 or email philip.whearty@harcourts.co.nz The same applies if you're going to be late.