Diary
Rotary Club of Plimmerton


Visitors
President Kay welcomed members and visitors to the Special General Meeting - our two guest speakers, Philip Whearty and Euon Murrell, and our Area Governor Kath Beattie. Visiting Rotarian Adrienne Murray needed no introduction but Kay asked her to introduce visitor Dixie Lee Estalle. She also welcomed Honorary Member Ron Lucas, and all our wonderfully supportive spouses and partners- Glenys Greaves, Lorraine Whyte, Velma Knight, Rhonda Walmsley, Barbara Nichols, Janet Reidy, Carolyn Wallace, and Sue Couch. We are indeed fortunate in having such a group of women. Honorary Member Christine Blick has given an apology tonight as she is unwell.
For those who didn't already know, Kay explained our presence at Porirua Club because our liquor licence at the Cruising Club has expired and our people weren't able to get it renewed in time for tonight. Then on Sunday morning, our caterer tested positive for Covid. No drinks and no food at a meeting of our Club is unthinkable! So Philip and Euon went out of their way to secure a venue that caters to our needs. She also gave big thanks to Peter Sinké for coming to the audio rescue tonight with his own equipment.
Official Business
Turning to official business, Kay announced that, in the absence, due to ill-health of our Secretary, Graeme Tongs, Communications Director Phillip Reidy would take minutes of this section of the Meeting. Members have been advised via our official weekly communication, Update, that tonight we will vote on altering our By-Laws to include Corporate Membership. All active members may vote. We have a quorum of the members present and Kay was holding two proxies from Graeme Tongs and Bill McAulay which members could view if they wished. The vote requires two-thirds of members in attendance to support the motion for it to be passed.
At a recent meeting, we discussed the possibility of altering the Rotary Club of Plimmerton By-Laws to include Corporate Membership. The Board has agreed unanimously that this should happen but it requires a Vote of members. Article 11 has been distributed to members and there are copies on each table tonight.
Kay put the motion: "That the Rotary Club of Plimmerton By-Laws be altered to include Article 11." The motion was seconded by Membership Director John O'Connell. She asked all those in favour of the motion to write YES on the square of blue paper at each table, and those against to write NO. Papers were collected by our counters and scrutineers, Treasurer Bruch Couch and Update Editor Wendy Betteridge.
While Bruce and Wendy counted the votes, Allan Nichols provided some light entertainment by running a game of Two-Up.
Following the frivolity, President Kay announced that the result of the Corporate Membership By-Law Vote had passed 32 in favour, 2 against, and 1 abstention. She declared that Article 11 is now part of the By-Laws of the Rotary Club of Plimmerton.
This completed the business section of our General Meeting.
President's Announcements
'I urge members to read the reports that Wendy has loaded into this week's Update under the heading "This week's happenings". It was a splendid final weekend of our Rotary year. We can all be proud of being part of this great organisation.
'District Changeover was probably the most interesting and informative I've attended.' Area Governor Kath announced that Kay has agreed to take the role of Area Governor for the coming year.
'We all enjoyed our Tree Planting Ceremony with Dr. Jessie Harman, Te Ara Piko video, and our extended Monthly Drinks and Nibbles at the Lighthouse. Thanks to Bill McAulay and Phillip Reidy for organising these events with DG Mark Wheeler. And whakawhetai koe to Dexter for filling in at very short notice for Ngati Toa Kaumatua Callum Katene who tested positive for Covid on Sunday.
'I also attended the District Foundation Lunch yesterday where the wonderful things the Foundation pays for around the World and in our District were listed. Grants included our Preschool Clothing Project. A new Major Donor from our District (over $10,000 donated to RF) was announced. With our donations Rotary, with recent support from the Bill and Melinda Gates Foundation, has almost rid the world of Polio. But note in the Update reports the possible catastrophe in London. Without the Foundation as our Charitable Trust, Rotary could accomplish very few of the projects we do.
'The icing on the cake was when DG Mark Wheeler presented us with the Paul Harris Fellows' Rosebowl which until 2004 was the trophy for the District Quiz Competition won by three illustrious members of our fine Club in 2002—03. The Rosebowl was subsequently lost and only re-discovered recently. DG Mark decided to award the trophy from now on to an outstanding Club which the DG and a panel of Past District Governors agree is the best Club for the year. For 2021-22 we are that club. This is an award that every one of you has contributed to through our various projects and activities. He waka eke noa (A canoe which we are all in with no exception or We are all in this together.)
'We will have a date soon for our important meeting with DG-Elect Wayne Gordon to discuss the forthcoming vote on whether we want our Rotary Zone to be part of a Regionalisation Pilot.
'There are so many people who have helped in many ways this year. I am passing around this box of chocolate fish so everyone can share in my appreciation in a small way. My final bottle of wine for this year goes to Bryan Waddle for always being there to jump in and organise or lead a meeting and to add some Pizazz to our meetings'.
The speakers said …
Euon Murell and Philip Whearty formed themselves into a panel of two and spoke from the 75 years' experience they share in their chosen profession. There has been a huge change in the housing sector and many factors have combined to make the current situation a buyer's market. Here is Mike's report.
What's coming up in July and beyond?
Next week, is the all-important Club Changeover. As you can see from the flyer, the event begins at 5.30 pm on 5 July at Wharewaka Functions Centre in Wellington. Dinner will be served from approximately 6.45 pm onwards.
Remember that Inner Wheel is having a movie night to show 'Phantom of the Open' on Thursday 14 July. If you cannot go a donation to their charity – Children's Cancer - would be gratefully accepted
You can find all future events here.
This week's happenings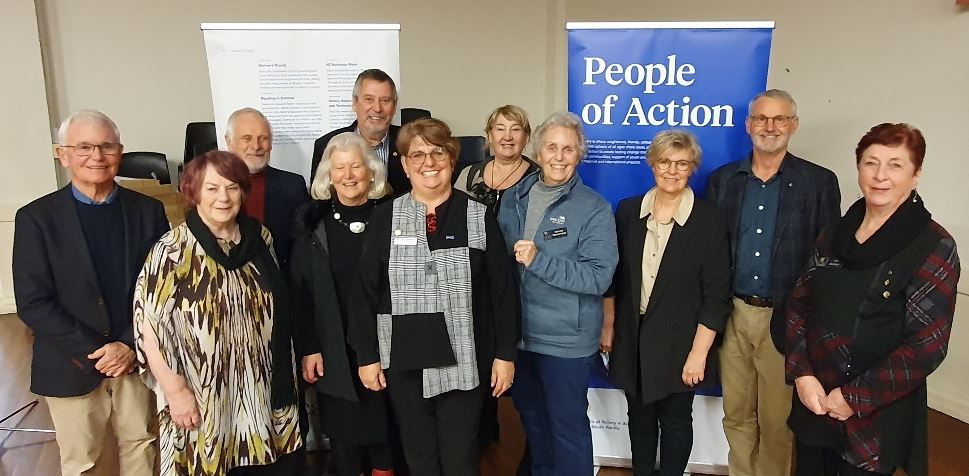 A small group of Plimmerton members attended the District Changeover in Otaki on 25 June. They were joined by Roger and Kay Fitzpatrick who travelled over from Australia to support their very good friend, Marilyn Stevens as she accepted the role of District Governor for the coming year. They will be well-known to many of you as they, and Marilyn, were all members of Plimmerton over the turn of the century and it was Roger who first came up with the vision that has become Te Ara Piko.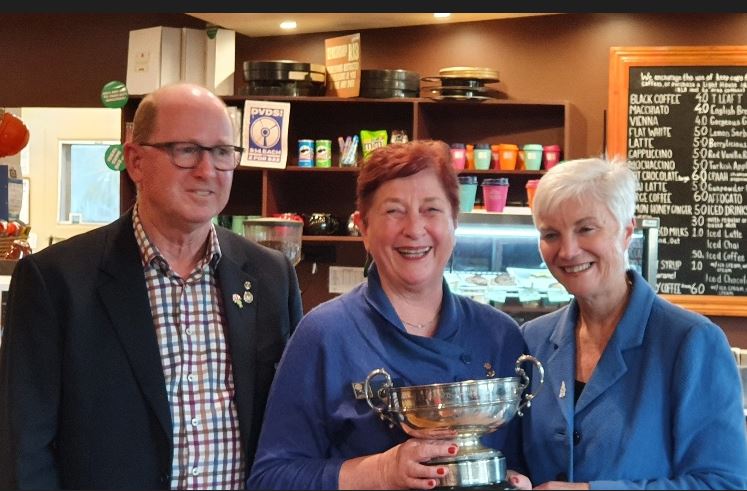 The Paul Harris Fellows' Rosebowl is presented by the District Governor to recognise the dedication of a club to improve the quality of life in the Club, District, their local community, and support of national and international projects. It is awarded by a panel of three selected by the DG, including PDGs / DG Train, and supported by the Area Governors. Our Club, the Rotary Club of Plimmerton, were the proud recipient of this prestigious award for the 2021-2022 year. Mark's speech is presented here in full and is well worth a read, lest we forget what every member has contributed to the Club during the year.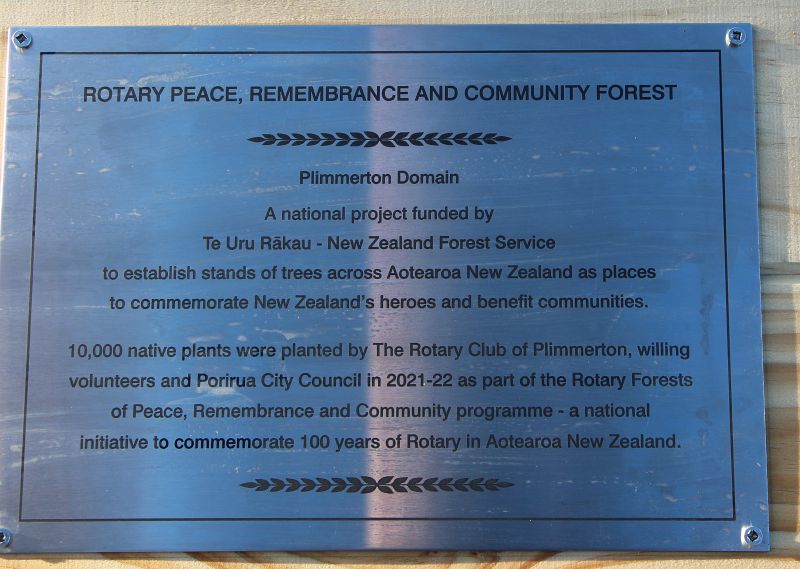 On a beautiful sunny Sunday afternoon, 26 June, we had a wonderful celebration of the first two years of planting of the "Forest of Peace, Remembrance and Community Forests" at Plimmerton Domain and alongside Taupo Swamp. Project co-organiser, Bill McAulay welcomed all and pointed out that we had representatives from Porirua City Council, local Rotary clubs, Rotary District and Rotary International. Bill has captured the proceedings of this very special event in his report.
Snippets
Graham announced that there will be no work at Porirua Garden next week as the vegies are growing more slowly in the cold. He said that if anyone has vegies that are surplus to their own requirements, please let him know so that either he, Kay, or Nick can pick them up and add them to what we give to the Food Bank.
President-Elect Denise gave a few directions on how to access parking for next Tuesday evening. Turn left at the Circa Theatre, turn left again and you will find parking there. She was very much looking forward to welcoming those who have accepted the invitation.
Bryan ran a fun Sergeant's Session, proceeds from which will be divided between Chrissie Leggett from Whitby who gives items to the destitute, and Women's Refuge.
Parting thought
Colin Whyte gave us the parting thought tonight with a quote from Dr. Seuss, which he considered appropriate for the end of our Rotary year under Kay's leadership. 'Don't cry because it is over, smile because it happened.'
President Kay concluded her last meeting by thanking all those who had attended and our two wonderful real estate men, Philip and Euon. She thanked everyone for making 2021-2022 a wonderful year, in spite of Covid.
Who's on duty for the next month?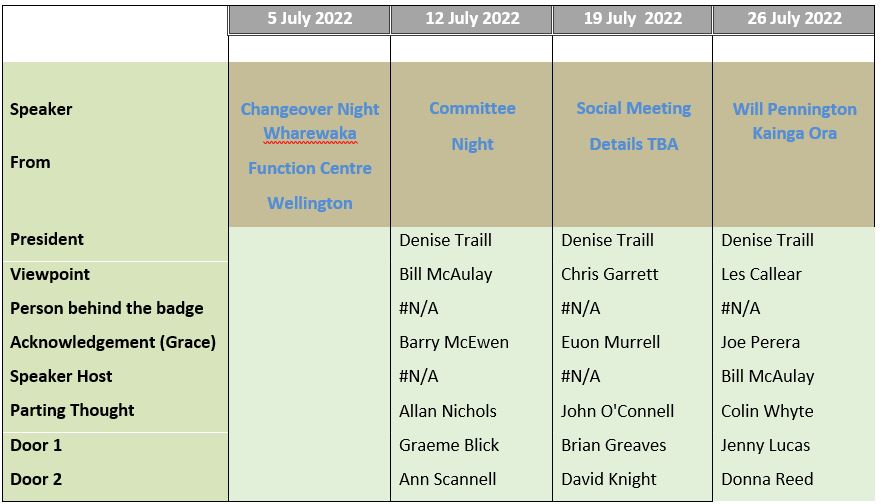 Unable to do your duty? Please find a replacement and inform Graham Wallace.
If you're a late 'no show' please tell President Kay.
Please arrive at 5.45 pm if you're on Door duty or hosting the Guest Speaker for the evening.
Need to apologise or bring additional guests?
Advise the Receptionist at Professionals before 10.00 am on the Monday before the meeting on 233 9955 or email paremata@dwre.co.nz if you prefer.
Please provide the name (and spelling if necessary). The same applies if you're going to be late.