Diary
Rotary Club of Plimmerton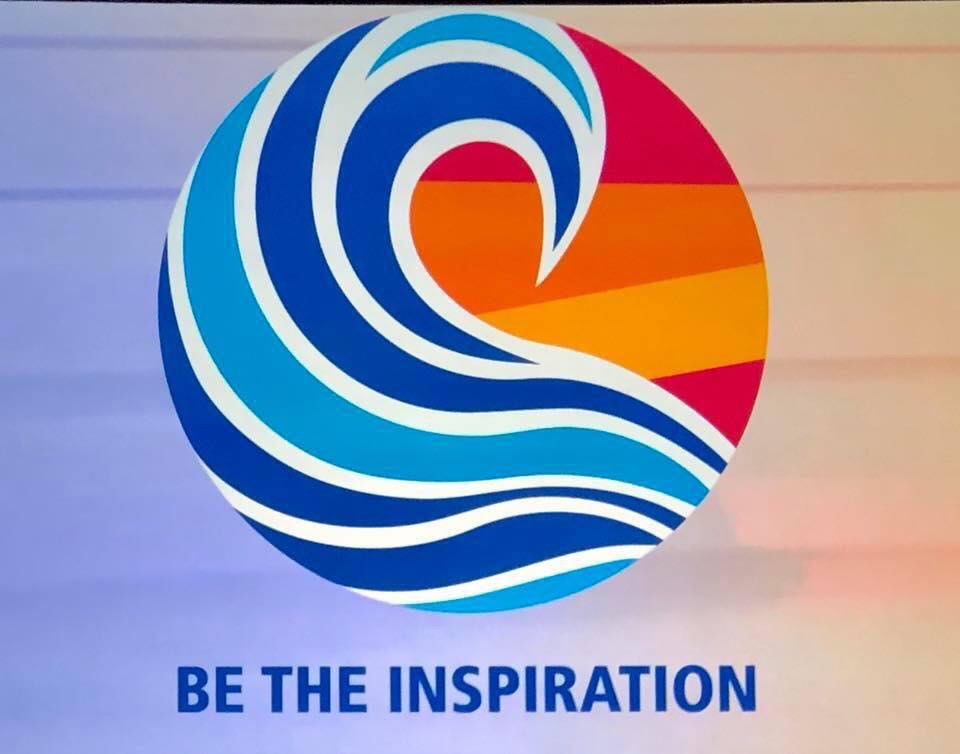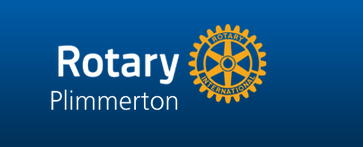 The Speaker said ...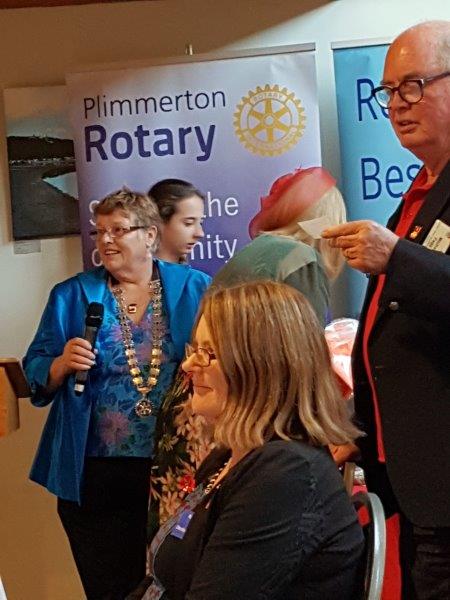 Michael Fagg from Otaki Rotary kindly came along, not only to enjoy the evening but also to run a comprehensive and interesting quiz all about Polio eradication through the ages. This was followed by a raffle with five great prizes.
All proceeds from the evening will go to our club's contribution to RI for the ongoing Polio campaign. Tawa President, Denise Garcia, Michael, Donna, and the two International Exchange students, Olivia and Jordyn, had great fun selling raffle tickets and dispensing prizes.
Before dinner and the normal evening began, we were treated to a Melbourne Cup Extravaganza organised by Allan and Barbara Nichols with help from Alison Cox at the betting table. There was absolutely no skill involved as we were all given a horse to back but the three lucky winners all received prizes. President Donna expressed her thanks for all the hard work that had gone into the organisation of the evening.
In addition to the betting, David Knight, compere extraordinaire, announced his decisions as Chief (and only) Judge of the most fascinating fascinator and the best-dressed man. All placegetters received fabulous prizes. Although they were all asked to stay on at the end of the evening for a photo op, it is regrettable that they all rushed away at the end so we can't see how splendid they all looked.
The winners of the fascinator prizes were ...
Trish Drummond
Sue Couch
Glenys Greaves
And for the best-dressed man ...
Philip Whearty
Paul Drummond
Visitors
President Donna gave a warm welcome to the 20-strong Tawa contingent who had come to help raise funds for Polio. They were:
President Denise Garcia and Martin (and congratulations on their wedding anniversary).
Lyn Calman, Paul and Trish Drummond, Patricia Cashman, Judith Gray, Richard and Margaret Herbert, Tony Heyward, John Melville, Euan Patchett, Don Rushworth, Russell Smith, Laura Sommer, Elizabeth Sutton, Robert Tredger, Pat and Melva Waite, Ken Woodgate.
International Exchange Student inwards from Canada, Olivia Goodrich and Outwards to Canada in January, Jordyn Mumby.
And wait, there's more. Donna welcomed Sue Couch from Porirua Rotary, Honorary members Christine Blick and Noel Evans, partners, and Inner Wheel members, Brenda Callear, Alison Cox, Meryl Evans, Glenys Greaves, Velma Knight, Bev Lillico, Barbara Nicholls, Sheryl Perera, Rhonda Walmsley and Anne-Marie Whooley. It was a great crowd.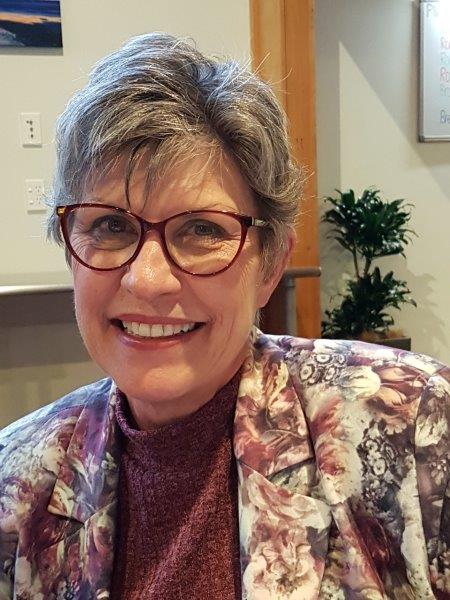 It was also a pleasure to welcome former Rotarian from South Africa, Deirdre Geyser (pronounced gazer), who would like to join our club and will be coming again next week prior to her induction on a date to be arranged. Roger Bannister, meanwhile, will be inducted next week.
Snippets
Please remember to wear your PHF medals and/or pins to the special Christmas meeting on 27 November at the Plimmerton Boating Club. This is a night to welcome partners, Inner Wheel members, and friends.
If you have a bicycle to spare, please take it to Donna's house before the weekend and she will arrange to transport it to the Paekakariki Bike Library.
President Donna thanked AG Adrienne and Ian, Sandie and Keith Ryan and Wendy for joining her in supporting Porirua Rotary at the Diwali fundraising function at Whitby Taj on 4 November. (Donna returned in the nick of time after competing in the swim leg of the Quarter Iron Maori in Napier). The funds of $1,300 raised will go to Polio eradication which, with the 2 for 1 contribution from the Bill and Melinda Gates Foundation, will result in a contribution of $3,900.
She also thanked Tania Woodcock Tony Sutorius and Wendy for supporting the quiz and debating evening at Aotea College to support the students going to Yale next week to compete in the final of the Scholar's Cup. Their abilities were amazing and we wish them well. If you would like to contribute to their travel fund, you can go to their givealittle page.
President Donna had attended the Aotea College Prizegiving to present the awards from Plimmerton Rotary for Service above Self to:
Year 13 - Olivia Small, current Head Girl going to study medicine at Otago University in 2019
Year 12 - Julia Koumphonphakdy from Laos and Head Girl in 2019
Year 11 - Hadi Daoud, one of the scholars in the World Scholars team going to Yale
Donna also mentioned that she and Sandie Ryan had attended a community meeting on suicide awareness at Porirua College. The young people were asking for a central hub to hang out, talk and gather information about health issues. She will keep us informed on progress.
Graeme Blick is busily compiling comments on resolutions to take to the Council on Legislation so if you have any last-minute contributions to make, please send them to Graeme within the next few days.
And some good news. The Youth Committee has selected a candidate for RYLA 2019 in January. More information about that will appear in a later edition.
The Almoner said ...
Jim Dearsly has fallen off his bike and has sadly broken a couple of ribs and his left collarbone. He's finding some movement hard but is in good heart and says he has plenty of help in the Whitby Village. However, he'd probably like some company.
The Outside World
November is Foundation Month and President Donna has received a letter from RI President, Barry Rassin, thanking us for our efforts in fundraising for Polio and urging us to participate in Giving Tuesday on 27 November. Rotary will be joining thousands of other organisations worldwide for a global day of giving.
What's coming up in November and beyond?
Next week, 13 November, has been set aside for Planning Meetings.
Please let Phillip Reidy know if you can help with the Pauatahanui Inlet Clean-up in the morning of 18 November. When you've finished cleaning up, it would be great if we could have a presence at the Grand Opening by Sailability Wellington of the New Porirua Harbour Jetty on Sunday 18 November 2018 at 2.00 pm at Titahi Bay Boating Club, 33 Opepoto Road, Porirua. Afternoon tea will be served and the 'Americas Cup' will be 'in attendance'. Please RSVP to sailabilitywgtn@xtra.co.nz If you want to see what marvellous work they do, you can watch this pretty amazing 'Freedom on the Water' vimeo. It's a private video and the password you will need is 12345.
On 20 November, Tony Johnson from the Low Volume Vehicle Technical Association will be our guest speaker.
A reminder that the Christmas Party for children from Decile 1 schools in Porirua East will be held at Porirua College with the Police on Saturday 24 November from 12.00-4.30 pm. More hands are needed on deck so if you can help, please let Terrie and Ian know.
President Donna is still looking for people to host six couples from USA and six from Canada on 25-26 March 2019.
You can find information about all future events here.
Parting thought
Tonight's parting thought came from Tawa President, Denise Garcia who said ...
We have two eyes and two hands to see and do equally well. We have two ears and one mouth to listen more than we talk. We have two lungs and one stomach to breathe air more than we eat. We have two major sides to our brain, a left, and a right, to offer balance and think equally and fairly. We only have one heart but it has four chambers which keep working day and night, giving us the capacity to love and give enormously. Which is what Rotarians do. We have the biggest hearts.
Roster
Who's on duty for the next month? Unable to do your duty? Please find a replacement and inform Philip Mottram. If you're a late 'no show' please tell President Donna. Please arrive at 5.45 pm if you're on Door duty or on Introduction duty to greet the Guest Speaker and be his/her host for the evening. Need to apologise or bring additional guests? Advise the Receptionist at Professionals before 10.00 am on the Monday before the meeting on 233 9955 or email paremata@dwre.co.nzif you prefer. Please provide the name (and spelling if necessary). The same applies if you're going to be late.