Diary
Rotary Club of Plimmerton


Visitors
Once again it was Committee Night so there were no visitors or guests. Don't committee nights come around fast?
The President said …
President Kay welcomed everybody and noted it was great to see such a great turnout for the last Committee night of this Rotary year.
The eagerly awaited wine tasting prize goes to Philip Whearty this week for his wonderful work liaising with the Cruising Club and caterers and keeping track of attendance. To the Directors and to Nick Walmsley (for his perseverance in getting an acceptance for next week from Luke Malpass) go the much sought-after Chocolate Fish.
Viewpoint
David Pine gave us the Viewpoint tonight. A lovely story concluding with 'a warm sunny holiday is good for the soul'.
What's coming up in June and beyond?
Change Over is coming up 0n 5 July 2022 and this is now less than a month away so you should be well into dusting off your glamorous outfits ready to enjoy a great night with Kay and Denise. Our music master of some repute, Dexter Traill has extended his deadline for last-minute additions to his playlist for the night. Even if you have provided your best music ideas to him additions are very welcome.
Rotary Forest of Peace & Remembrance. Bill McAulay announced that we are having our first 2022 planting day on Tuesday 21st June alongside Taupo Stream adjacent to Palmers Garden Centre, i.e. the area between the former Plimmerton Women's Bowling Club and the stream. He is expecting about 100 people from The Health Promotion Agency (part of the Ministry of Health). The main jobs for Rotarians will be to lay out 1000 plants/trees in the right positions, then to supervise the planters to ensure that the plants get a flying start. The morning will start at 8.3oam and finish at lunchtime. This is a joint project with PCC. If you need more information talk to Bill McAulay or Barry McEwen. Here is the address link Douglass Close - Google Maps
The Cooking Demonstration and Supper is on Thursday 9 June at 7.00 pm so if you want to learn and taste from our very own experts talk to Kay Phillips as there are still spaces available. All welcome.
The Mayor Anita Baker and Hutt Mana Trust's Nick Leggett will officially open the Porirua Garden, our joint project with the MenzShed this year. A short ceremony will be followed by morning tea at the MenzShed Tuesday 21 June at 10 am. Come along and celebrate this worthy project which is supplying produce to the food bank every week now. All members and partners are invited.
Luke Malpass, a journalist who has just returned from the Prime Minister's trip to the USA, will be our guest speaker next week, Tuesday 14 June. We have some visitors coming and this is definitely a partners' and friends' night.
Snippets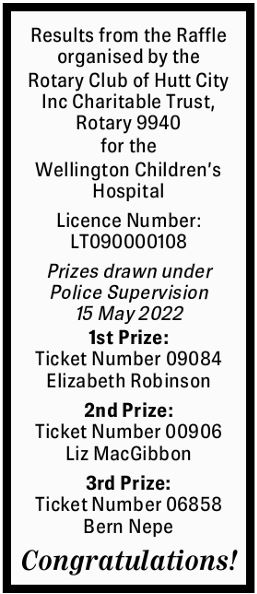 If you're a member who doesn't get the Dom Post, you may be interested in the results from the Wellington Children's Hospital raffle that were drawn on 15 May. Here's a list of the winners.
You may have noticed there has been a small increase in the price of bar drinks at the Cruising Club. Ouch, but there are plenty of those around these days.
President-Elect Denise reminded everyone of her Board and officers for next year. Denise is looking for someone with a keen environmental interest to lead the newly created Environmental Committee. This is a great opportunity to be part of Denise's team and set the direction for the Club's approach to environmental matters.
To finished the administrative work for next year Denise passed around a document for members to signal which committee they want to be on next year. The completed listing will be posted on the Club Intranet in the next day or so.
There will be no meeting on Tuesday 21 June as it is Inner Wheel Change Over.
There will be a meeting on Tuesday 28 June to finish off the year with information and fun. Details to come.
Michael Parker has received a request from the Principal of Holy Family School saying, 'Here at Holy Family School we run a breakfast club five mornings a week. We are desperately in need of more people to help out. There is a setup time at about 7:20 am and then we are complete by 9 am. We would be happy to have people once a week, a fortnight, or even a month - or more. Any help would be appreciated. If you are able to pass this along to anyone you know who might be keen - they could come for a 'trial' if they like - we would be grateful.' If you can help in any way, please contact Michael or Donna.
It's great to hear from Maisy Bentley that she will finish her university studies this month and is then off to Canberra to do an internship with the UN High Commissioner for Refugees until the end of the year. She will be back in Wellington in 2023 and is looking forward to staying connected with us when she gets back.
Parting thought
Nick gave us the parting thought tonight from Albert Einstein which he thinks should be suitable guidance for today's troubled times, 'the world as we have created it, is a process of our thinking. It cannot be changed without changing our thinking.'
Who's on duty for the next month?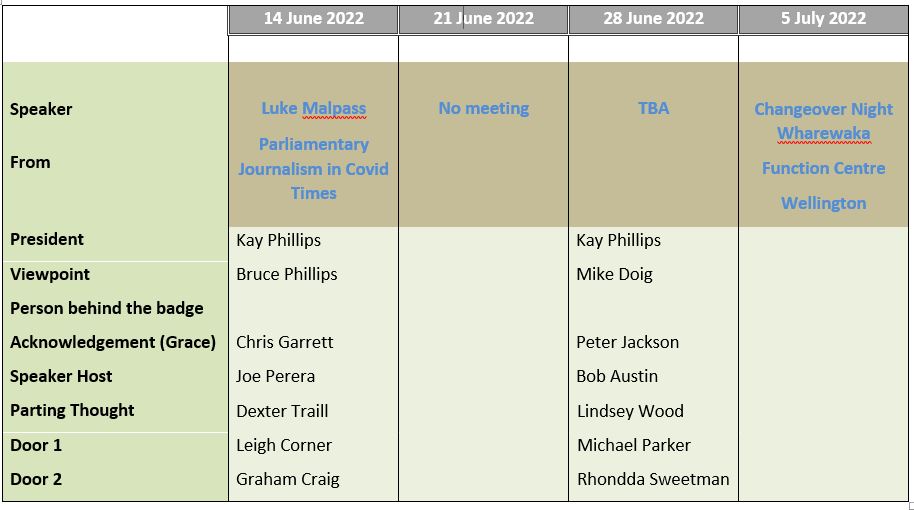 Unable to do your duty? Please find a replacement and inform Graham Wallace.
If you're a late 'no show' please tell President Kay.
Please arrive at 5.45 pm if you're on Door duty or hosting the Guest Speaker for the evening.
Need to apologise or bring additional guests?
Advise the Receptionist at Professionals before 10.00 am on the Monday before the meeting on 233 9955 or email paremata@dwre.co.nz if you prefer.
Please provide the name (and spelling if necessary). The same applies if you're going to be late.