Diary
Rotary Club of Plimmerton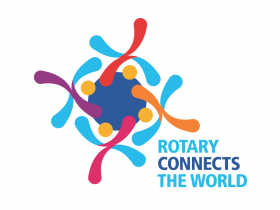 Visitors
President Euon welcomed the speaker, Chris Theobald, principal of Bishop Viard College in Porirua, and Mary-Jane Godinet, a senior teacher from Holy Family Primary School where Chris was principal until recently. It was good to see Honorary Members, Les Austing, Jim Dearsly, and Angus Langbein.
Euon congratulated Cath Berryman on her recent marriage to Ken Gardner and welcomed Ken's sister, Pam Snyman, now Cath's new sister-in-law.
The Speaker said ...
Chris Theobald, who is now principal of Bishop Viard College, spoke to us last night. He is the sixth principal in eight years and the college is under statutory management. You can read Mike's report here.
Viewpoint
Donna Reed gave us the Viewpoint today. She said, 'I am looking forward to the day when a PRIDE Parade is no longer needed because people are people, with love and equality' ...
Leigh Corner was scheduled to do the Viewpoint next week but has stepped down so that Theo Sutorius (Tanya and Tony's son) can talk to us about his upcoming International Rotary Exchange visit to the Netherlands in January.
This week's happenings
There's a new membership list in the Intranet which includes a few changes, including the details for our new member, Ann Scannell.
Thanks to Brenda Callear, Inner Wheel District Newsletter Editor, for sending the Inner Wheel November District Magazine.
Snippets
Next week we will welcome a new member, Ann Scannell, who lives close to the top of the Paekakariki Hill Road, to our club.
President Euon read an email of thanks from Carole Brown who had been presented with a Rotary Service Award at last week's meeting. She said that she was 'quite blown away as I was sure I was present just to collect a cheque and was unprepared for anything else'. She went on to assure us that it really was a team event that created the shed and the team was very proud of the achievement. She wanted to say a huge thank you to the club as a whole for all the ongoing support they've had when it was needed most, especially the Open Day in August and asked President Euon to convey her thanks to the club.
Porirua Rotary is Tooting for Tucker on Wednesday 27 November. Meet at Horouta Marae (near Countdown Aotea) at 5.30 for a 6 o'clock start. Wear your club shirts with a warm layer and bring water, a hat, etc. A meal (possibly fish and chips) will be provided at the end. Numbers are needed so please get in touch with Donna if you'd like to go.
What's coming up in November and beyond?
Chris Garrett and his team have been doing a wonderful job arranging the Charity Golf Tournament at Judgeford Golf Course in Pauatahanui this Friday, 22 November 2019. Please make sure you give him all the support you can.
Next week, 26 November 2019, The Honourable Kris Faafoi will be speaking to us about his Consumer Affairs Portfolio.
In his customary indomitable and efficient manner, David Knight has again organised the 2019 Parumoana Speech Competition. Donna showed us the trophies and told us that this will take place on Friday, 29 November at Discovery School at 9.30 am. It will undoubtedly run like clockwork. President Euon will present the awards and certificates after the audience has been royally entertained and impressed by the young speakers. Do set the time aside to come if you can.
Allan and Euon gave members final reminders (to avoid any lingering confusion) that the Children's Christmas Party is on Tuesday 3 December 2019 at The Mana Cruising Club and the members' Christmas Party is on Tuesday 10 December 2019 at Judgeford Golf Club. Please let Allan have 'family numbers' by 1 December at the very latest. Members were asked to let Professionals know by 1 and 8 December respectively whether or not they will be attending either event.
Just to give you seriously advance notice, 10 March 2020 has been set aside as our Bowls evening. It will appear on the Events page in due course.
You can find information about all future events here.
Parting thought
Keith Harrison (who was unfortunately absent) gave us the parting thought, 'People will forget what you said and what you did, but they won't forget how you made them feel'.
Who's on duty for the next month?
Unable to do your duty? Please find a replacement and inform Philip Mottram.
If you're a late 'no show' please tell President Euon.
Please arrive at 5.45 pm if you're on Door duty or on Introduction duty to greet the Guest Speaker and be his/her host for the evening.
Need to apologise or bring additional guests?
Advise the Receptionist at Professionals before 10.00 am on the Monday before the meeting on 233 9955 or email paremata@dwre.co.nz if you prefer.
Please provide the name (and spelling if necessary). The same applies if you're going to be late.
Euon reminds members that it is the role of the person saying Grace to host Cris for the evening.