Diary
Rotary Club of Plimmerton


Visitors
President Kay welcomed our guest speaker, Chris Paice, and a visitor and friend of Chris, Philip Castello. She also welcomed back Peter Jackson after quite a long absence.
President's Announcements
Kay's choice for the wine award tonight was Peter Sinke who beavers away every week to ensure we can all see and hear speakers and notices. The trialling of the new mic system is complete and we look forward to you all hearing with clarity. Thank you, Pete, for your untiring efforts over the year.
Members' Announcements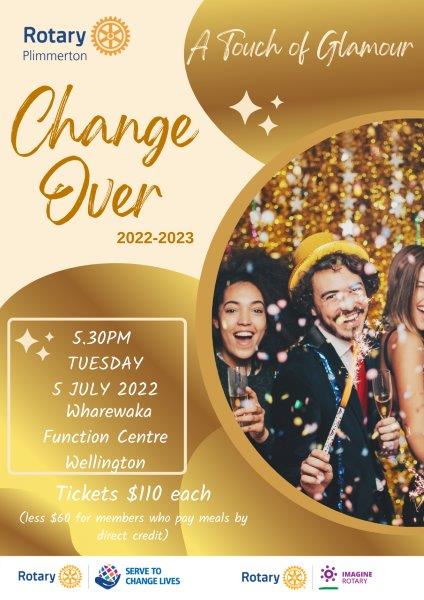 President-Elect Denise gave us more information about Changeover and thanked Phillip for coming up trumps with a lovely flyer for the occasion. Meanwhile, her 'side-kick' and main man, Dexter, handed round slips, asking everyone to note their two favourite pieces of music so that he can prepare a playlist for the special event. That certainly had some members scratching their heads and checking on Google when their memories didn't serve them well!
Peter Sinke gave a brief demonstration of the new av equipment, including the microphones. He is hoping that the few remaining bumps in the road will be ironed out before the next meeting.
John O'Connell gave a presentation on the possibility of Corporate Membership which the Board is considering as a membership classification to encourage new members and engage more local people in Club projects and other Club service activities. A motion will be put to the Board at the next Board meeting on 13 June regarding a proposed amendment - Article 6.1 Corporate Membership (attached) - to the Club's bylaws. Club members are asked to refer any comments or questions to either Graeme Tongs, Nick Walmsley, or John O'Connell asap. Here are copies of his Corporate_Membership_Proposal and Article 6.1.

The speaker said …
As Mike reports, Chris Paice told us that, as individuals, there are some things we can do to help. We can be more aware, we can change our transport choices, we can 'green' our gardens, eat less meat and dairy, reduce our energy use, and compost our vegetable waste.
Viewpoint
Phillip Whearty gave us his viewpoint tonight. He said that whilst he'd like to be espousing a purist devotion to Rotary, much like Sir Thomas More's commitment to his faith and the law, it is us, the members who power his Rotary magnet ...
What's coming up in May and beyond?
Sunday 29 May marks the next Drinks and Nibbles. Chris will be in touch shortly with details of the venue.
Next Tuesday, 31 May, our speaker will be Sergeant Karen Vaughan, Senior Police Prosecutor based at Porirua District Court, who will talk about the transformational change to the justice system for young adults. The Young Adults list was first piloted in Porirua.
There is still time to let Kay know whether you'd like to attend the Drowning Prevention evening on Thursday 9 June at 7.00 pm. Details were in last week's Update if you need to refresh your memory.
This is advance notice that there will be no meeting on Tuesday 21 June because it's an important Inner Wheel night. There will be a meeting on Tuesday 28 June to finish off the year with information and fun.
A reminder that District Changeover will take place on Saturday 25 June in Otaki. there is still time to register.
For future events, go here.
Parting thought
With the speaker's topic in mind, Euon gave us the Parting Thought tonight, a saying by Voltaire in 1778. 'Men Argue, Nature Acts'.
Who's on duty for the next month?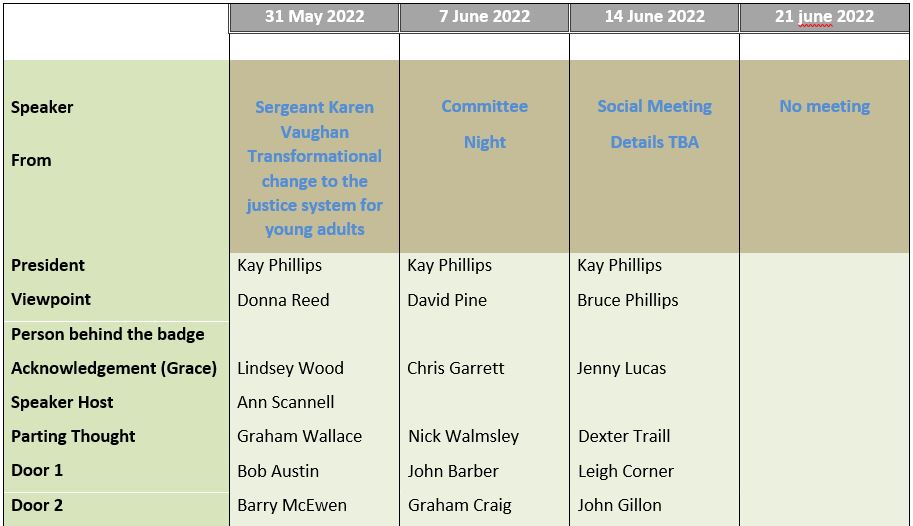 Unable to do your duty? Please find a replacement and inform Graham Wallace.
If you're a late 'no show' please tell President Kay.
Please arrive at 5.45 pm if you're on Door duty or hosting the Guest Speaker for the evening.
Need to apologise or bring additional guests?
Advise the Receptionist at Professionals before 10.00 am on the Monday before the meeting on 233 9955 or email paremata@dwre.co.nz if you prefer.
Please provide the name (and spelling if necessary). The same applies if you're going to be late.