Diary
Rotary Club of Plimmerton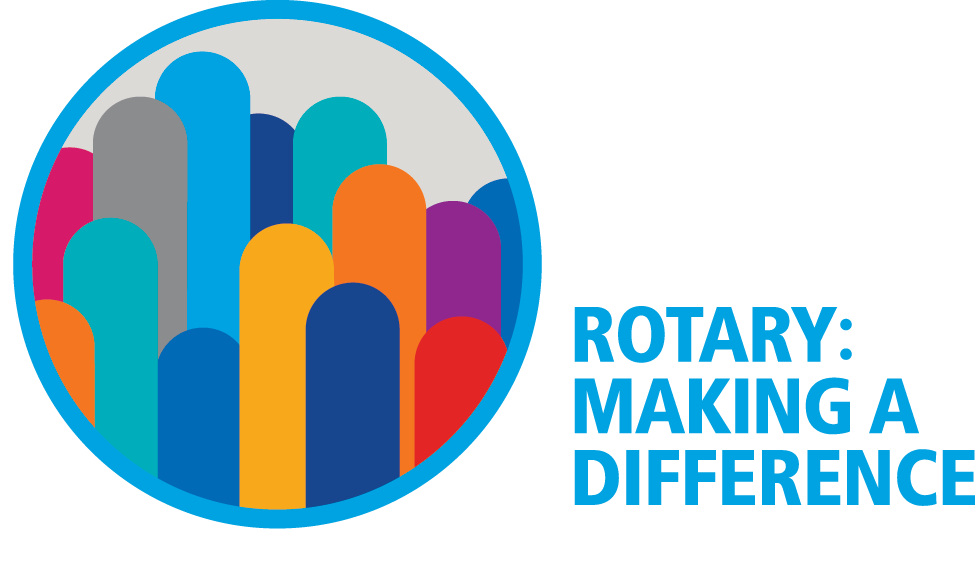 The Speaker said ...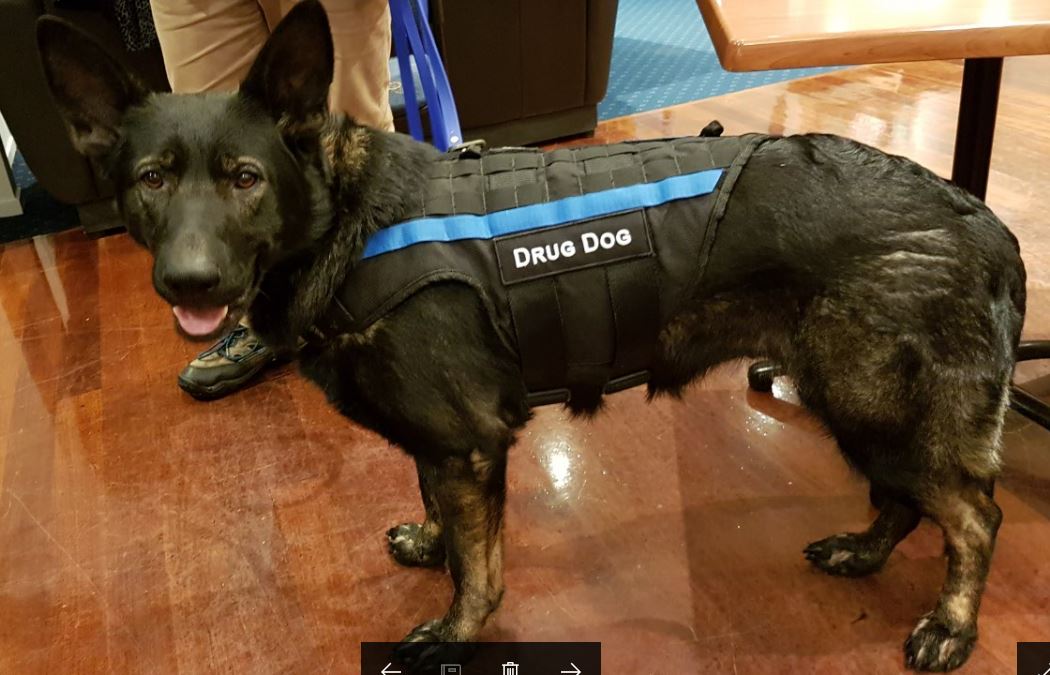 Dr Wayne Severn told us, says David Pine, that 'Dogs seemed to be tailormade for drug work, especially the breed he used. "Their natural ability to detect the scent of drugs is very high. They develop a kind of problem-solving aptitude through their ability to detect the scent and make an immediate decision about it. Plus of course, they are highly mobile."
Visitors
Good to see Honorary Member, Ted Nation, Amandine and another visit from Tania Woodcock who, we hope, will soon be one of us.
Snippets
President Jenny reported that there had been 250 attendees at RotaFEST which had proved to be a fun, as well as informative, weekend. One of the speakers was Past International President, Bill Boyd, who had speculated about the future from many aspects. There was a wonderful display from the students, as you can see in the photo further down the page. They each thanked one of the various speakers and also spoke briefly about themselves in response to questions from Lynne Phillips, International Youth Exchange Chair.
Phillip Reidy modelled a men's Rotary Geneva jacket which is available from RDU for about $65. Ladies' jackets are the same price. Euon mentioned that we might be able to get these made locally and is looking into it.
Remember to fill up your car at Z Energy from now (17 May) until 6.00 am tomorrow morning to take advantage of the 'Good in the Hood' 6c a litre discount. Z Energy will also put 6c a litre equally into the coffers of the four charities being represented this month.
A reminder that this Friday, 18 May, is the Mental Health Foundation's Pink Shirt Day. President Jenny would like us all to wear something 'pink' at next week's meeting on 22 May. So start searching through those cupboards and drawers or, in the editor's case, ask a friend for help!
The Outside World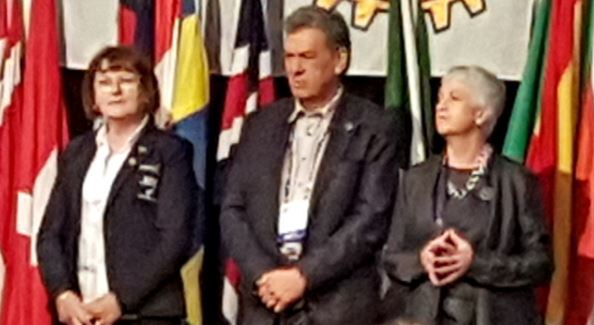 Not so very far 'outside' this week. The new District Governor for 2020-2021 for District 9940 was announced at RotaFEST. She is Gillian Jones from Wellington Rotary Club and will join DGE Marion Johnstone and DGN John Mohi. (with apologies for the quality of the photo which was taken from the back of the hall).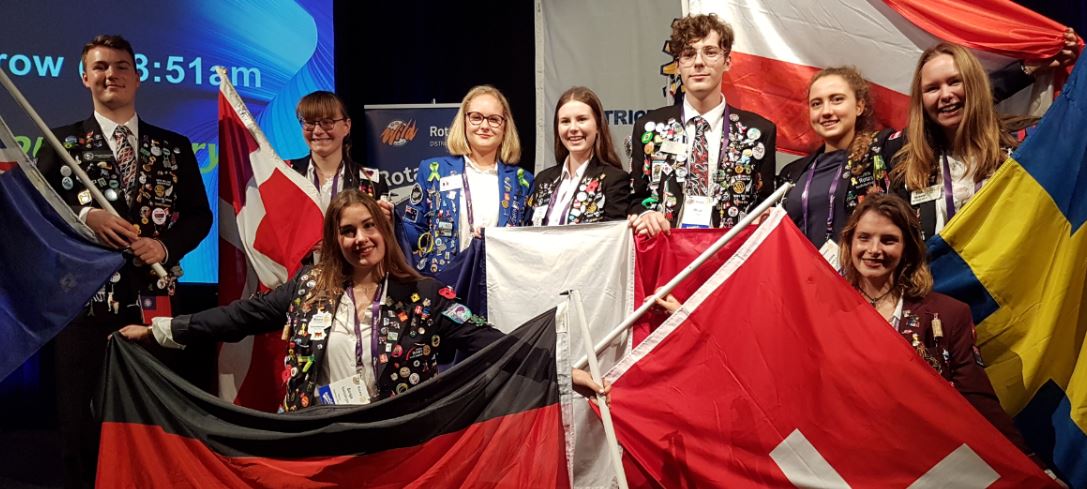 And, also at RotaFEST, the International Exchange Students presented us with a photo opportunity.
Parting thought
Philip Mottram gave us two parting thoughts from Richard Buckminster 'Bucky" Fuller (1895-1983), an American architect, systems theorist, author, designer and inventor. Bucky published more than 30 books, coining or popularizing terms such as 'Spaceship Earth', ephemeralization and synergetic. The quotes were, 'If you want to teach people a new way of thinking, don't bother trying to teach them. Instead, give them a tool, the use of which will lead to new ways of thinking', and 'Mistakes are great; the more I make, the smarter I get'.
This week's happenings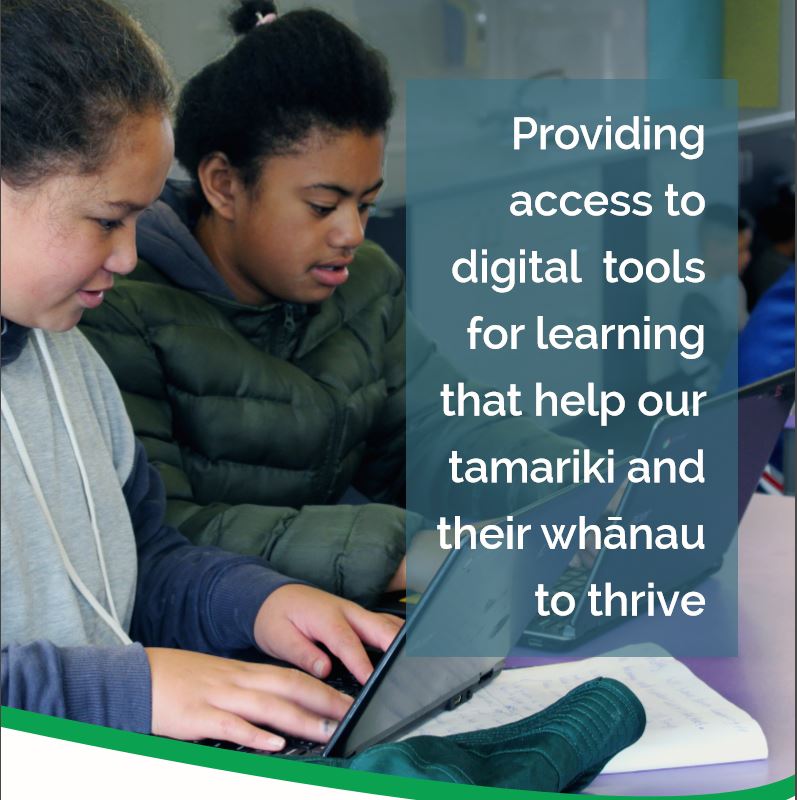 On 4 May, six very impressive tamariki from Corinna School gave four of us (among many others) a superb and very polished presentation about what having Chrome Books has meant to them. you can read about it here.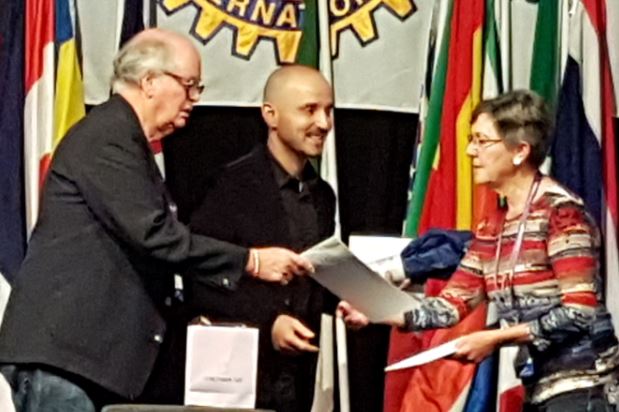 Well done Plimmerton for achieving the highest contribution to the Polio eradication programme through the recent raffle. President Jenny accepted the prize on behalf of the winning ticket holder and will present it at the club shortly. The presentation followed a very inspiring talk from Karim Rostani, a Muslim asylum seeker, who all but lost the use of his legs at the age of four but persevered to make limited use of them again, who arrived from Afghanistan in 1998 and has since sponsored his whole family to join him.
Wellington Children's Hospital needs volunteers to help collect as part of their Annual Street Appeal on Friday 24 August. All funds raised will help to improve facilities and provide much needed medical equipment and comfort items for young patients and their families. If you can give some of your valuable time, you can sign up here.
What's coming up in May and beyond?
On 22 May Ian Balme will talk to us about the Forgotten World rail line and Forgotten World Adventures
Do come along to support our Quiz team competing for a trophy on Wednesday 23 May at Porirua Rotary Club. The event is to raise funds for local colleges, specifically Aotea and Porirua, for their Polyfest event. Please note the change of time to 6.30 for 7.00 pm. The cost is $30 per head which includes dinner and raffle tickets are 3 for $5 so bring some pennies.
The next Wine and Cheese gathering will be from 4-6 pm on Sunday 27 May. Chris will be in touch with you on the day with details of where you're to go with your wine and cheese.
On Wednesday 18 July, the Light House in Pauatahanui has been booked for a showing of the Balibo movie. Check out this report about the first diggings and blessings for the school at Balibo and Belola in Timor Leste. First_Stone_Ceremony
Bill and his Youth team have been working incredibly hard on planning for the Rotary Best Speaker Awards at Anchor Church in Whitby on Saturday 26 May. We now have 24 speakers to listen to in the morning from 9.00 am. The best three will then compete in the afternoon with three from the South Island. Please come along if you can. These young people are inspiring to listen to, you may need tissues!
It's a long way away, but Partners Porirua will be holding their JOBfest on Wednesday 22 August from 10.00-2.30 pm at Pataka. If you can offer to become a mentor to young adults in our city who are looking for a job as they work towards their restricted licence, please let Wendy know.
See information about all future events here.
Who's on duty for the next month?
Unable to do your duty? Please find a replacement and inform Philip Mottram.
Please arrive at 5.45 pm if you're on Door duty or on Introduction duty to greet the Guest Speaker and be his/her host for the evening.
Need to apologise or bring additional guests?
Advise the Receptionist at Professionals before 10.00 am on the Monday before the meeting on 233 9955 or email paremata@dwre.co.nz if you prefer.
Please provide the name (and spelling if necessary). The same applies if you're going to be late.