Diary
Rotary Club of Plimmerton


Weekly meeting
There may not have been the usual Tuesday meeting this week but there was plenty of activity at two of the major projects that the club is involved with - and there's more to come on Sunday 26 June as you will read below.
Two major celebrations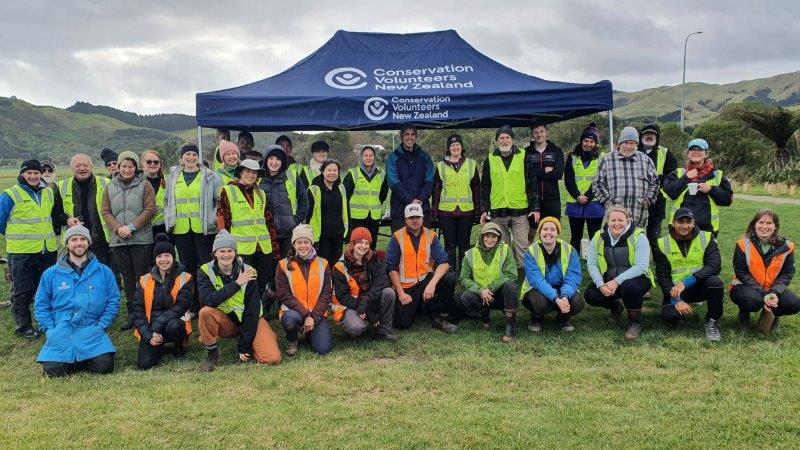 Bill has written a brief article about the planting morning at Plimmerton Domain on Tuesday 21 June. Forty-five volunteers came from The Health Promotion Agency. One of their staff gave a karakia and talked about the importance of Matariki with planting and the commencement of a new year.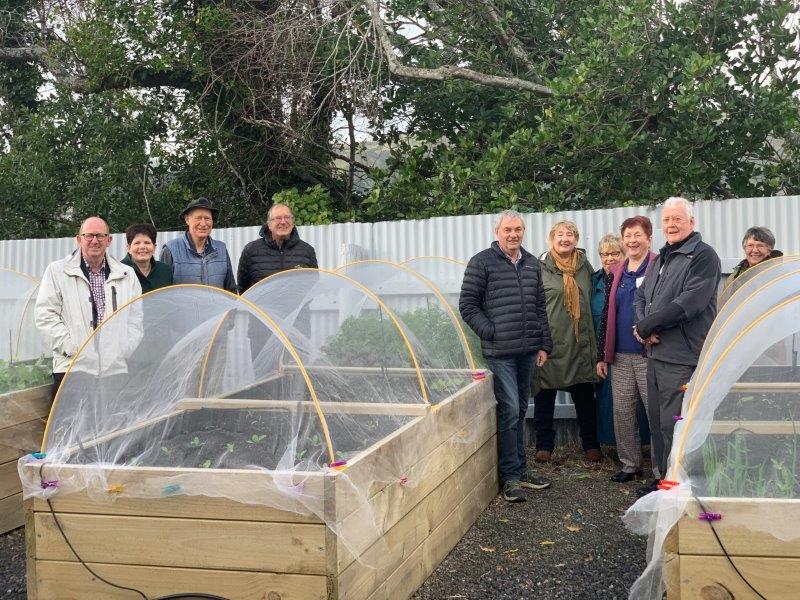 On the same day (with the President rushing from pillar to post) about 30 people gathered to celebrate the official opening of The Porirua Garden, a joint community project between the Rotary Club of Plimmerton and the MenzShed. You can read Kay's report here.
What's coming up in June and beyond?
This Sunday 25 June, we can look forward to special Drinks and Nibbles at The Light House in Pauatahanui at 4.15 pm. Drinks and Nibbles will be preceded by a showing of the short video of Te Aro Piko at 3.55. In addition to the usual nibbles, please be prepared to buy your own drinks at the bar. Sunday is a big day for our Club as we are being visited by Jessie Harman, a Rotary International Board member with a hugely impressive CV, including several Directorships and formerly being Pro Vice Chancellor of Federation University Australia. At 2.45 pm Jessie is planting a tree at our Forest of Peace and Remembrance at Plimmerton Domain. Also attending the afternoon of festivities is Peter Garnett, who is currently the Coordinator of the Rotary Foundation for Zone 8 (Australia, NZ, and Pacific Islands. Peter was recognised with the Rotary Foundation Citation for Meritorious Service in 2018 and the Rotary International Avenues of Service Award last year. You can read further information about both of our visitors here. It would be great to have the support of as many of our members as possible, please. It will be a rare opportunity to meet a RI Board member and a distinguished Rotarian so please do come to both parts of the afternoon if you can.
Next Tuesday 28 June, a panel of three distinguished people from the real estate industry will speak about Real Estate in Post-Covid Times before opening the discussion to the audience. There will also be some end-of-year fun. and a raffle. Partners, friends, and guests are all very welcome (as well as a pocketful of gold coins or notes!).
The following Tuesday, 5 July is, of course, Changeover and that is certainly something to look forward to at Wharewaka. If you have not already given your RSVP to President-Elect Denise, please do so ASAP. Remember the cost is subsidised by $90.00 for those who pay by direct credit.
You will find future events here.
Who's on duty for the next month?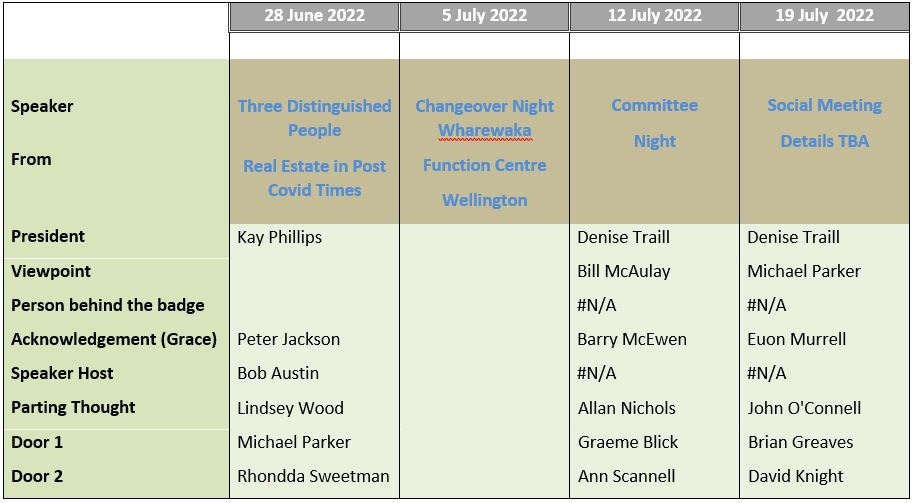 Unable to do your duty? Please find a replacement and inform Graham Wallace.
If you're a late 'no show' please tell President Kay.
Please arrive at 5.45 pm if you're on Door duty or hosting the Guest Speaker for the evening.
Need to apologise or bring additional guests?
Advise the Receptionist at Professionals before 10.00 am on the Monday before the meeting on 233 9955 or email paremata@dwre.co.nz if you prefer.
Please provide the name (and spelling if necessary). The same applies if you're going to be late.