Diary
Rotary Club of Plimmerton


Visitors
President Kay welcomed Sergeant Karen Vaughan, our visiting speaker, and Honorary member, Ron Lucas.
President's Announcements
President Kay's Wine/chocolate of the Week Award went to three members. To Bruce Couch and Graeme Tongs for their constant (and consistent) work in their Treasurer and Secretarial roles with grateful thanks. 'they just do a fabulous job', she said. And to Chris Garrett for organising our very popular Drinks and Nibbles every month. She also presented all hosts of this event over the year with a chocolate fish.
Kay said that a date for the formal opening of the Porirua Garden will be coming up soon and she will let members know when it will be in good time.
The speaker said …
For several years a Pilot Youth Justice Initiative has been running in Porirua, is being replicated in Gisborne and Hamilton, and will then go nationwide. It is unique to NZ and has attracted a lot of interest from overseas. 'Who knew?', says Mike Doig. Well, we do now, since Sergeant Karen Vaughan addressed us last evening.
Viewpoint
Donna Reed gave us the Viewpoint tonight. She suggested that we all use the Dutch Reach when we open our car doors for our own safety and that of other drivers, riders and even pedestrians passing us.
What's coming up in June and beyond?
Next week, 7 June, is the last Committee night of the year - time to tidy up the year's business and hand over to the incoming committee. President Kay says would you mind thinking about whether you wish to remain on the same committee next year. President-Elect Denise will have a grid sheet on which you can indicate which committee you choose. Remember, there is one new committee - Environment - while International will remain part of Club Service (Administration). So your choice is: Club Service (usually for those who have an allocated task although a few others have joined this committee), Communications, Community and Fundraising Projects, Environment, Social, and Youth.
The numbers for the Drowning Preventing Cooking Demonstration scheduled for Thursday 9 June at 7.00 pm are very disappointing so far. Please round up your friends and neighbours for this very special event for a very good cause.
We hope that our speaker scheduled for 14 June will be Luke Malpass, Stuff's Political Editor, leading the Press Gallery team, based in Parliament. There is still a little uncertainty about his availability, given that he is currently with the Prime Minister in the States.
Hutt Rotary Club is holding a Big Hat High Tea on Sunday 19 June with funds raised going to Ukrainian Refugees. You can find all the details you need here.
For all future events, go here.
Snippets
President-Elect Denise brought us a musical message from Dexter and handed round some more leaflets for members to suggest more songs and singers for the play list Dexter is compiling for the Changeover night.
Secretary Graeme tells us that the ideal time to change from print to the digital version of Rotary Down Under is prior to 1 July or 1 January. Should you wish to change, please let Graeme Tongs know ideally by email before 20 June."
Graeme has also provided copies of more Board and Charitable Trust Minutes, all of which you can find in the appropriate place in the right column of the Intranet.
This week's happenings
The Tairangi Teaching Team have written to Donna on behalf of their whanau. The note said, 'Kia Ora Donna and members of Plimmerton Rotary. On behalf of Kaiako, Tamariki, and whanau of Tairangi Kindergarten we would like to express our thanks and appreciation for the clothes, shoes, and boots that you all kindly donated for our Tamariki. We had a drink and nibble on Monday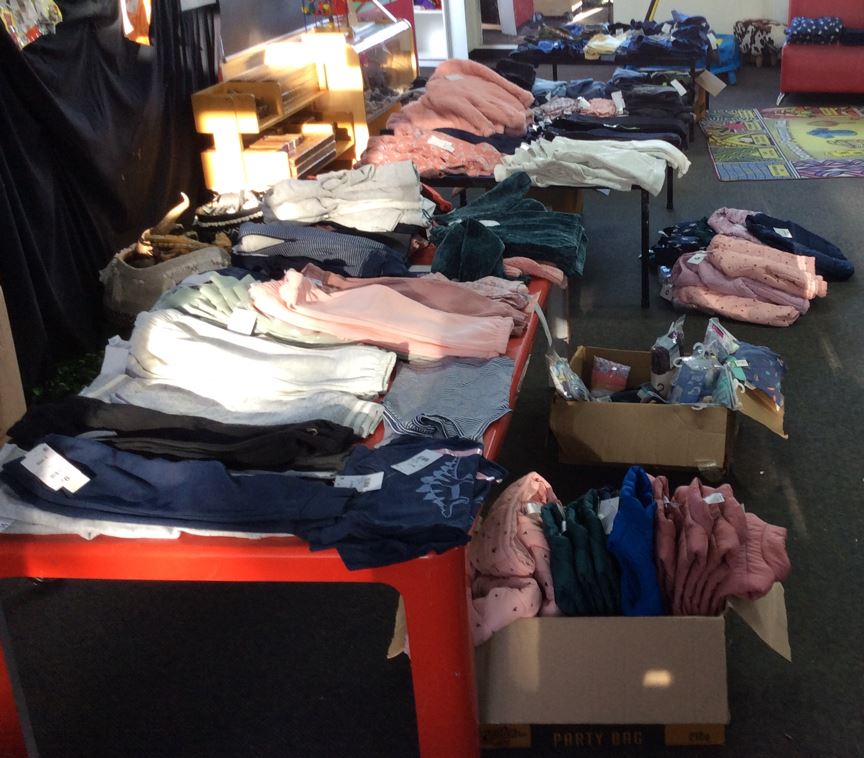 morning, and a 'shop for clothing'. All our parents were delighted to fill their bags for their tamariki. Today (Tuesday) we were happy to see a lot of our Tamariki arriving at kindergarten wearing their new clothes. All parents related back to us that receiving these was perfect timing and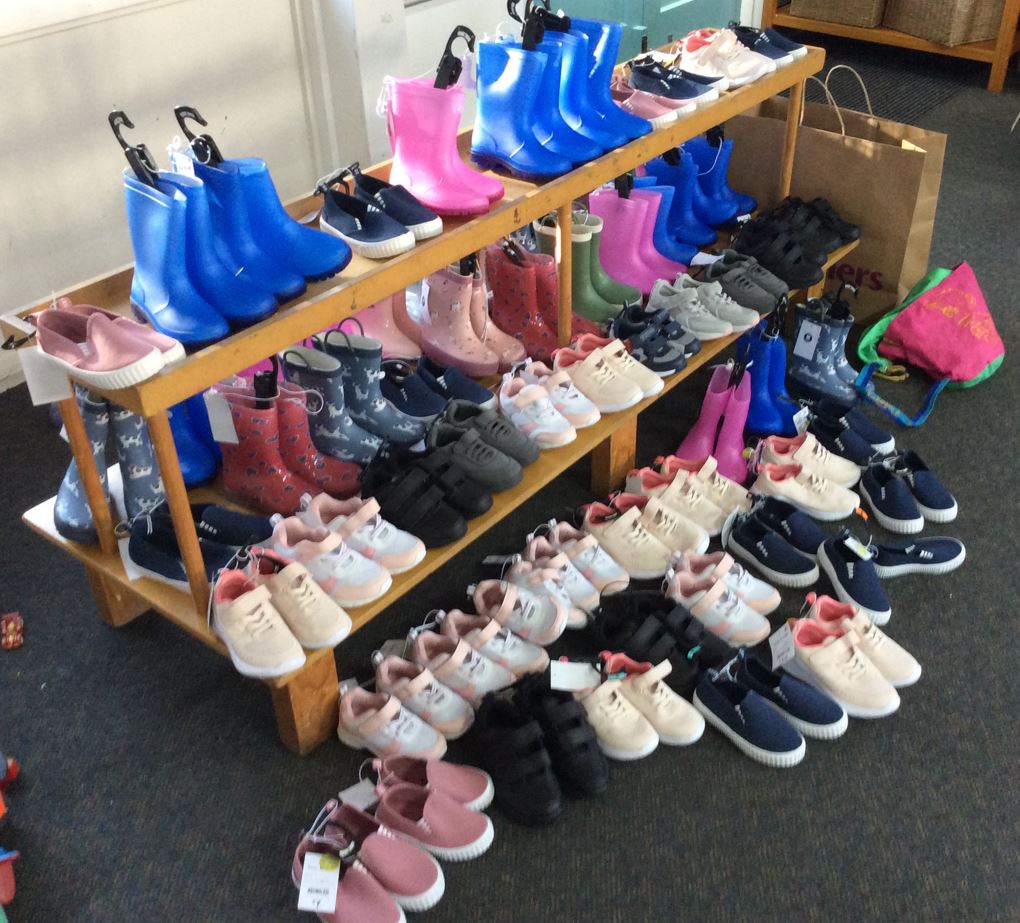 much appreciated.' Donna adds, 'It was such fun to be invited to Tairangi Kindergarten by Headteacher Carla. It was a pleasure to watch youngsters play in the rain-soaked equipment and jump in puddles in their new gumboots. And so great to watch their independence in putting the footwear on themselves. A bonus was taking an extra parcel of clothing from an anonymous Rotarian. They had been shopping for their grandchildren so put a bag together for the Kindergarten. What a generous spinoff.'
Parting thought
Phillip Reidy read Graham Wallace's parting thought tonight, as Graham prepares for his op on the 1st. He said, 'As we mature it becomes harder and harder to reach and maintain that level of activity and fitness that experts tell us we need. So I've taken action - I've stopped calling my toilet John and reamed it, Jim. So now I can honestly claim that I go to the Jim every day.'
Who's on duty for the next month?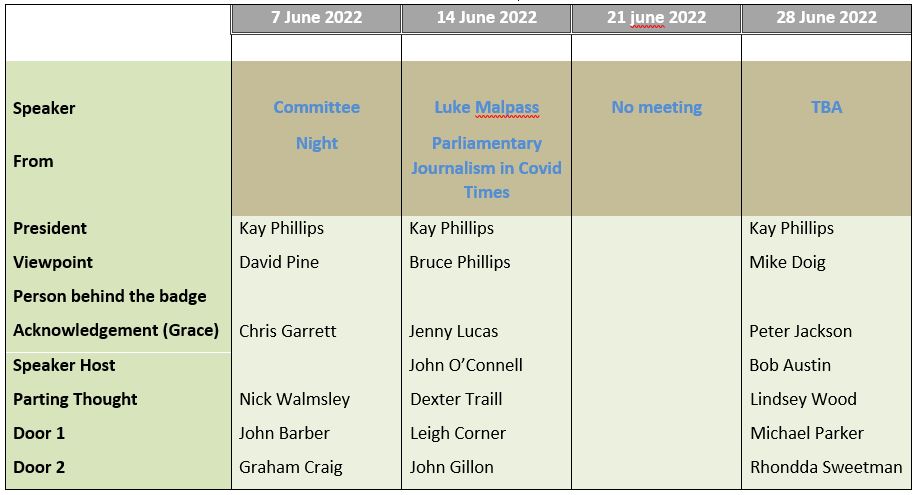 Unable to do your duty? Please find a replacement and inform Graham Wallace.
If you're a late 'no show' please tell President Kay.
Please arrive at 5.45 pm if you're on Door duty or hosting the Guest Speaker for the evening.
Need to apologise or bring additional guests?
Advise the Receptionist at Professionals before 10.00 am on the Monday before the meeting on 233 9955 or email paremata@dwre.co.nz if you prefer.
Please provide the name (and spelling if necessary). The same applies if you're going to be late.