Blog
Rotary Club of Plimmerton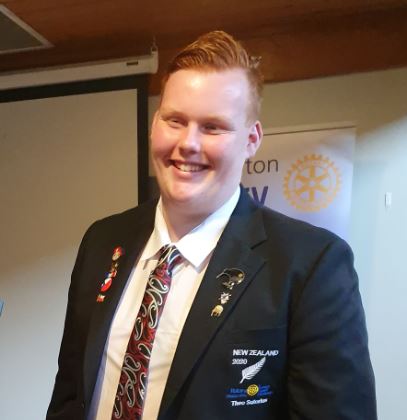 Theo Sutorius took the Viewpoint slot tonight. He said:
'Kia ora everybody. For those of you that don't know me, my name is Theo and I have been sponsored by all of you and many other Rotarians to take a life-changing trip to the Netherlands for a year. This is an amazing opportunity I have been given and I'm here today just to tell you all a little about me and why I want to go to the Netherlands.
'So who am I? Well to know me you first have to know my family. Pictured here with Kris Faafoi, is my mother, Tania. She is a consultant currently working for Fire and Emergency New Zealand, and she may look familiar to you because she is a Plimmerton Rotarian. She is actually the person who first brought the exchange to my attention earlier this year. And this is my father, Tony, who I'm more like than maybe I would like to admit. He is a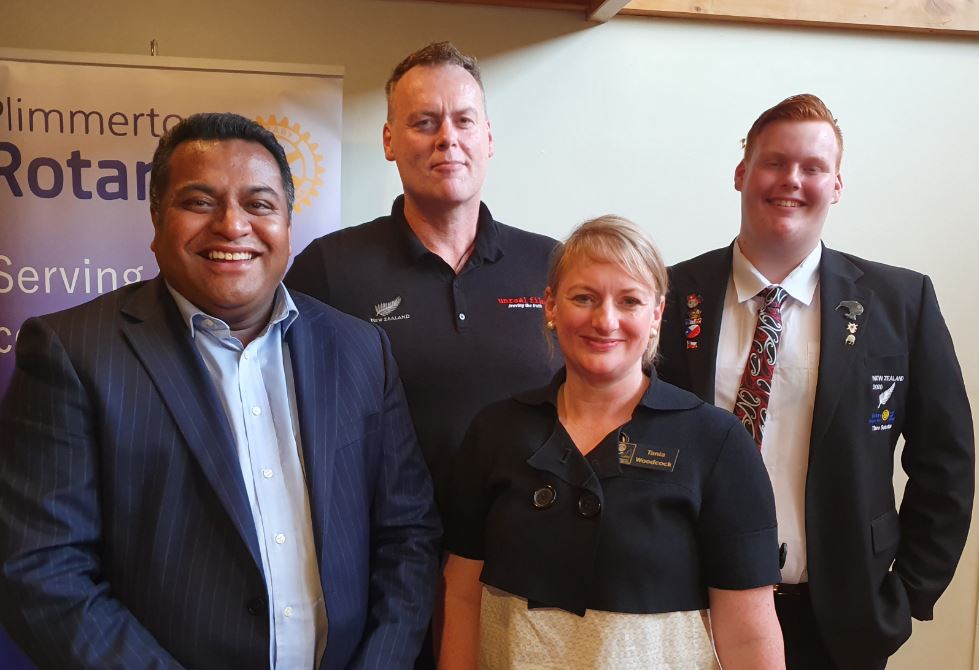 filmmaker who owns his own independent film company and recently has had his film Helen Kelly in the New Zealand International Film Festival. I am also interested in film - just a tad less successful.
'We are also both members of the Plimmerton volunteer fire brigade, one of us has been there for a little over one year, the other a little over twenty-five.
'But the fire brigade is a bit of a family tradition. As well as me, my father, his father, his uncle and cousin have all been members of the Plimmerton fire brigade. If you calculate up all of our service time, it equals over one hundred years of service. And as you can tell I'm a very large contributor to that. I joined just over a year ago!
'As I mentioned earlier, I'm a bit of a wannabe filmmaker and photographer. When I was 12, I inherited an old camera from my father and since then I have been super passionate about photography. When I was 13 I taught myself how to edit and have been working on projects ever since. I'm currently working on a short film about the Pike River Mine and was given the amazing opportunity to be at the Mine filming the re-entry earlier this year. The film will be released sometime at the end of this year or the beginning of next year.
'I then plan to make a film about my year in the Netherlands and about foreign exchange students in general. I think it will end up being quite a long film and so when I get back I plan on coming back here when it is finished and showing it to all of you.
'So why do I want to go to the Netherlands? Well for starters my Opa is Dutch, he was actually born in a concentration camp in Indonesia and after the war, when he was about ten, he immigrated to New Zealand. This makes me one-quarter Dutch. I also have lots of family currently living in the Netherlands, many of whom I have never met. So through all of this, I'm just so excited to go and assimilate into the culture and maybe even more excited to have the opportunity to be able to learn how to speak Dutch.
'I will be staying in a small town called Rijssen which is on the opposite side of the Netherlands to Amsterdam, and on the German border. It is smaller than Porirua with around the same number of people.
'I would just like to finish by saying a big thanks to all of you for sponsoring me. I promise that I won't let this year of learning and growth go to waste. If any of you has any questions about me or about the Netherlands, or if you just fancy a chat, feel free to come and speak to me. I look forward to coming back in a year's time and speaking to you all again.'