Blog
Rotary Club of Plimmerton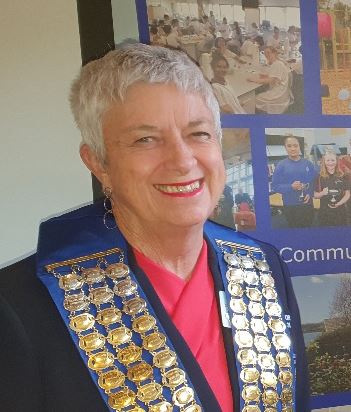 It's always a pleasure when our District Governors make their annual visit and bring us up to date with Rotary matters at local and international level.
Our DG in this Covid-troubled year is Gillian Jones, who arrived with her husband, Kevin. Gillian's background is in education, and latterly in coaching and consulting. Gillian and Kevin live in Greytown, and she is a member of the Rotary Club of Wellington.
Her specialist field is organisational development, that focuses on 'changing to be sustainable'. This applies to the Rotary movement, which is facing deep challenges and needs to think hard about its future direction.
Gillian's message from Rotary International is to embrace this year's theme: 'Rotary Opens Opportunities', and that Districts and clubs should set goals for the next five years, where possible.
The DG then dwelt on the centenary of Rotary in Zone 8 (Australasia and the Pacific), and the flagship project, 'Give every child a future', which we learned about last week.
Gillian noted the stunning achievements of Rotary in New Zealand in its first 100 years and listed some of the new Centenary projects which are already underway. The 'History of Rotary' book is almost finished; the mammoth tree planting job is going well with much community support, and the Rotary-supported Wellington Children's' Hospital will open in 2021.
We were challenged to create a Centenary project of our own, which might well be Covid recovery-related, and to be a 'Centurion' club by donating $100 per member to the Rotary Foundation.
Gillian concluded by urging us to attend Conference 2021, March 19-21, in Carterton. The District website has more details.