Blog
Rotary Club of Plimmerton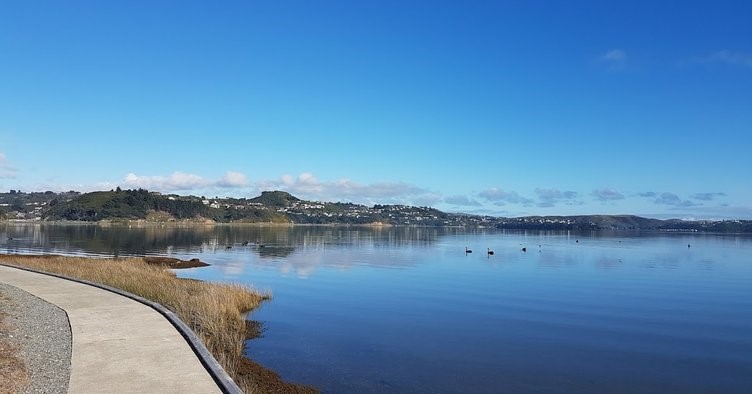 On 29 June, Porirua City Council published a beautiful photo of Te Ara Piko meandering around the beautiful Pauatahanui Inlet, together with a news release about the latest developments on Te Ara Piko, as follows ...
'The next round of work on the popular Te Ara Piko pathway will leave only one small section to complete, bringing the project very close to its goal of a safe path around the entire northern side of Pāuatahanui Inlet.
'Te Ara Piko is a joint project between Porirua City and Plimmerton Rotary, carried out in stages as funds allow.
'It had been hoped that the latest stage – between the Kakaho Stream boardwalk and the existing Camborne Walkway – would be the last, says Council landscape architect Andrew Gray'.
"Unfortunately the costs were more than the current funding allows, and in a time of economic recovery it's not appropriate to seek extra funds for this project. So we've changed the scope and found a solution that leaves just a very small section left to do.
"Under the new plans, in late winter there will be boardwalk built or enhancements made on about 500 metres of this section. A shorter stretch, part way along the section, will remain as is for now – on a straight bit of road with good traffic visibility.
"At low tide it's also possible to walk this piece on the foreshore", Mr Gray says.
'Rotary's Phillip Reidy says the latest enhancements will bring the project very close to creating a continuous route from Paremata Bridge to Pāuatahanui village'.
"It's much harder to raise funds in a post-Covid world, so we're very happy to be able to complete all but a few hundred metres of Te Ara Piko at this time."
'The project was first considered in 2000 and the first stretch – between Motukaraka Point and Pāuatahanui village – was completed in 2014. The meandering pathway has been a big hit ever since.
'Porirua Mayor Anita Baker says during lockdown Te Ara Piko was more popular than ever, with user numbers more than doubling'.
"It shows just how important it is to have these tracks, and it was great people could use them during such a difficult time."'