Blog
Rotary Club of Plimmerton
The Paul Harris Fellowship Award is named for Paul Harris, who founded Rotary with three business associates in Chicago in 1905. The Rotary Club of Plimmerton has contributed to the Rotary Foundation for humanitarian, and educational programmes that enhance International friendship and understanding. Programmes include food, water, health care, immunisations and shelter for millions of people.
A Paul Harris Fellowship recognises a person whose life demonstrates a shared purpose with the objectives and mission of the Rotary Foundation to build world understanding and Peace.
Paul Harris said "Friendship was the foundation rock on which Rotary was built and tolerance is the element which holds it together"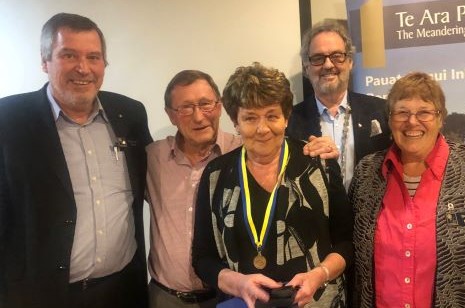 Alan Nichols, I ask you to escort Barbara to the front.
Barb, you have been selected to receive this recognition because the Rotary Club of Plimmerton believe you exemplify the humanitarian and educational objectives in helping persons here and around the world.
I was sitting, exhausted, with Euon towards the end of the Book Fair in March, probably looking around for the nearest defibrillator, and I noticed Barb walk across the room and give her grandson an encouraging hug, she was organising the pizza and wine run. I was sure she would rather be visiting her daughter in hospital but she crossed the room and started packing up the Inner Wheel cafe.
I was fortunate to attend the 25 years celebration for Life Education Trust. Again, Barb was busy making everyone feel welcome. I know how dedicated the Life Ed Team are, having closed the Dare Foundation at 25 years. I appreciated Barbs support with Harold and the background organisation for our own Rotary family Christmas celebration.
A Tawa Rotarian recently commented that our Melbourne Cup event is a highlight of their year. Barb contributes to this as she does to Probus and Inner Wheel.
Therefore, it gives me great pleasure to ask Graeme Blick, on behalf of the Rotary Foundation, flying in especially from Canberra this afternoon, to present you with the Paul Harris medal, emblem and certificate. The certificate states that you have been named a Paul Harris Fellow "in appreciation of tangible and significant assistance given for the furtherance of better understanding and friendly relations".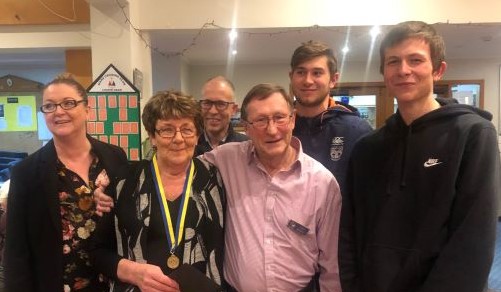 We urge you to wear your pin to Rotary events. Please accept congratulations and sincere appreciation for your commitment to our common goals.
Rotarians, friends and family, please rise to congratulate and recognise the newest Paul Harris Fellow, Barbara Nichols.
Editor's Note: It was very satisfying to see that some of Barb and Allan's family were able to come along to the meeting to celebrate the special occasion.