Blog
Rotary Club of Plimmerton
In days gone by, the annual visit by the District Governor was an important occasion- perhaps the highlight of the Rotary year. There would be lunch beforehand with the Board, the dinner venue would be decorated, and spouses (ie wives, back then) would attend in their finery. The DG would make a point of being introduced to all the members.
Times have changed, and Rotary has become softer and less formal. Last evening we had the pleasure of a visit by DG Marion Johnstone and her husband, Mike. They are from Wanganui, a town famed for its friendliness and informality.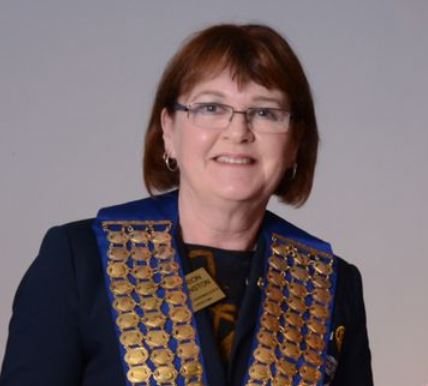 DG Marion first showed us her elaborate Speaker's cane, and noted with some pride that she was the first woman DG to be allowed to have it.
In Marion's opinion, we are a thriving club that ticks all the important boxes. We are energetic, project-focussed, and effective. The club has played its full part in District affairs.
She went on to set out the vision of Rotary International: to be united in our efforts and take action to make lasting changes for good, globally, locally and for ourselves.
The current President of RI has a slogan: "Be the Inspiration", which fits nicely with the four-way test.
Marion's aims for the District are to encourage clubs to be flexible, and to take stock of current projects. There may be too many of these, and some of them may no longer be relevant or engage club members.
She would like to see a shift in emphasis from fundraising to service, especially if this leads to greater community involvement.
Membership is always a major issue. There are more than 20 clubs in the District with fewer than 20 members. What does the future hold for them?
In the meantime, we should look to our public image, proudly wear our Rotary badges, and make sure we get recognition for projects through signage etc.
Marion concluded by urging members to attend District workshops and other training, and to register for the District Conference in Wanganui.