By: Editor
Date posted: 24 July 2015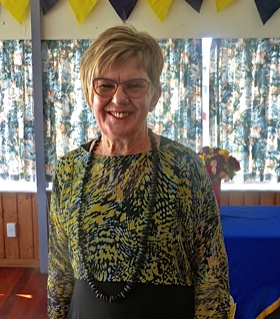 Born and brought up in Whangarei, Carolyn Wallace, the incoming President of Inner Wheel for the 2015-2016 year has been married to Graham for 45 years. They have two children, one living in Wellington, the other on the Sunshine Coast.
Trained in Interior Design and Photography, Carolyn has also worked as a travel consultant at Air New Zealand. On retirement from full time work, she and Graham started Aquavilla, a B&B in Plimmerton. Her hobbies have always been on the creative side - photography, art, gardening, travel, cooking and anything to do with water. She has recently taken up paddle-boarding and enjoys kayaking on the beautiful Pauatahanui Inlet.
From a young age, Carolyn has been aware of people's needs and ready to do something about it. When first married and living in a new subdivision in Auckland it was easy for her to see that young mothers were feeling isolated and lonely. The answer to that was to put a notice in all the letterboxes asking them to meet in a park with their children. So many turned up. This worked really well while the weather was good, but as soon as winter arrived she had to think of doing something different. With lots of negotiation with Housing Corporation their group were given a large, brand new state house next to a main shopping centre. This became one of the first Community houses in NZ and is still going very successfully today. She then realised that information about what groups were in the community was missing. So, with a Planner from the local council the group created the very first Community Directory in NZ and called it "Yello Pages". Local Councils quickly learned that this was a great idea and community houses are now in all areas.
Carolyn's husband. Graham, belongs to Plimmerton Rotary. A few years ago they both travelled to India to help with the Polio Immunisation programme. This was a rewarding and unforgettable trip.
Carolyn helped to set up Friends of Pataka and brought the Box Art Exhibition into New Zealand, which later became the 'Friends Art Awards'.
She has a huge passion for Porirua and the multicultural mix of people living here and with all that the city offers. 'How lucky we all are', she says.
Carolyn's aim for her year as President is to Inspire and Inform. She wants to give members opportunities to do things they perhaps would not normally attempt. She wants stimulating speakers, and to work with organisations who are finding ways to change children's futures in positive ways.