New hub for Inner Wheel
By Wendy Betteridge
Posted 18 June 2013
Rotary and its sister club, Inner Wheel, work on a different timetable from most organisations. The year runs from 1 July to 30 June each year.
Debbie Howard has just taken over as President of Plimmerton Inner Wheel Club for the 2013-2014 year. Debbie lives in Whitby with her two sons, Justin and Daniel, and her cat, Jessie. She has been in Inner Wheel for six years and the club's Secretary for the past two. It is fitting that this photo of Debbie is taken outside as she is passionate about gardening.
Debbie plans to carry on the good work that Inner Wheel does. It is basically a friendship club where members meet once a month. Plimmerton Inner Wheel members meet every third Tuesday of the month at Aotea College Library for a meal, to enjoy each other's company and to listen to a guest speaker. In addition to their monthly meeting, some members also enjoy the book club, travel club, a craft group and Mahjong, and those who want to meet more often, an extra Friendship Dinner once a month. New members are always welcome and you don't have to have a connection to Rotary to join – just a willingness to 'join in'.
Two of the projects that Inner Wheel are involved in are making 'silky pillows' for people who have had breast cancer, and making wheat sacks for the Oncology Department of Wellington Hospital.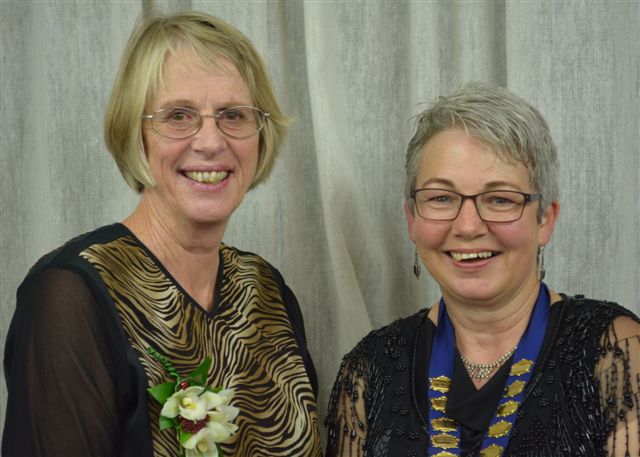 Debbie took over on 18 June from Janet Reidy who has just come to the end of a very successful year. The 'Changeover' was a fun affair with a 1920's theme, members and partners dressed up for the occasion and a good time was had by all.
During Janet's year, the club held an inaugural Wild Food Sunday during the summer. People who came were able to sample local whitebait, locally shot venison, salmon, trout and freshly made sausages from ingredients including wild pig, venison and all sorts of herbs and spices. This event was so successful that the club plans to run it again this year.