Blog
Rotary Club of Plimmerton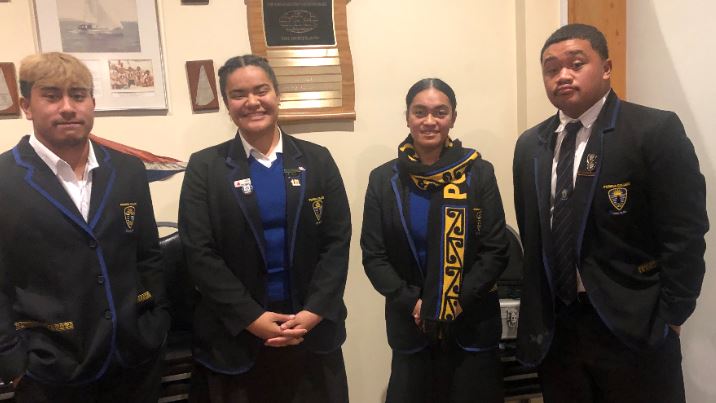 Tonight we heard from the Porirua Students who attended RYPEN in 2020 - Gemma and EJ. We also heard from the students we sent earlier this year, Pualele Fomai and Noa Euta, as well the Deputy Principal of Porirua College, Chris Wood.
Chris Wood gave a little personal history, having started teaching in Wainuiomata. He has been at Porirua College for eleven years. He has two sons at Plimmerton Primary School and Aotea College respectively. He thanked President Bill, David and Velma Knight, and the whole Club for providing sponsorship for his students to RYPEN. He spoke of the impact the Rotary Club of Plimmerton has on our Community, and the way we are sowing seeds for the future.
Covid-19 provided an 'unreal year' for Porirua College and brought with it many challenges but also created opportunities. It made them realise what an amazing country we live in. The staff found that it was not the IT support driven by the Ministry of Education, although that certainly helped, nor the devices and other equipment, nor the modems, online feedback, nor the food parcels, that were the most important factor in the year. The most important thing highlighted by the past year was Wellbeing.
Chris spoke of the recent death of a teacher who had taught at the College for many years and how he was instrumental in the development of Restorative Justice in New Zealand Schools.
A great sign, looking to the future, is the large roll growth Porirua College has experienced over the last two years with indications that this will continue. Two programmes were highlighted: The Ministry of Education's Porirua East Kahui Ako and their own Voice-Action-Identity (VIA). Using VIA has created a more innovative curriculum. Finally, Chris repeated that although we, as Rotarians, may not see it, our impact on the community is great.
Pualele said of the many things she enjoyed about RYPEN, it was refreshing to be in such an environment. Leadership, she found is not always about 'calling the shots' but listening too. She learned to not be afraid to be confident leading to her running for Head Girl. She would like a career in the army. Pualele would recommend RYPEN to all leadership students in NZ.
Noa told us how every challenge taught him something, e.g. getting a group across water with only one person allowed to contact the water made him realise he was not as smart as he thought! He learned the value of the idiom: 'Be bold. Be brave'. He would like to pursue a career as a professional rugby player and is the Head Boy this year.
Gemma enjoyed the talks and activities. A very shy person, she gained the confidence to run as Head Girl. She went home with a greater understanding of social media and its influences. Gemma intends to go to university to study psychology or criminology. She admitted she may change her mind before next year.
EJ explained how RYPEN helped him to reach his potential. Having to hand in his phone for the weekend was 'easy". He found the course inspiring, and made new friends quickly. Questioned later he said that he and his friends from RYPEN have a Chat Room and talk regularly. As a member of the Church of Jesus Christ of the Latter Day Saints, he intends to complete his two years of missionary service from next year and then head to Polytech.
Finally, Donna Reed thanked the students and Chris for coming, saying it made her last night as Youth Director very special.