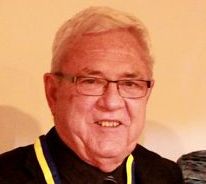 Bob Austin gave us his Viewpoint tonight. It was about about Rest homes/Retirement villages and more specifically the Summerset and Ryman complexes.
He said, 'There has been a lot of discussion about the complexes recently and the financial implications of the Licence to occupy. I don't intend to include that in my presentation except to mention that I have had a lot of professional engagements with the executives of Ryman and Summerset and have found them very professional to engage with.
'I was always impressed with the quality of their facilities, the entertainment they provided the all manner of services and above all the happiness of their inhouse clients.
'I intend to explain our recent experience with our family. I suspect it will be relevant for us as time moves on and hope it provides encouragement to do the best for those in their later years.
'It is about my sister and brother in law who have had a rather abrupt change to their every day lives.
'My sister, who is in her early 80s, is in an advanced stage of Dementia and has been unable to live a normal life for the last 2 years. Until recently she was in a small rest home with care. The facility was under staffed, struggling financially, with staff who hadn't had the benefit of focused training. Not a happy environment.
'My brother in law remained in their property at Kapiti living on his own with a house maid visit for an hour a week. He wasn't managing and the environment was rapidly deteriorating.
'The situation for both of them was far from ideal and particularly sad for them in their declining years.
'Their family had a conference and decided that they wanted their parents to have a happy and enjoyable life for the rest of their days. Various options were investigated and they settled on a Ryman village in the Hutt Valley.
'My sister is in a full care facility, very well cared for and my brother in law is in a serviced apartment with his little dog. It is fully serviced each day with a mid day meal and other meals as required.
'My sister's unit is some distance from her husband's and the staff at Ryman wheel her to her husband for a couple of hours each day.
'They also have entertainment for them each day and outings as required.
'My brother in law claims it is like living in a hotel. They are now being well looked after with medical help only a push of the button away.
'The family is elated that their parents can spend the rest of their days in such a happy and accommodating environment.
'It is interesting because, in my association with the rest homes, one of the issues raised was the reluctance of family to commit to the financial obligations because it was going to erode their inheritance.
'My response to that, in light of our recent experience, is to think about the joy and happiness that the oldies deserve for the many times they would have gone without for the benefit of the family.
'If you have the greed bug and think the LTO model is a rip-off, remember the Companies are listed on the stock exchange with profits paid as dividends.
'My Viewpoint is "family comes first"'.